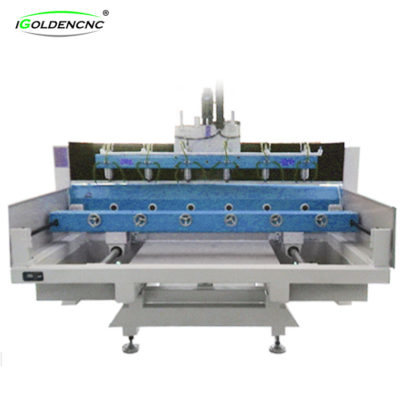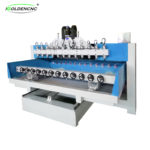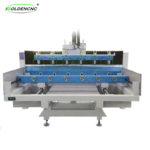 Multi Heads 3D Stone Marble CNC Router Cutting Machine for Sale
Item No.: iGS-3D
The 3D stone CNC router cutting machine is designed for batch engraving of cylindrical stone and 3D batch engraving of flat stone. It is equipped with 6-12 spindles, which can be processed simultaneously to improve work efficiency.
Category: CNC Router>>Stone Engraving Machine
Response time: Within 1 hour
Supply Ability: 300 sets/month
Price Range: $10000-$16000
Description
Who is it for?
The high-efficiency 3D stone CNC router engraving machine designed by iGOLDENCNC adopts a high-strength mechanical structure, which is very suitable for manufacturers in the mass processing of cylindrical stone industry. Imported linear guide rails are used to ensure accuracy and provide a set of competitive configurations.
Suitable for industries such as dragon pillars, stone lions, buddha statues, bridge engineering, garden engineering, tombstone engineering, etc.
The multi-head stone engraving machine is suitable for mass production of embossed round products such as tea trays, fences, fence posts, little lions, unicorns, animals, figures, and Guanyin statues.
What makes it unique?
iGS-3D series 3D stone CNC router is a product popular among kitchen and bathroom stone manufacturers. It is designed for cabinet artificial stone, quartz stone, granite, marble, ceramic tile, glass, wood, etc. It saves time and effort. It is specially designed for kitchen and bathroom stone production.
>Multi-spindle synchronous work, batch processing;
>Material utilization rate is as high as 98%, saving material cost;
>Heavy industry quality, stable operation for 10 years;
>Simple operation, quick removal of obstacles, which is conducive to learning;
>Supported by industry leader iGOLDENCNC.
Features of 3D Stone CNC Router Machine

Stone Relief Carving

Stone Lettering

Stone Column Carving

Tombstone Carving

3D Carving Processing

Marble Edge Chamfering

Bridge Guardrail Processing

Stone Stele Carving
| | |
| --- | --- |
| Max. Rapid Travel Rate | 20000mm/min |
| Max. Working Speed | 10000mm/min |
| Spindle Power | 5.5kw water cooling |
| Spindle Speed | 24000rpm/min |
Working Voltage
380V/50Hz
Running Environment Temperature
About 25℃
Relative Humidity
<85%
Ps. Adjustment is available according to locally requirement
Features of 3D Stone CNC Router Machine
High-precision Transmission System
The positioning accuracy of the machine is 0.02mm, the maximum running speed is 20,000mm/min, and machine working life up to 10 years.
Features of 3D Stone CNC Router Machine
Most of stone materials, such as natural stone, marble, artificial stone, granite, sandstone, bluestone, terrazzo, and other materials, such as glass, ceramic tile, wood, aluminum plate, copper plate.
Stone background wall, bridge engineering, garden engineering, tombstone engineering and other industries.
About 300sets per month.
Yeah, we can shipping on time.
When you received this machine, connect power can work for you.
The main function is plane carving, relief, line carving, cutting, lettering, hollowing, chamfering, drilling, etc..
Do you need a catalogue, price or machine working video? Please let us know your name and email, we will send you more information asap.