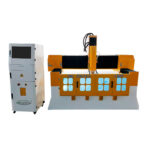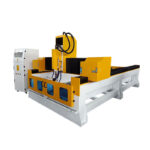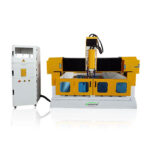 Affordable CNC Router Stone Granite Engraving Machine
Cnc Router Stone Engraving Machine For Sale
Item No.: iGS-S
The CNC router machine can be programmed to cut and carve stone to precise specifications, allowing for intricate designs and shapes that would be difficult to achieve by hand. It can cut, drill, and carve a variety of materials, including granite, marble, sandstone, and limestone.
Description
A stone CNC router machine is a type of computer-controlled cutting machine used to fabricate stone products such as countertops, monuments, and decorative sculptures. It uses a high-speed spindle to cut and shape stone materials based on a computer-generated design or pattern.
Stone CNC router machines come in different sizes and configurations, depending on the specific needs of the user. They can be used for both industrial and artisanal applications, and are commonly used in the stone fabrication industry.
The stone engraving machine is a professional CNC Router for stone processing. This kind of CNC machine is mainly used in the stone industry, stone tablet processing industry, art relief, advertising, decoration industry, ceramic, inscriptions, garden engineering, large-scale sculptures, handicraft carvings, home improvement, film and other industries.

---
| | |
| --- | --- |
| X, Y Axis Working Area | 1300*2500mm |
| Z Axis Working Height | 500mm |
| Positioning Accuracy | 0.05mm |
| Re-positioning Accuracy | 0.02mm |
| Body Structure | Welding Body |
| X, Y Axis Structure | Linear Guide Rail, Gear Rack |
| Z Axis Structure | Linear Guide Rail, Screw |
| Max. Running Speed | 20000mm/min |
| Max. Working Speed | 8000mm/min |
| Spindle | 4.5kw Water-cooling Spindle(Optioned) |
| Spindle RPM | 24000rpm/min |
| Working Voltage | AC 380V±10%/50-60Hz |
| Machine Weight | 1400/1800kg |
---
Stone Engraver Machine for sale features
5.5KW Water Cooling spindle which is special for marble engraving.
 Precision high-precision helical rack, stable transmission, low noise, and large transmission torque
High-power drive motor, high power, low noise, and high precision
Schneider Electric components, stable performance, no interference
25mm square linear guide
Cast Steel gantry, thick machine body, the anti-twist structure of the beam
The working table is a T-shaped thick aluminum profile. High-hardness PVC can be used to fix various special-shaped materials with fixtures, which is flexible, convenient, and practical.
Fast processing speed, high efficiency, fine engraving without a serrated ripple, a smooth bottom surface, and a clear outline.
---
Projects Of CNC Stone Engraving Machine

Stone CNC routers are highly precise and efficient machines that use advanced technology to cut and shape stone materials. They are widely used in the stone fabrication industry, including for the production of kitchen and bathroom countertops, fireplace surrounds, architectural elements, and decorative sculptures.
The CNC router machine is controlled by a computer program that directs the movement of the cutting tool along multiple axes, including the X, Y, and Z axes. The machine uses a high-speed spindle to cut and shape the stone material, and can be programmed to produce a wide range of shapes and designs.
Stone CNC routers are available in different sizes and configurations, ranging from small desktop models for hobbyists and small businesses, to large industrial models capable of cutting and shaping large stone slabs. Some machines also come with additional features such as water-cooling systems to prevent overheating, and dust collection systems to minimize dust and debris generated during the cutting process.
To use a stone CNC router, the operator must first create a digital design of the desired product using specialized software. This design is then uploaded to the machine, which reads the instructions and begins cutting the stone material according to the programmed specifications.
Overall, stone CNC routers have revolutionized the stone fabrication industry by allowing for highly precise and efficient production of a wide range of stone products.
---
Enquiry. Feel free to tell us what material you want, what is your max working size, and what product you want to do. The budget is also welcome.
Free Quotation provided. We will send our quotation sheet with machine configuration, photos, videos, and prices to you according to your request.
Launch the order. Your company will arrange the deposit, and we start the machine production from 3D design, machine body welding, machining, painting spare parts preparing, manufacture, and inspection.
Testing sample video and delivery. After our manufacture and inspection, we will make a final video of the machine working for you. After the confirmation, the stone cnc router equipment will be shipped by sea through my or your agent.
After-sale service. We will provide a video teaching program to tell the customer how to use or install our machine. And my service team will 7*24 hours online to answer customer questions.
Feedback. We are expecting feedback from our customers. Please tell us how you feel about machine quality and service. If you have more ideas to help us improve, that will be very appreciated.
Stone CNC machine is an automatic power tool with computer numerical control for stone machining with hobbyists or industrial commercial use.Stone CNC machines have functions of carving, engraving, cutting and polishing for marble, granite, artificial stone, tombstone, ceramic tiles. A stone CNC machine is also known as CNC stone carving machine, CNC stone engraving machine, CNC stone cutting machine, stone CNC router or CNC stone router.
1. Please pay attention to the features of stone CNC router, especially the spindle power. Some CNC stone router is only suitable for lower power processing, such as color plates, building models, small signs, three-dimensional crafts and other materials, this process has been popular for some time, but because of spindle power is too low, which will affect it's scope of application. Another type is the high-power spindle, which is divided into two types, one is the large format stone CNC machine, the working size is generally more than one meter, but the accuracy of the machine generally poor, another one is moderate size stone CNC machine, this machine is generally used in fine processing and organic label production.
2. We must understand the CNC stone router performance and functionality, the spindle is very critical, because the spindle motors are generally not covered by the warranty, and the spindle need to work for long time, so if the spindle motor is not very good, it will affect the use of CNC stone router.
3. Another one is adjust range of the spindle speed, generally adjustable speed range is a few thousand to thirty thousand revolutions per minute, if the speed is not adjustable or adjustable speed lesser extent, then it shows that the scope of application of stone CNC machine on severely limited, because different materials must be carved in different carving head speed.
4. Stone CNC machine body manufacturing process: high-power machine body must be precise and stable when the job requirements, so the machine body should be used casting sculpture in order to ensure it's precision and stability.
5. The CNC controller is generally divided into two types, one is that it only do the drive controller, and all of it's operational work done by the computer, when the stone CNC router working, the computer wait, not a typesetting work. Another controller uses SBC or MCU control, this controller is actually a computer, so long as the stone CNC router start to work, the computer can immediately carry out other typesetting work, especially for a long time carving, the the advantage is particularly evident.
6. The ballscrew and guide rails are also important parts of CNC stone machine, a good screw and rail will ensure it's accuracy and performance of CNC machine for a long time.
Related Products
Do you need a catalogue, price or machine working video? Please let us know your name and email, we will send you more information asap.