ATC Nesting CNC Furniture Making Machine for sale
Thorpe
What is the ATC Nesting CNC Furniture Making Machine?
The ATC Nesting CNC Furniture Making Machine with line tool changer is equipped with a 9.0kw air-cooled spindle, and independent operation.  High speed, high precision, high efficiency and stability. At the same time, it is equipped with multifunctional row drilling package and level spindle, which can drill holes, mill grooves,It is suitable for processing various cabinet doors and wooden doors.
The machining center is equipped with saw blade spindle, linear tool changer, and automatic loading and unloading platform. It can ensure high productivity, high processing precision and low labor cost. Moreover, it adopts Taiwan helical rack and Taiwan TBI ball screw, which improve the processing precision and prolong the service life of the machine.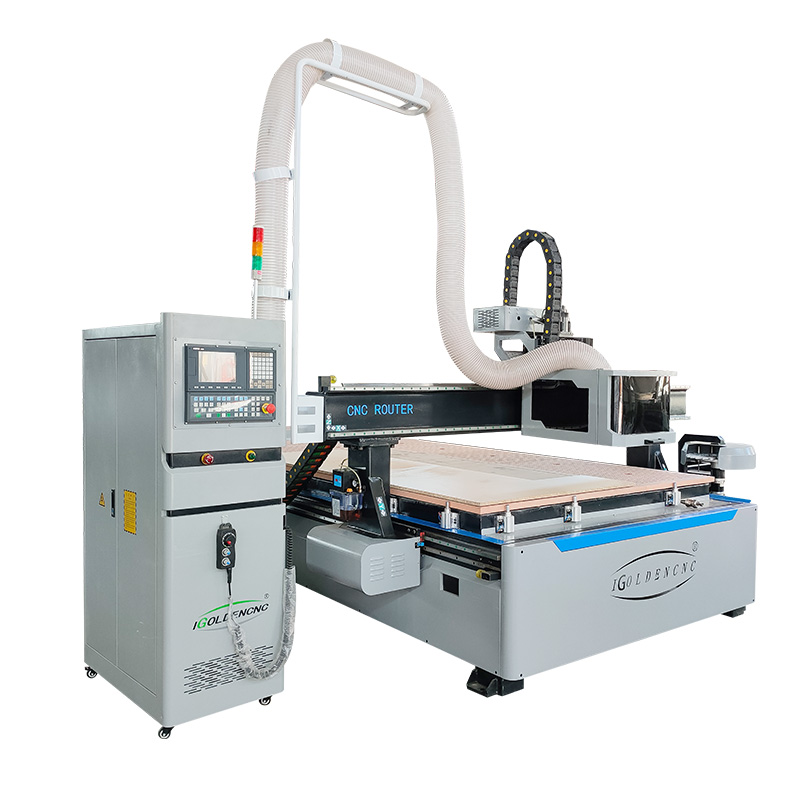 Features of the Automatic Loading and Unloading CNC Machining Center
Equipped with saw blade spindle, it makes the process have a good stability.
Using linear tool changer (12pcs), it saves tool changing time and ensures high efficiency.
Equipped with automatic loading and unloading platform, it can load and unload work pieces automatically, improves productivity and reduces labor cost.
The X, Y axis using Taiwan helical rack and Z axis using Taiwan TBI ball screw, the processing is in high precision and the machine has longer service life.
Manufactured with saw blade, the machine can process U-shaped and other invisible work pieces, three-in-one linked appliances, and two-in-one connectors.
Advantage of the CNC Furniture Making Machine
1.Wide Application Range:
a.>Production and processing of various types of furniture: cabinets, wardrobes, office furniture, computer tables, children's furniture, panel furniture, cutting and cutting, slotting and perforating, decoration hollow frames, soft bag background wall production, etc.;
b.>Wooden door and furniture decoration industry: solid wood and composite door, cabinet door, large-area plate carving, solid wood, panel furniture carving, solid wood art mural carving, etc;
c.>Wood products processing: clocks, sporting goods and equipment;
d.>Musical instrument industry: three-dimensional curved surface and shape cutting of sculpture musical instruments;
e.>Crafts industry: photo frames, jewellery boxes.
2.Advanced core technology:
The Spindle with Italy HSD Air cooling 9kw ATC spindle+HSD drilling unite + Saw, The Rail with Taiwan xinyue square guide rail.
3.Easy to Operate,Complete Functions.




Application of the ATC Nesting Furniture Making Machine
Wood Furniture Industry: Wave Plate, fine pattern, antique furniture, wooden door, screen, craft sash, composite gates, cupboard doors, interior doors, sofa legs, headboards and so on.