CNC Wood Engraving Spindle Automatic Switch
Thorpe
CNC wood engraving are used for woodworking such as hollow wood caving, relief wood carving, plane wood carving, 3D wood carving, Furniture production, etc.They are most frequently used for 2D cutting on flat materials. Using programmed toolpaths which are derived from a vector drawing, a controller instructs the machine to move the toolhead along its X and Y axes. However, with a fully programmable Z-axis and suitable design file and controller, they are equally capable of machining elaborate 3D profiles and designs into the same wide range of materials.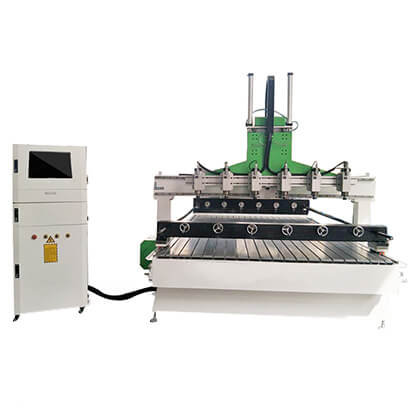 CNC carving machine spindle automatic switch or can not stop
A control card failure; inverter failure.
◆ engraving machine open Weihong software, the computer prompts "Operation Failed" prompt
Check the card driver is not installed, or the board for a PCI slot; two data cable installation check no Duanzhen phenomenon; board have a problem, replace board.
Tip: triaxial alarm
◆ carving machines to open the software, initialization error IV
Check the computer and the machine's two data lines connected; check the control box adapter plate fuse is burned, replacing the fuse; Check the 85V power supply is the normal power supply.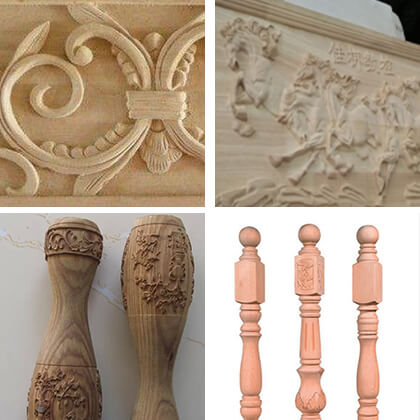 Wood carving cnc router Features:
1.Table surface:Aluminum T-slot table.It can process more stable.
2.Structure:Welded thick square-tube steel, whole body aging treatment, highly controlled rate of deformation.
3.Transmission: X,Y axis equipped with high precision high rigidity helical rack-pinion. Y axis is with two sides driving, high speed, powerful.
4.Characteristic: Rack-pinion driving, one type of economy relief CNC engraving machine.
5.Driver: Leadshine stepper motor and driver, with long life time and high speed.
CNC wood engraving applications:
Wood Furniture Industry: Wave Plate, fine pattern, antique furniture, wooden door, screen, craft sash, composite gates, cupboard doors, interior doors, sofa legs, headboards and so on.
Advertising industry: advertising identification, sigh making, Acrylic engraving and cutting, crystal word making, blaster molding, and other advertising materials derivatives making.
Die industry: A sculpture of copper, aluminum, iron and other metal mold s, as well as artificial marble, sand, plastic sheeting, PVC pipe, wooden planks and other non-metallic molds.