Dual-use Fiber Laser Cutting Machine for Metal Sheet and Tube
Thorpe
What is the Dual-use Fiber Laser Cutting Machine?
Dual-use Fiber Laser Cutting Machine has dual function for cutting sheet metals, metal plates, metal tube, and metal pipes of steel, aluminum, alloy, titanium, copper, brass, iron and other metal materials.
Dual-use fiber laser cutter, also called fiber laser cutting machine, laser cutter, metal laser cutter, metal laser cutting machine, designed for high precision metal plate cutting processing. This model is the dual-use model for metal plate and tube cutting at affordable price.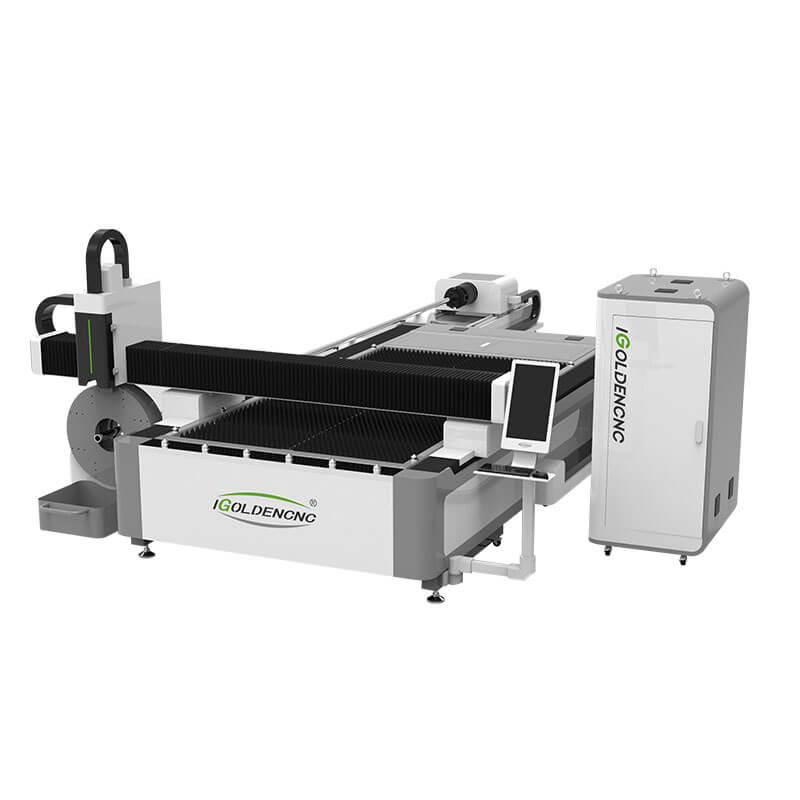 How is designed for?
Dual-use Metal Sheet Pipe Tube Laser Cutting Machine is designed for Circular Square Metal Pipe Tube Cutting and sheets cutting.
It adopts strong steel bed, rack drive system, professional pipe laser cutting CNC system, which ensure good cutting accuracy and efficiency of the CNC laser cutting machine.
Over 3500 sets CNC fiber laser cutting machine have been sold to over 80 countries. It is an ideal choice to cut plates and pipes for economic users.
Features
The machine is equipped with an exchanged double working platform. While working on one table, the other platform can load and unload the sheet workpiece;
Auto feeding model is driven by frequency conversation drive-down motor, high transmitting power and safety factor, enabling stepless speed adjustment for different operating frequencies;
Pipe cutting machine is specially designed for metal pipes, metal tubes;
Imported high precision transmission device which is perfectly work with servo system, thus it can make sure cutting precision and efficiency;
Higher cutting quality and efficiency ,cutting speed is up to 120m/min with appearance and beautiful cutting edge.
Machine advantages
1.The strong steel bed to keep the machine for many years without distortion.
2.World-class components like guide rails and racks to guarantee the cutting accuracy.
3.The professional CNC pipe cutting system is easy and simple to operate and maintain.
4.Imported high-end accessories to provide users with powerful cutting ability and efficiency, ensuring high-precision and stable operation of the machine.