ATC CNC Router_Affordable Wood CNC Routers
Tina
ATC (automatic tools changer ) is an efficient, high precision cnc router machine in China markets, there are have two types: Linear tools changer type and carousel tools changer type. It use G code command control system, with tool magazine, that can complete multiple processes at once(Such as drilling, cutting, engraving, boring, chamfering, punching and other processes). Normally ATC cnc router tool manazine with 8-16 tools, fast speed of tools change, to improve the processing efficiency, control accuracy up to 0.01mm, so it is suitabled for 24 hours production lines of large and medium-sized wooden door, cabinets and furniture decoration industry.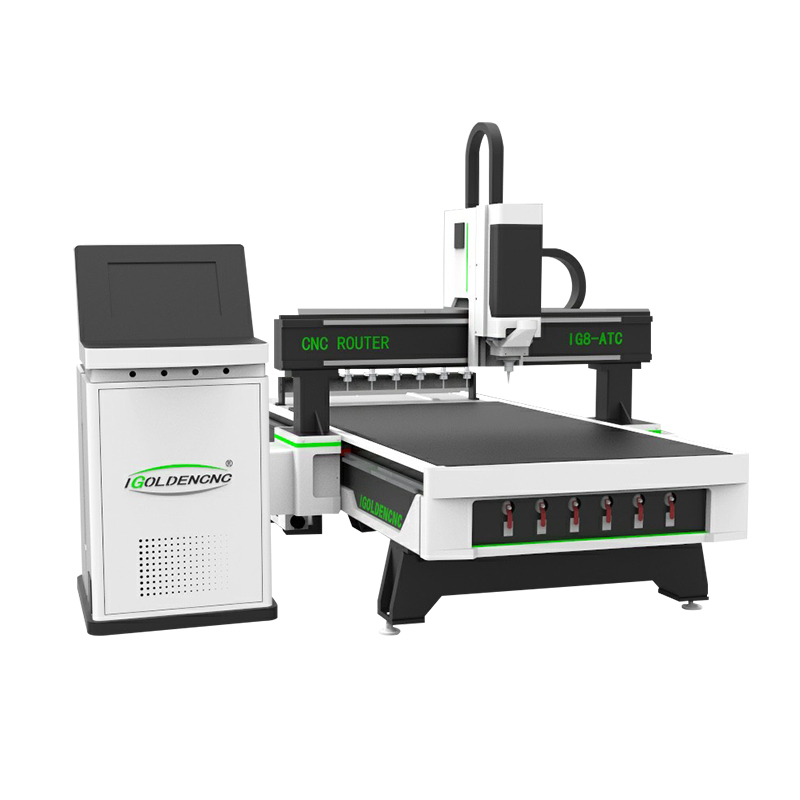 Carousel tools changer type: The manazine with 12-16 automatic change tools suitable for some larger working area of machine: such as 1500*3000mm, 2000*3000mm, 2000*4000mm etc , because the carousel type with servo motor assistance, fast tool change and the manazine together with spindle moving, then can chang tools at any position without returning to a fixed position.
Linear tools changer type: The manazine with 8 automatic change tools for working area: 600*1200mm ,1200*1200mm, 1300*2500mm, 1500*3000mm etc. because the manazine is fixed , so suitable for small working area of machine: Flexible activity, Increase tool change speed. Relatively variable carousel tools change type, linear tools changer type the cost is slightly lower.
Automatic Tools Changer CNC Router table size:
Affordable ATC CNC Router Machines have model: 1212, 1325, 1530, 2030, 2040, 2060. and working table size 1200*1200mm , 1300*2500mm, 1500*3000mm, 2000*4000mm, 2000*2600mm etc, maybe some regions describe cnc router table size with feet:4*4,  4*8,  5*10, 7*10, 7*12 etc. We also accept custom cnc wood router table sizes, to meet customer needs.

How to choose an affordable ATC CNC  Router machine?
ATC CNC Router Machines also have others names: such as advertising atc cnc router, 3 axis/4 axis/5 axis atc wood cnc routers, atc metal cnc routers, atc mold cnc routers, atc wood carving cnc routers, atc foam cnc routers for sale, atc stone cnc routers, cnc router bits, cnc machine bits,  Atc cnc routers, milti-heads cnc router, Panel furniture line atc cnc routers for sale, router cnc machines,  cnc milling machines, cnc carving machines, cnc router bits, cutting, engraving, carving, milling, atc cnc nesting router machine etc,so those machine names can help cnc newer to choose a best cnc machines.
What Is ATC CNC Router?
ATC CNC routers are a type of automatic CNC machine with tool changer for cabinet making, door making, furniture making, crafts making, decorations, musical instruments, sign making, windows, tables, and most popular woodworking projects & plans. The spindles usually carry tool magazines with 6 cutters or 8 cutters or 10 cutters or 12 cutters. The tools can automatically change according to the working requirements when the machine works, no need of manual operation. You will meet three most common types of ATC CNC router kits, which include linear ATC CNC kits, drum ATC CNC kits (rotary ATC CNC kits), and chain ATC CNC kits.

Features & Advantages
The high-power automatic tool-changing spindle is adopted, with good starting performance and large torque, which can give full play to the advantages of the machine's high speed and higher efficiency. It adopts high-torque servo motor made in Japan, which has the advantages of low noise, high speed and high positioning accuracy. Equipped with a unique tool magazine, you can exchange the required router bits at will. The tool change time only takes a few seconds. The standard tool magazine comes with 8 tools, and a larger capacity tool magazine can be customized.
Types of Automatic Tool Changers
Automatic tool changers are mainly divided into three common types: linear type, drum type, and chain type, we will introduce them one by one.
Linear Type Tool Changer
This is a type of in-line automatic tool changer, which used for magazines with 4 to 12 tools. It is featured by fast tool change and easy to use.
Drum Type Tool Changer
This is a type of rotary automatic tool changer, which is also known as CTM type ATC and disc type ATC. It is used for magazines with 8 to 20 tools.
Chain Type Tool Changer
It is mainly used for vertical CNC machines with lower tool changing speed. It is designed for magazines with more than 30 tools.

Applications
ATC CNC router machines can be used in various industries, such as furniture and home improvement, wooden crafts, cabinets, screens, advertising, musical instruments or precision instrument shell processing industries. And the materials that can be processed mainly include various non-metallic materials such as wood, glass, stone, plastic, acrylic, and insulating materials.
Woodworking
Home doors, 3D wave board machining, cabinet doors, solid wood doors, craft wooden doors, paint-free doors, screens, craft window making, shoe polishers, game machine cabinets and panels, computer tables and panel furniture making.
Mold Making
It can make metal molds such as copper, aluminum, iron and more, as well as non-metal molds such as wood, stone, plastic, PVC, and more.
Advertising & Hobbyists
Sign making, logo making, lettering, acrylic cutting, blister molding, and decorations.
Indsutrial Manufacturing
It can make all kinds of shadow sculptures and relief sculptures, which are widely used in the crafts and gifts industries. 
ATC CNC router is the first choice for enterprises with large production volume. Compared with the traditional manual tool change production method, this type of wood CNC machine has an independent tool magazine with different tool bits. It can automatically change the required tools by computer program control without stopping work during processing. And this CNC wood router can complete a series of cutting, hollowing, grooving, punching, milling grooves, milling planes and other different processing needs. Therefore, both the processing quality and processing efficiency have been greatly improved.
According to the different tool changing methods, the ATC CNC engraving machine can be subdivided into linear ATC CNC and disc ATC CNC machines. Then we are talking about the linear ATC CNC Machine. This type machine uses a straight-line tool change device, and the tool change device can be installed in different positions according to the specific needs of the user. Firstly, the in-line tool magazine can be placed behind the bed. This conventional in-line tool changer engraving machine is cost-effective and can meet a variety of processing requirements for complex work pieces without high procurement costs. Secondly, the in-line tool magazine can also be placed under the gantry. This type of linear engraving machine does not need to go to the back of the bed to change tools, so the tool change speed is faster and the wear on the guide rail can be reduced, and the service life of the machine is relatively longer. It is worth mentioning that the number of tools in the in-line tool magazine can be customized according to the specific processing needs of the user.