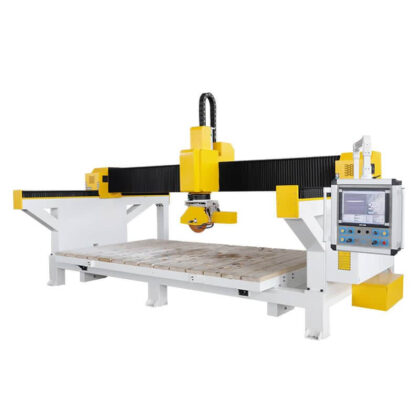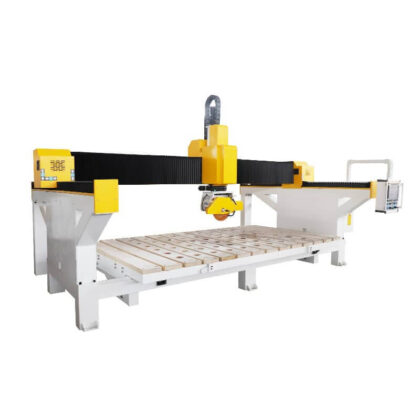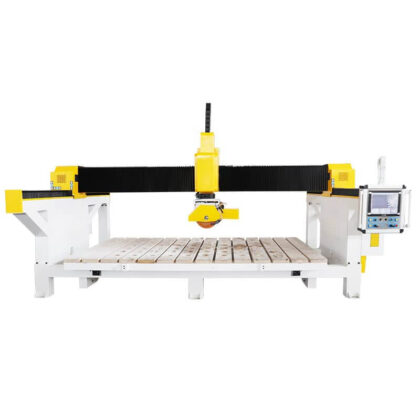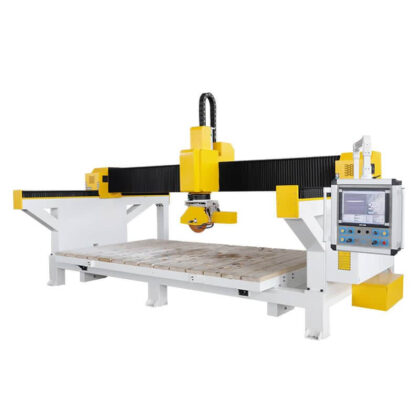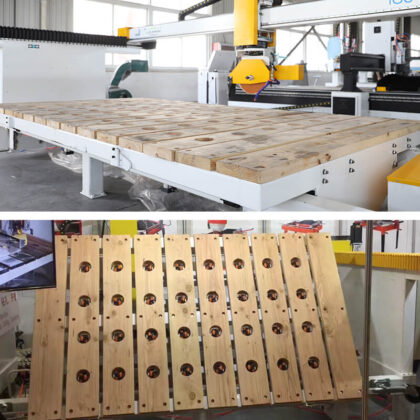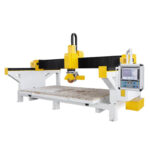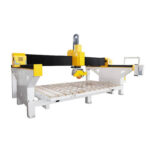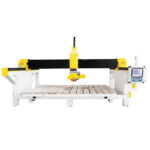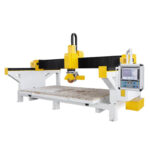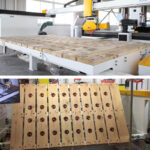 China Bridge Stone Saw For Cut Stone Marble Quartz
Item No.:5 Axis Stone CNC Cutting Bridge Saw iGS-B
The bridge stone cutting machine can realize cutting, chamfering, edging, profiling, milling, drilling, slotting, rounding, circular arc and other special-shaped processing through five-axis linkage. It is simple to operate and has strong practicability. A variety of configurations are available
If you need more detailed information, please inform us as soon as possible.
Description
Bridge stone saw for cutting granite marble and other stones. The machine is a popular bridge saw that widely used in thimming and fabricating slab, tile, countertops, etc. The laser guide and sensors gives high accuracy for the machining tolerance.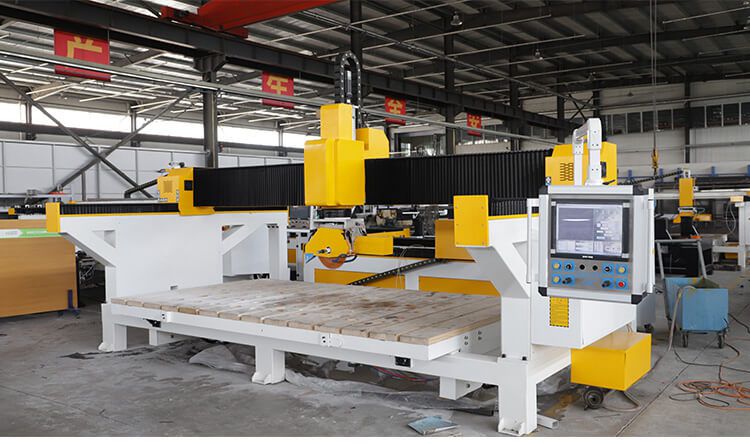 5 axis CNC bridge saw is an automatic stone machining equipment that can complete the processing of pentahedron special-shaped curved surfaces at one time through five-axis linkage control, that is, three linear moving axes and two rotating axes.
---
Features of Bridge Stone Saw for Countertop with Granite, Marble, Quartz
Through the optimization of the process parameters by the numerical control system, the product data files can be stored in modules and called manually. The ideal effect of extremely coordinated movement of each precision component is realized. The process of machine cutting stone slabs can realize automatic and intelligent cutting of stone materials through the pre-setting of the cutting coding program and the automatic operation of the cutting process, so as to achieve the mass production of stone slabs.
1. The integrated design gives the machine more advantages, such as occupying small space, easy installation and debugging, high precision, stable performance, easy operation and so on.
2. Bridge, sliding rails and blade holder are built in strong and stiff cast iron for stability, durability and low resonance.
3. Cutting head rotate 90°, tilting 45° suitable for chamfering cutting.
4. 0° to 360° cutting head rotation and 0° to 90° cutting head tilting.
5. The worktable installs independently, the hydraulic console panel level 0, 45°, 90° turns. Worktable tilting vertical turn 85°, easier and safe loading raw materials.
6. The CNC bridge saw is made up of main motor, longitudinal slicing part, worktable assembly, electric control system, hydraulic system and so on.
7. The CNC bridge saw is equipped with infrared tool setting gauge, to accurately adjust the cutting size.
8. Once all the parameters are well setting, it is not necessary to have workers watching on machine. It will automatically stop once it finishes the cutting. It is an ideal automation equipment of stone slab cutting machine.
---
Maintenance Of Bridge Stone Saw System
One、Prevent hydraulic oil from being polluted
According to the instruction of 5 Axis bridge stone saw, choose hydraulic oil. Enclosed tank with air filter installed at the inlet. In use, should prevent moisture, emulsion, dust, fiber sundries and other mechanical sundries invasion. The amount of oil in the hydraulic tank shall be kept within the specified oil level after the system piping and components are filled with oil. The hydraulic system must be cleaned strictly before it is put into use. The oil must be carefully filtered. Always check the filters and replace them as soon as they become contaminated.
Two, prevent the oil temperature is too high
Maintain the normal oil level in the oil tank of bridge stone saw, so that the system has enough oil for circulation cooling. When the actuator is not working, the system should be unloaded in time.
Three. Prevent air from entering
Suction pipe line and pump drive shaft end seal pressure is lower than atmospheric pressure parts, should pay attention to prevent leakage. Prevent the return pipe from bringing in air during oil return. If the system has entered the air, should be promptly found out the leakage parts and eliminate.
Iv. Strictly follow the operating procedures
bridge stone saw and joystick, timely action must be smooth and accurate, avoid too hard and too fast, so suddenly open or close the hydraulic cylinder and hydraulic motor oil outlet and inlet of the actuator, a pressure impact, caused by oil seal accelerate damage, leakage of high pressure tubing bubbles burst, loose coupling, may even make the overflow valve because of excessive instantaneous open and make the valve core is jammed, internal leakage occurs, cause work is weak, and reduced work efficiency, shorten service life.
5 Axis Bridge Stone Saw Application
The 5 axis CNC stone bridge saw is good at cutting, milling, chamfering and edging quartz, marble, artificial stone and slabs in regular and irregular shapes. It can realize countertop cutting, bridge cutting, roman column cutting, arc line cutting, concave-convex cutting, and irregular edge cutting and milling. The automatic stone cutting bridge saw can process products of sanitary ware, stone furniture, interior decoration, and other fields. For example, wash basins, bathroom countertop, stone tables, dinning tables, kitchen tables, kitchen cabinet basins, background wall, roman edge stone decorations, etc.

Automatic Rounding

Sink Processing

Marble Carving

Furniture Decoration

Stone machine processing

Marble Cutting

Jade Making

Furniture Decoration Making
---
iGOLDENCNC, Your best choice
Becoming a customer of iGOLDENCNC, we will cooperate with you on the basis of complete trust and comfort. You will find that we are a reputable supplier and worth your trust. We understand that every customer is valuable, and we will cherish every opportunity to cooperate!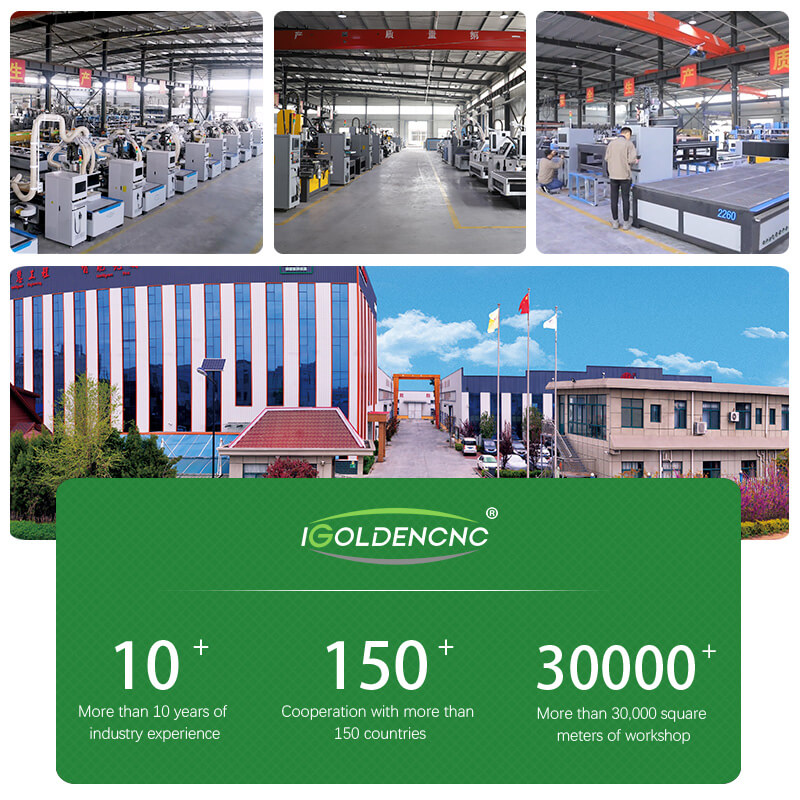 Strict Quality Control System
Advanced testing equipment are used, such as: dynamic balance tester, CNC high precision machining machine, 3D measuring machine; iGOLDENCNC has established a complete and strict quality control system, including 48-hour running test and 72-hour aging test, to ensure the excellent quality of our machines.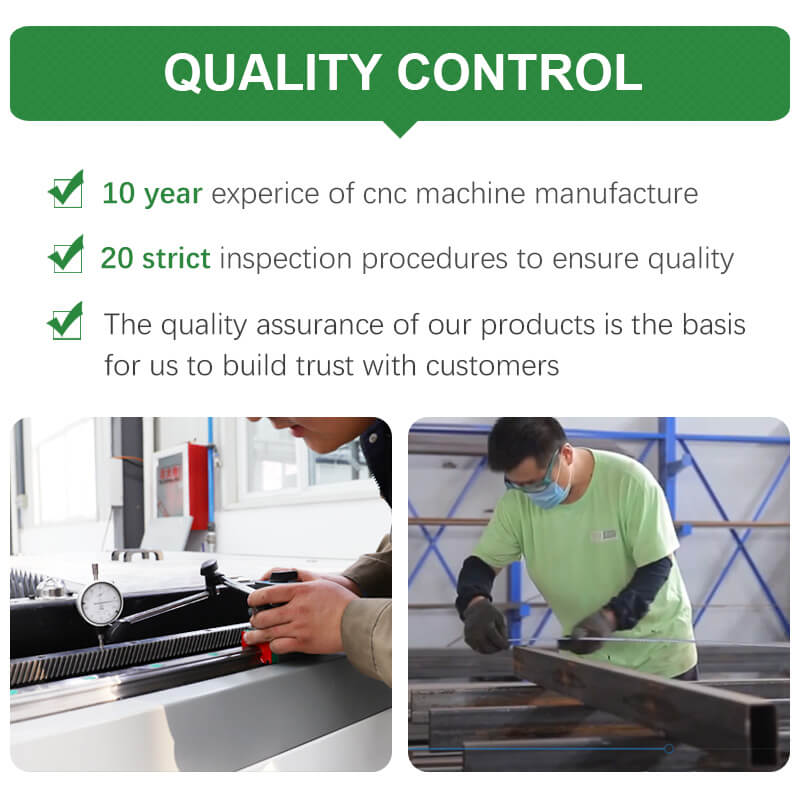 Most of stone materials, such as natural stone, marble, artificial stone, granite, sandstone, bluestone, terrazzo, and other materials, such as glass, ceramic tile, wood, aluminum plate, copper plate.
Stone background wall, bridge engineering, garden engineering, tombstone engineering and other industries.
About 300sets per month.
Yeah, we can shipping on time.
When you received this machine, connect power can work for you.
The main function is plane carving , relief, line carving, cutting, lettering, hollowing, chamfering, drilling, etc..
Related Products
Do you need a catalogue, price or machine working video? Please let us know your name and email, we will send you more information asap.