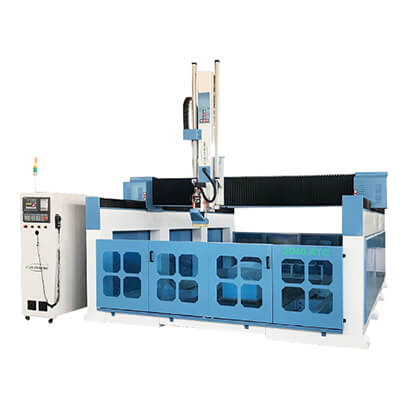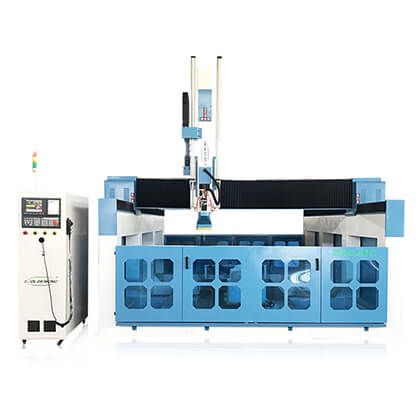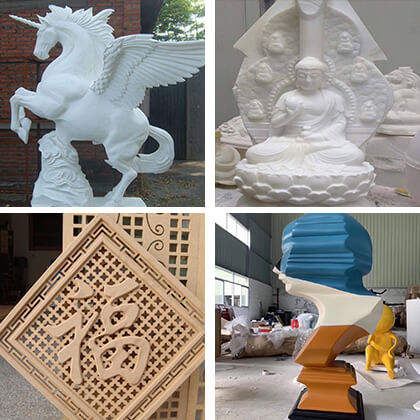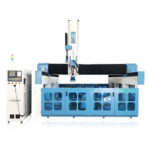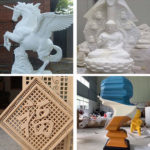 Top 3d CNC Foam Cutting & Carving Machine
Item No.: iGW-MC-2040
CNC foam routing pieces are widely used for molds. The CNC foam routing machine is ideal productivity tools for routed foam pieces making, especially lost foam molds. It is designed with a high Z-axis to meet the exact production requirement of mould, foundry, or pattern. Although it is called cnc foam router machine, this does not mean that it can only machine the foam. Besides foam, it can mill wood blocks as well.
Category: CNC Router >>CNC Foam Router
Response time: Within 1 hour
Supply Ability: 200 sets/month
Price Range: $17000-$19000
Description
This foam cnc router has the automatic tool change function of ATC CNC router. It adopts the linear tool change tool magazine design. And it automatically change the tool according to the processing requirements during the machining process, saving manpower and time and correspondingly improving work efficiency. It is worth mentioning that the spindle of this machine can be swung 180 degrees, which is very suitable for processing complex foam parts.
4 axis CNC router machine is based on the ordinary 3 axis CNC machine, adding the fourth axis (rotary axis).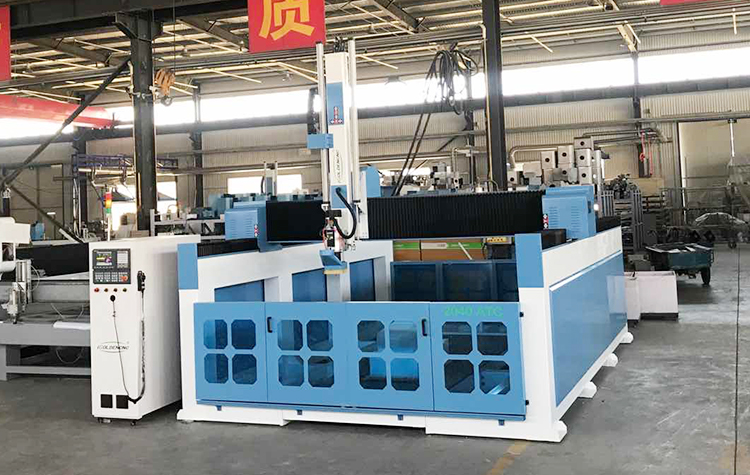 Application of CNC Foam Routing
CNC Foam Cutting Machine Applicable Field
• Wood Molds & EPS Lost Foams fabrication in industries: automobiles, vessel, aviation, trains, boat & yacht building, wind power system, machinery fabrication, foundry pattern, pump & valve, and more.
• Vehicle Interior Making
• Exhibits and Fixtures
• Custom Foam Products Fabrication
3d Foam Carving Machine Applicable Material
Suitable for foam ( styrofoam, polystyrene, EVA foam, eps, polyurethane ) and wood materials.

Wooden Crafts Hollowing

Plastic Mold Making

Car Mould Making

Foam Mold Making

3D Foam Mold Making

Board Furniture Carving

EPS Mold Making

Aluminum Mold Making
CNC Parameter:
| | |
| --- | --- |
| X, Y Axis Working Area | 1500*3000/2000*3000/2000*4000mm |
| Z Axis Working Height | 400-1200 optionedmm |
| Positioning Accuracy | 0.03mm |
| Re-positioning Accuracy | 0.02mm |
| Body Structure | Welding Body |
| X, Y Axis Structure | Linear Guide Rail, Gear Rack |
| Z Axis Structure | Linear Guide Rail, Screw |
| Max. Running Speed | 45000mm/min |
| Max. Working Speed | 30000mm/min |
| Spindle | 9.0kw Air-cooling ATC Spindle(Optioned) |
| Spindle RPM | 24000rpm/min |
| Working Voltage | AC 220V/ 380V±10%,50-60Hz |
| Machine Weight | 2500/2800/3000kg |
Features Of  EPS Foam ATC CNC Carving Machine
Improving working efficiency: Like ATC CNC Machine, this type of machine was designed with linear tool change magazine. Various of tools can be changed automatically in the engraving process, which means time saving.

Multi-function: With a true four-axis (4 Axis CNC Machine), and the machine's spindle can swing 180 degree to do three-dimensional processing.

Realizing customized services : The Z axis can be heighten, and the whole working size also can be customized.
Why choose the EPS foam CNC router?
Hand-tool working greatly affects the efficiency and quality of mold making. CNCs have the advantages of uniform margin, fast processing speed, and high processing quality, this CNC foam cutting machine is widely used in many industries, which not only improves the quality of mold castings but also shortens the mold production cycle.
Types of Foam CNC Router Machine
Foam carving machines can be divided into various types according to different functions. The following are some main foam cutting routers for sale.
ATC CNC Foam Router
This is a type of foam CNC router equipped with an automatic tool changer magazine. Added with a linear auto changer magazine or carousel auto tool changer, it can not only automatically change different tools but also complete more patterns and complex engraves. It has the advantages of fast cutting speed, low maintenance cost, high engraving accuracy, etc. Moreover, it reduces the interference of manpower, which save a lot of labor and time, as well as improves work efficiency.
5 Axis Foam CNC Router
The 5-axis foam cutting router is one of the most high-end and multi-functional CNC machines for sale. Usually, the 5 axis eps CNC router can be designed with more horizontal or vertical drilling heads or rotary axis to complete more complex projects. First of all, it has a higher Z axis, which can process most of the workpieces with a very large size and scale for helping big foam manufacturing factories. Secondly, it does not require multiple clamping when processing complex engraving. And it can be formed at only one time, which will ensure the high accuracy of the work piece and improve the processing efficiency at the same time. Thirdly, the 5 axis foam carving machine can realize more functions such as cutting, engraving, drilling, slotting, milling, carving, etc. Furthermore, it is more flexible and can realize high-precision processing of curved surface and 3D products.
Do you need a catalogue, price or machine working video? Please let us know your name and email, we will send you more information asap.