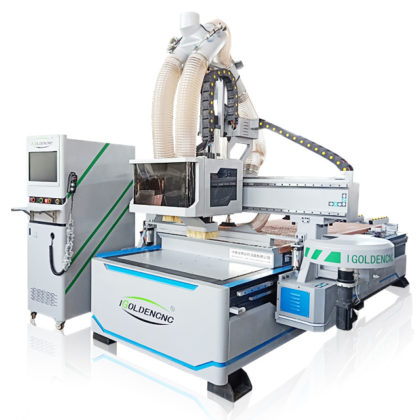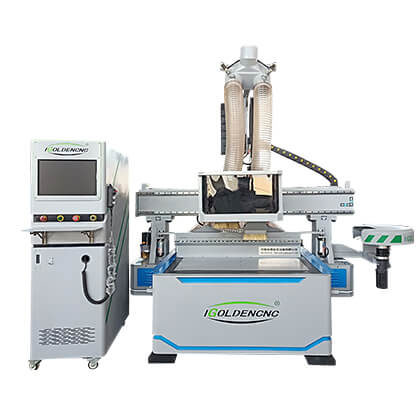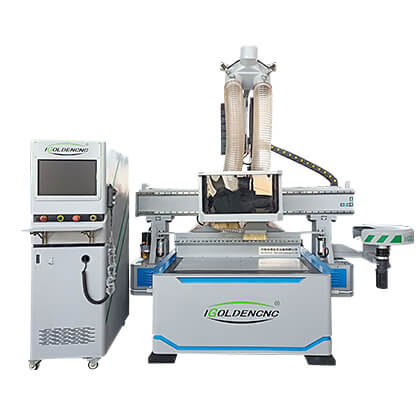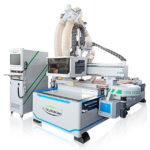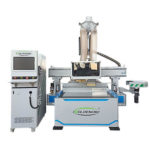 CNC Machine for Kitchen Cabinets Making
Brand : IGOLDEN CNC
Industry Name:ATC CNC Machine for Furniture Industry
Category: Furniture CNC Machine>>Door Making Machine
Response time: Within 1 hour
Supply Ability: 300 sets/month
Price Range: $19395-$21395
Description
The most advanced, multi-function wood atc router cnc nesting machine with drilling bank, perfect for professional scaled furniture manufacturers, designed by iGOLDENCNC for changing tools automatically while working, combined with a competitive set of configurations.
This ATC heavy duty Router machine with a large working table uses very good-quality CNC parts. Therefore, it has the advantages of fast tool changing speed, high processing efficiency, good stability, etc.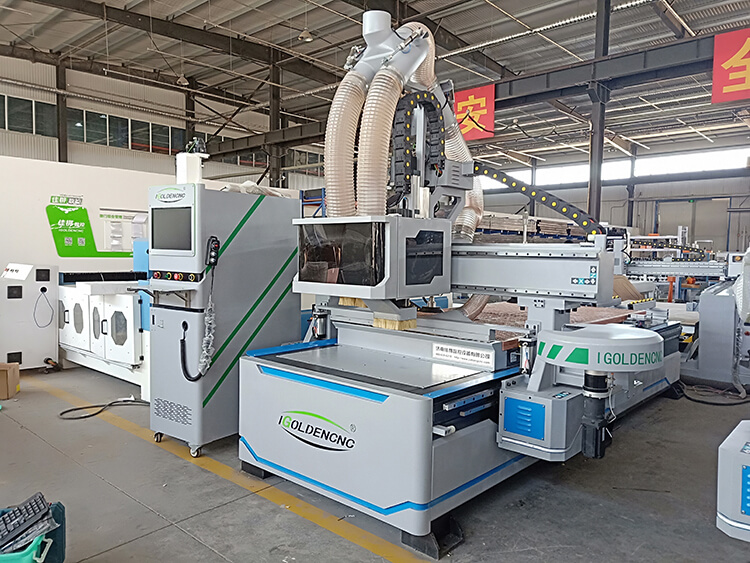 ---
Wood Router Nesting CNC Machine Features and Advantages:
The tool bag is equipped with 8-24 cutters as standard, and the tool change time is only 5 seconds, to meet the processing needs of different processes, it is suitable for mass processing of complex products.
9kw High-power Air-cooled Automatic Tool Change Spindle.
To meet the processing requirements of various non-metallic materials, the drill pack adopts four vertical and five horizontal arrangements to realize the function of simultaneously drilling multiple holes.
Japan YASKAWA servo system, it has the advantages of higher precision and big torque.
Please notice that all the specifications can be designed follow to your own requirements.
The wood router nesting cnc machine used for panel furniture and board cabinet processing ,widely used in cutting ,drilling ,sloting ,milling etc .
---
CNC Furniture ATC Nesting Machine Parameter
| | |
| --- | --- |
| Working area | 1500*3000*200mm |
| Transmission | Taiwan Helical rack and gear |
| Spindle | 9KW HQD air cooled spindle |
| Vertical Drilling Head | 5+4 |
| Guide rails | Taiwan PDF 25mm |
| Inverter | FULING 11kw |
| Table structure | Vacuum table |
| Vacuum pump | 7.5KW |
| Motor | Servo motor 1500w |
| Driver | Servo Driver |
| Reducer | Japan Shimpo |
| Control system | Taiwan LNC |
| Dust collector | 5.5kw |
| Spindle collets | ER32 |
| Lubrication | Automatic |
| Tools sensor | Automatic |
What Should I Do If The Bearings Of The CNC Cutting Machine Are Not Easy To Use?
Insufficient lubrication of CNC bearings: Insufficient or improper lubricating oil may cause component scratches or severe bearing deformation. Precautions: Improve the lubrication system and regularly replenish or replace the lubricant appropriately. Improper bearing operation: Improper installation, operation or disassembly of the bearing may cause deformation or defect of the cage. Precautions: Use appropriate operating, installation and removal tools. Bearing external materials: Abrasive particle contamination and debris intrusion may cause wear, scratches and depressions on the INA bearing working surface. Precautions: Remove intrusive particles and debris, replace lubricants, and check the sealing system. Bearing eccentricity: Eccentricity, tilt or excessive load may cause geometric stress concentration or surface flaking. Precautions: Use precision machined INA housings and shoulders
Applications Of Nesting Wood CNC Machine
(1) Cabinet, wardrobe, bank office furniture, computer desk, children's furniture, panel furniture, office furniture;
(2) Decoration with hollow lattice, soft bag background wall production;
(3) Panel furniture cutting, slotting and hole arranging.

Furniture Production Line

Woodworking industry

Wooden Door Processing

Furniture Making

Wooden Furniture Processing

Cabinet Door Processing

Wooden Crafts Relief

Acrylic Cutting
The ATC CNC Nesting Router Machine with Vertical Drilling is equipped with 9-hole drilling bag, equipped with a 9.0kw air-cooled spindle, and independent operation. Usually used in conjunction with labelling coding machines and automatic loading and unloading platforms. High speed, high precision, high efficiency and stability. It is suitable for processing various cabinet doors and wooden doors.
---
PRODUCTION FACILITY
Becoming a customer of iGOLDENCNC, we will cooperate with you on the basis of complete trust and comfort. You will find that we are a reputable supplier and worth your trust. We understand that every customer is valuable, and we will cherish every opportunity to cooperate!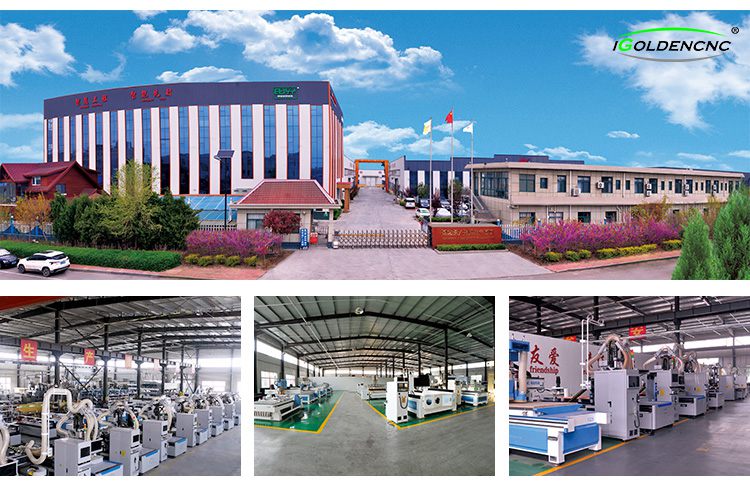 First of all, there are twelve tool changes, which can process more complicated engraving. The 4 + 5 row drill package can punch nine holes with different diameters. The punching speed is fast.
The doors and cabinets of the machining center can be processed. Compared with other numerical control equipment, it can process tedious processes, and the processing speed is greatly improved.
In the customer groups we are currently in contact with, we do not require the processing of hundreds of plates per day, and they are generally not eliminated. Each of our customer groups does not require individualization, and most of them are personalized. Home improvement companies, decoration industries, etc., customer requirements will be met. Compared with other CNC equipment, its advantages are still great, and will not be eliminated in the short term.
If you want to save labor, it is best to add an automatic loading and unloading platform. If the customer considers the cost of equipment purchase, you can suggest that you add a loading platform and build a loading platform yourself. This saves labor and costs.
Our domestic equipment has more options to use domestic first-line HQD spindle drilling, his warranty is long, and in use, the spindle is damaged. We can re-issue spares without delaying production. The imported spindle is quite high in maintenance time and cost. The stability and efficiency of domestic spindles are also guaranteed. I still recommend the boss to choose domestic HQD, of course, if you still consider importing spindle drilling, sufficient investment funds can configure you for import.
Related Products
Do you need a catalogue, price or machine working video? Please let us know your name and email, we will send you more information asap.