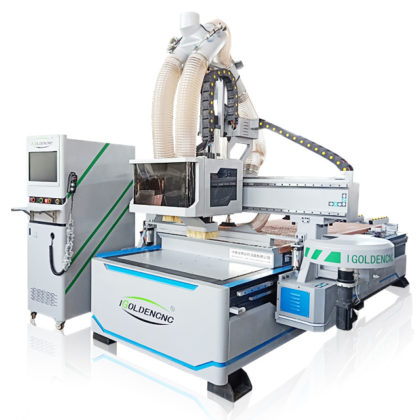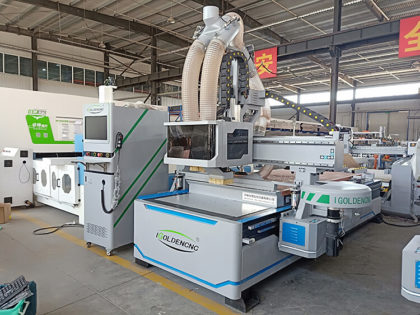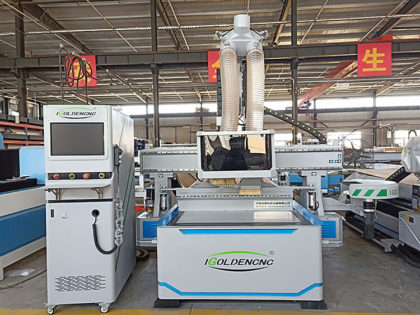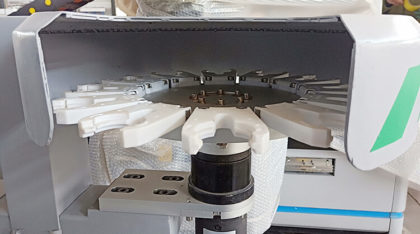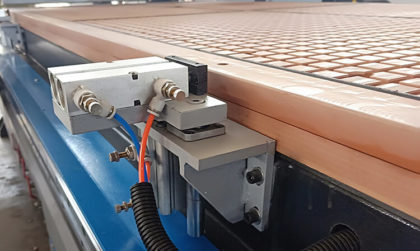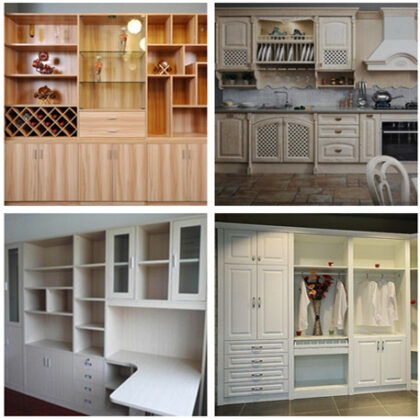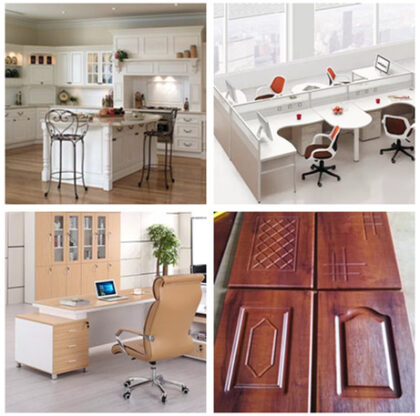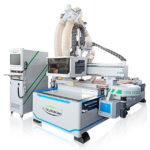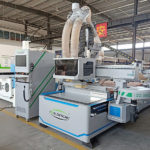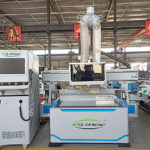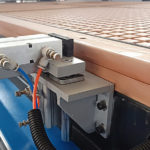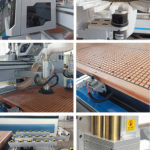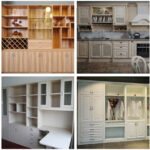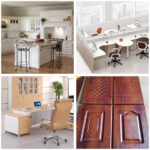 Intelligent ATC Furniture Making Nesting CNC Machine with Gang Drilling
Item No.: IGC-TD
The CNC automatic tool change ATC machining centre is equipped with 9-hole drilling bag, equipped with a 9.0kw air-cooled spindle, and independent operation. Usually used in conjunction with labelling coding machines and automatic loading and unloading platforms. High speed, high precision, high efficiency and stability. It is suitable for processing various cabinet doors and wooden doors.
Category: Furniture CNC Machine>>Door Making Machine
Response time: Within 1 hour
Supply Ability: 300 sets/month
Price Range: $19395-$21395
Description
Who is it for?
The most advanced, multi-function ATC Nesting CNC machine with drilling bank, perfect for professional scaled furniture manufacturers, designed by iGOLDENCNC for changing tools automatically while working, combined with a competitive set of configurations. Hot applications include:
>Production and processing of various types of furniture: cabinets, wardrobes, office furniture, computer tables, children's furniture, panel furniture, cutting and cutting, slotting and perforating, decoration hollow frames, soft bag background wall production, etc.;
>Wooden door and furniture decoration industry: solid wood and composite door, cabinet door, large-area plate carving, solid wood, panel furniture carving, solid wood art mural carving, etc .;
>Wood products processing: clocks, electrical countertops, sporting goods and equipment;
>Musical instrument industry: three-dimensional curved surface and shape cutting of sculptable musical instruments;
>Crafts industry: photo frames, jewellery boxes.
What makes it unique?
Popular with wooden door manufacturer which wanna save labor and time, the iGC-TD series nesting CNC machine is designed for wooden door production line. It is mainly used in various furniture door processing, such as wooden door, solid wood door, cabinet door, etc.
>Cutting, punching, grooving and pushing the material in one;
>The utilization rate of the plate is as high as 98%, which saves the material cost;
>Heavy industry quality, stable operation for 10 years;
>Easy to operate, quick obstacle removal, conducive to learning;
>Supported by industry leader iGOLDENCNC.
Applications of ATC Nesting CNC Machine

Wooden Window Processing

Cabinet Door Processing

Wood Hollowing Cutting

Instrument Panel Milling

Wood Clock Processing

Wooden Furniture Making

Customized Furniture Making

Wood Relief Carving
| | |
| --- | --- |
| Max. Rapid Travel Rate | 50000mm/min |
| Max. Working Speed | 30000mm/min |
| Spindle Power | 9.0kw air cooling |
| Spindle Speed | 24000rpm/min |
Working Voltage
380V/50Hz
Running Environment Temperature
About 25℃
Relative Humidity
<85%
Ps. Adjustment is available according to locally requirement
Features of ATC Nesting CNC Machine
High-precision Transmission System
The positioning accuracy of the machine is 0.02mm, the maximum running speed is 50,000mm/min, and machine working life up to 10 years.
Options of ATC Nesting CNC Machine
Automatic Loading and Unloading Table
Save labor costs, quickly return to cost, meet the needs of the production line, fully automatic intelligent operation, increase efficiency by 200%.
First of all, there are twelve tool changes, which can process more complicated engraving. The 4 + 5 row drill package can punch nine holes with different diameters. The punching speed is fast.
The doors and cabinets of the machining center can be processed. Compared with other numerical control equipment, it can process tedious processes, and the processing speed is greatly improved.
In the customer groups we are currently in contact with, we do not require the processing of hundreds of plates per day, and they are generally not eliminated. Each of our customer groups does not require individualization, and most of them are personalized. Home improvement companies, decoration industries, etc., customer requirements will be met. Compared with other CNC equipment, its advantages are still great, and will not be eliminated in the short term.
If you want to save labor, it is best to add an automatic loading and unloading platform. If the customer considers the cost of equipment purchase, you can suggest that you add a loading platform and build a loading platform yourself. This saves labor and costs.
Our domestic equipment has more options to use domestic first-line HQD spindle drilling, his warranty is long, and in use, the spindle is damaged. We can re-issue spares without delaying production. The imported spindle is quite high in maintenance time and cost. The stability and efficiency of domestic spindles are also guaranteed. I still recommend the boss to choose domestic HQD, of course, if you still consider importing spindle drilling, sufficient investment funds can configure you for import.
Do you need a catalogue, price or machine working video?
Please let us know your name and email, we will send you more information asap.