Simulation function of CNC woodworking engraving machine control system
Thorpe
CNC woodworking engraving machine is an indispensable engraving "helper" in various furniture production industries. With the continuous innovation, development and high requirements of different customers on technology, woodworking engraving machines with stable quality can do more technically. Under the difficult operation requirements, the exquisite and exquisite carvings required by customers can be vividly presented. Because of this, CNC woodworking engraving machine is favored by many professional woodworkers in this field, more and more customers choose to use it, and the market praise rate is also rising.

The control system of CNC woodworking engraving machine is mainly Weihong control system. Weihong control system also has a more important function – simulation. When using woodworking engraving machine for production and processing, how to avoid errors in engraving production is a problem that many customers care about, because often due to incorrect engraving path setting or operation errors, engraving errors are prone to occur, and the wrong result is a waste of plates. This is a huge waste, because many customers use boards that are very expensive, and the slightest mistake can waste the entire board. Therefore, how to avoid woodworking engraving machine engraving errors is a common problem faced by everyone. Here, the engraving machine manufacturer tells you a little trick to use the control system to avoid the engraving error of the woodworking engraving machine.

Simulation function of CNC woodworking engraving machine control system
Using simulation, we can examine the program to be processed. If the program input is wrong, we can adjust it in time to avoid processing errors in the woodworking engraving machine;
Using simulation, you can preview the processing effect in advance. If the effect is not very good, we can re-select the appropriate tool to calculate the path;
Using simulation, we can calculate the time required for actual processing in advance, so that we can reasonably arrange our time;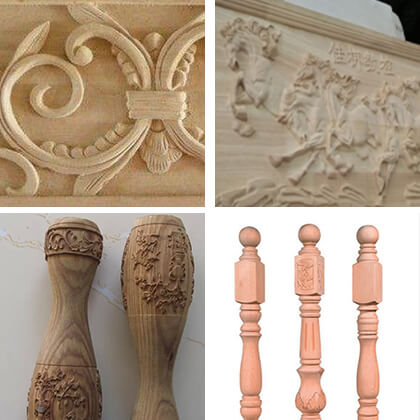 Using the simulation, it is possible to check the lift distance of the tools and the order of the tools. The tool lift is too high or too low, and the engraving sequence is disordered, which can be adjusted through this link.
For users who are new to woodworking engraving machines, the importance of simulation is particularly important. The operation itself may be a little unfamiliar. If the simulation preview is not performed again, once a problem occurs in a certain link, it may cause material waste or tool breakage. Simulation is equivalent to an actual process. Use simulation software to demonstrate while learning, making it easier to master.
In order to avoid damage caused by improper operation of the woodworking engraving machine, and also in order not to waste plates and save manpower, etc., everyone must be cautious when operating, that is, employees who are skilled in woodworking engraving, it is recommended to use the simulation function of the micro-macro system before engraving , check the engraving path is correct, etc.
Popular applications for CNC wood engraving machines include:
>Woodworking industry: 3D carving processing, corrugated board processing, wooden door production, MDF, solid wood furniture carving, solid wood art mural carving, top lacquer door carving, dragon column carving, log carving, etc.;
>Advertising industry: logo making, pvc cutting, crystal cutting, acrylic cutting, led/rainbow light trough, hole-shaped text cutting, plastic light box mould making;
>Crafts industry: suitable for all kinds of flower carving, milling, plane carving, cutting, 3d relief and other handicraft processing.
Linear square guide rails, double-row and four-row ball sliders are optional, with large bearing capacity, stable operation, high precision and durability. The ball screw has high precision and accurate tool setting.
The main shaft is a high-speed water-cooled motor using Japanese NSK bearings. 6KW air-cooled spindle 4.5KW spindle has high power and stable performance.
The handle-type control system adopts intelligent budget rules to give full play to the potential of the motor and realize high-speed processing. The curve is synchronized with the straight line, and the curve is more beautiful.
The software is compatible with 3/Artcam/Castmate/Wentai and other CAD/CAM design and production software.
Stepper motors and drivers are driven at high speed. The Y axis is driven by dual motors. When running at high speed, the idle speed can reach more than 25m/min. Using high-power cutting spindle, the engraving speed is faster.