Styrofoam engraving machine_3D large foam engraving machine
Thorpe
How much a Styrofoam engraving machine costs depends on the configuration and model. This non-standard equipment is basically customized, and solutions and prices need to be provided according to customer requirements.
Styrofoam engraving machine, also known as foam engraving machine, is a CNC equipment used to process EPS foam EPC in recent years. It is a light CNC machine tool. Compared with heavy metal cutting machines, Styrofoam engraving machines have slightly lower requirements on rigidity and precision. Solid casting-based foam models are machined with a Styrofoam engraving machine.

The original triangular balance guide rail structure, combined with the Z-axis balance auxiliary device, ensures fast and stable processing of multiple surfaces.
It adopts Taiwan's new generation integrated operating system, which is easy to operate and powerful, with online simulation and online monitoring functions to ensure safe and efficient processing.
The Z-axis travel can reach 2.2 meters, and it can be improved to a crane-type five-axis machining center with a large processing width and can be customized to meet the requirements of use.
Automatic oil lubrication system, maintenance, more convenient.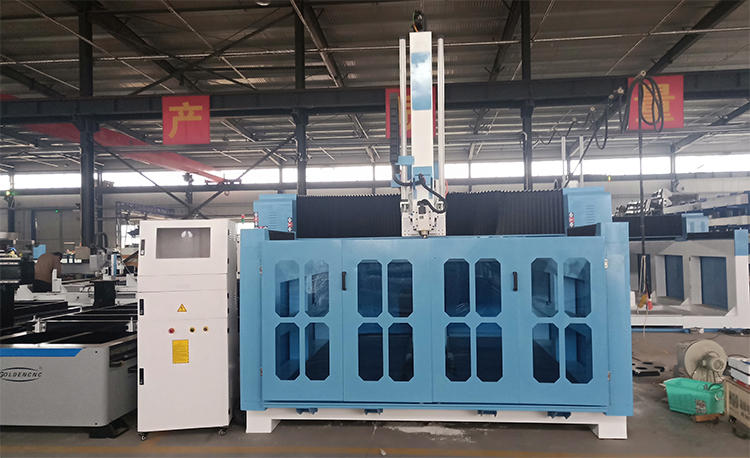 Using high-power servo drive system, with top accessories such as BT40 spindle and Italian HSD spindle, the equipment has the characteristics of stable performance and durability.
The intelligent processing cross-border protection function can prevent mechanical collision caused by excessive processing of design files. Diversified control can control the processing speed, idle speed and cutting speed respectively, which greatly improves the quality and processing efficiency of processed products.
It has functions such as breakpoints and engraving, recovery, and predicting processing time. No matter it is finely crafted, it can be handy.
Extremely user-friendly design, combined with ergonomic design, the height of the operation panel, modular design, meticulous and considerate, you can process whatever you want.
Technical parameters of Styrofoam engraving machine.
Working stroke (customized as needed) 2000mm*4000mm.
Table tops Steel tops can be chosen from cast iron tops.
The maximum idle speed is 30,000 mm/min.
The maximum processing speed is 20,000 mm/min.

Repeat positioning accuracy of 0.02 mm
The system has a resolution of 0.0025 mm
Spindle air-cooled spindle, power 6KW.
Optional 9KW air-cooled spindle.
The spindle speed is 6000-18000 rpm.
Double-deck Styrofoam Machining Center
Diameter 3.175mm 0x 17754mm 0x 17756mm 0x 17758mm 0x 177510mm 0x 177512.7mm
The drive system is driven by a three-axis stepper motor.
Optional three-axis AC servo motor drive.
Next-generation controller system.
The transmission system x1775 y-axis can be selected from Japan's THK guide rail for Taiwan Yintai guide rail.
Inverter Delta inverter.
The software supports type 30x 1775 u cancam0x 1775 art cam0x 1775 MasterCAM0x 1775 ug0x 1775 AutOCAD.
Working voltage AC380V/50HZ.
Styrofoam engraving machine for industry and materials
Styrofoam engraving machine: non-metallic processing center of automobile stamping mold, casting wooden mold, automobile interior, engineering plastic materials, etc.: casting wooden mold, automobile inspection tool processing, automobile interior decoration, engineering plastic materials and other non-metal processing.