Wood Boring Machine Hinge Drilling Machine for Furniture Door Panel
Thorpe
What Hinge Drilling Machine for Furniture Door Panel is used for?
The Hinge Drilling Machine for Furniture Door Panel is suitable for drilling hinge hole of aluminum door panel and wood door panel. The machine adopts the combination of electric and dynamic operation. It can drill the hole automatically by foot operation with high working efficiency and more convenient operation.
Hinge drilling machine are mainly used to drill the hinges of furniture door panels, such as wardrobe door panels, cabinet doors, and office furniture door panels. The hinge eyes and the fixing screw eyes on both sides can be drilled at one time, which can greatly improve the production efficiency of furniture! Its positioning buckle ruler and pneumatic pressing device further improve the degree of the product, so that the drilled hinge hole reaches the perfect standard. Adopting foot switch to control operation is safe and labor-saving.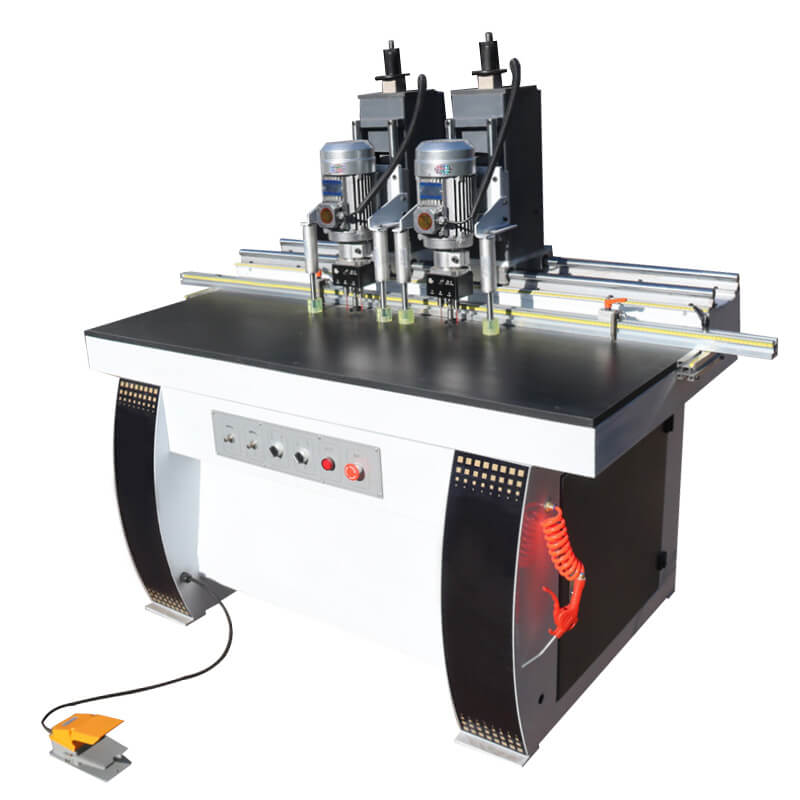 The Machine Parameters
Drilling diameter: ≤35mm
Drilling depth: ≤50mm
Length of work piece: ≤1000mm
Dimensions: 1000*650*1550mm
Spindle speed: 2840r/min
Number of drill spindles: 3*1 (can customized)
Air pressure: 0.6-0.8Mpa
Motor power: 1.5KW
Why choose us?
Our Double-head drill up punching hinge machine is the machine you need for your business. It's not only reasonable-priced also durable and effective. We are very proud of how easy and convenient it could be operated. We designed it especially aiming at featuring simpleness and robustness and we made it. It's compact, flexible, easy, versatile and strong. It can be deployed anywhere anytime and work care-free.
Which equipment does a new furniture factory need?
The woodwokring CNC machine, the automatic edge banding machine, the table panel saw cutting machine and the CNC sanding machine. We have the whole furniture product line, if you need, you can send message to us!