ATC CNC Wood Router Machine
Thorpe
What is the ATC CNC Wood Router Machine?
The Multifunctional ATC CNC Wood Router Machine is attached with a rotating shaft, and the main shaft can be rotated 180°, which can be used to process various 3D products.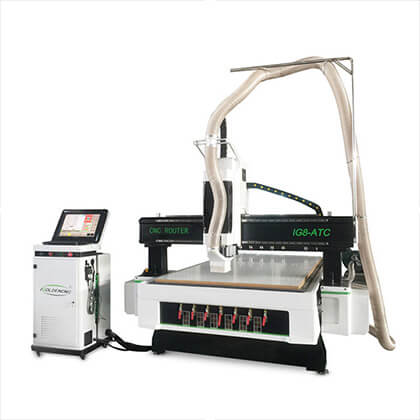 Feature
Linear tool changer under gantray saves more time than that at the backend;
ATC air cooling spindle changes tools with no machine stopping and manual assistant;
Quality CNC Kits makes machine run well and long life time;
Automatic feeding device saves the time and effort of manual feeding;
Dust collecting system makes woodworking place cleaner;
Why to choose the ATC CNC Machine?
First, high productivity. Equipped with automatic tool changing device, which can meet the tool changing requirements during processing without manual participation. With simple and easy operation mode to learn, which can help users quickly grasp the use of methods and greatly improve production efficiency.
Second, imported spare parts.
Adopting the automatic tool changing spindle, it has the advantages of good starting performance, fast processing speed, large torque and high processing efficiency.
Adopting Italy HSD spindle motor, and spindle bearings with high-precision ceramic bearings, it has the advantages of low noise and long service life.
Equipped with the imported high torque servo motor, it has the advantages of low noise, fast speed and high positioning accuracy.
Equipped with a unique tool changing device and a dedicated tool setting table, it can realize automatic tool changing without intermittent with fast tool changing speed, and can accurately compensate for tool length errors.
Adopting Taiwan linear guide and ball screw, it has the advantages of high bearing capacity and accurate cutting.
Third, good software compatibility. Adopting open software interface, it can be compatible with the processing codes generated by various CAD / CAM design software, such as type3 / Artcam / Castmate / Wentai, to ensure the realization of various design functions.
Advantage
With 8 or 12 sets of tools to change automatically, which can saving time of tools changing and improving working efficiency.
2.Vacuum table using high-density material with great suction strength, comfortably accommadating all sizes of work piece.
Control system is simple, convenient and easy to learn, users can quickly get the fleciblity to master the use of equipment, strong independence.
4.The frame adopts the gantry column structure, the machine parts are produced and assembled with extremely high precision to ensure the high performance and stability of the machine, excellent quality and tolerance.