Automatic Cnc Wood Furniture Carving Machine
Tina
Wood CNC Routers Manufacture-Router CNC,China wood cnc router,nesting machines,woodworking furniture engraving,China CNC Woodworking Cutting machines/Carving Machining,ATC CNC Router Woodworking,The machining center is a comprehensive platform incorporating automatic loading and unloading, labeling, front vertical drilling, grooving, special-shaped processing and cutting. It is installed with design splitting software which can optimize typesetting, realize automatic control and easy to operate. The machine has advantages of high processing precision, low labor cost and high productivity.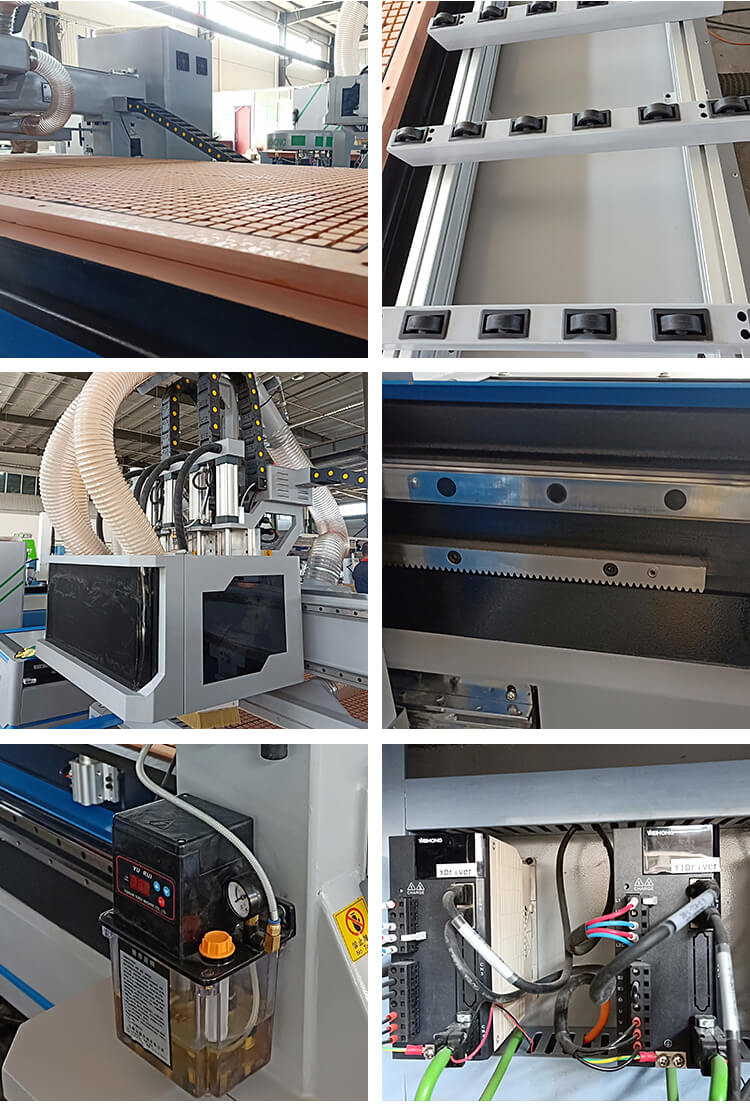 1.Pneumatic system cabinet cnc machine with ATC function is used for wood working factory. It can change tools automatically
2.Vacuum table using high-density material with great suction strength, comfortably accommadating all sizes of work piece.
3.NC studio control system is simple, convenient and easy to learn, users can quickly get the fleciblity to master the use of equipment, strong independence.
4.The frame adopts the gantry column structure, the machine parts are produced and assembled with extremely high precision to ensure the high performance and stability of the machine, excellent quality and tolerance.
CNC router atc cnc router cabinet furniture cnc nesting automatic wood carving machine,These machines are all popular among different customers. Why not to take one minutes for clicking to get more details. All the specification of machine can be customized according to your own requirements, and there will be one machine suit for you.
Pneumatic 4 Process Nesting CNC Machine for Furniture Making
The pneumatic 4 process nesting CNC machine is a multi-function automatic CNC nesting machine, which integrates cutting, chamfering, relief, hollowing, punching, slotting and other processes, while meeting the processing requirements of cabinet doors and cabinets.



Wood CNC router is a CNC(Computer Numerical Controlled) carving machine that is used for routing 2D/3D shapes on wood, stone, foam, metal, acrylic, plastic, PVC, MDF, ACM and other materials. Wood CNC router is also called CNC router woodworking, CNC router table, CNC carving machine, CNC engraving machine, CNC engraver, CNC cutter, CNC carver, CNC routing machine, CNC carve machine, CNC engraving machine, CNC cutting machine. A CNC router is mainly composed of the control system, Spindles, Servo motors or Stepper motors, AC inverter frequency drives, Linear guides, Ball screws, and Workspace table.