Why Choose ATC CNC Router?
Thorpe
What is ATC CNC Router? ATC CNC Router is the abbreviation of Auto Tool Changer CNC Router, also be named as Heavy Duty CNC Router. An Automatic tool changer or ATC is used in the CNC Router machine to improve the production and tool carrying capacity of the machine. ATC changes the tool very quickly, reducing the non-productive time. Generally, it is used to improve the capacity of the machine to work with a number of tools. It is also used to change worn out or broken tools. It is one more step towards complete automation.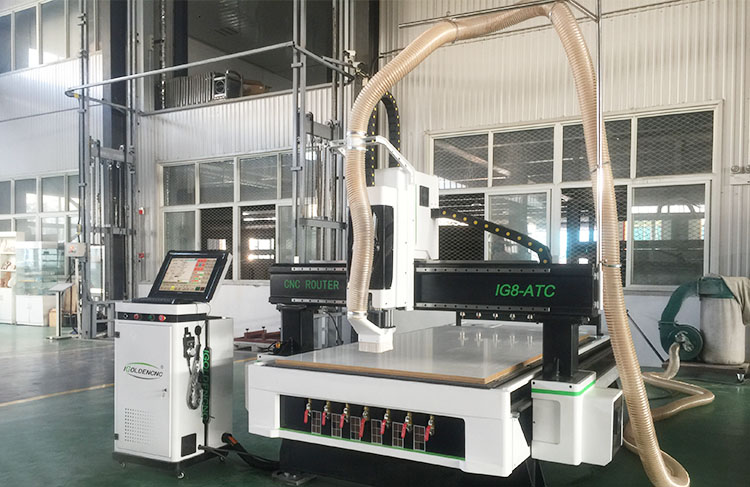 Normally there is two types tool magazine. One is carousel type and with 8 positions or 10 positions or more positions. This ATC system is the fastest method of changing tools on a regular basis. Another is a linear type tool magazine. This tool magazine is very simple. But it is easy to operate and learn. And it is also very stable.
Other Hot CNC machine collections: wood cnc machine, 5 axis cnc router, 4 axis cnc router, small cnc router, cnc plasma cutter, stone CNC router
ATC CNC Router is one more advanced industry CNC Router but at affordable prices. If you're looking for an efficient CNC Router machine, FORSUN CNC routers are an excellent choice. All our ATC Wood Routers allow you to increase the speed of production and improve the quality of your cutting and engraving, growing your business along the way. FORSUN Wood CNC Routers are excellent for making surf racks, shelf units, kitchen cabinets, skis and much more, our ATC CNC Router Machines are designed to make setup and programming effortless, all while giving you highly precise edge finishes.
Within our ATC CNC Wood Router selection, you'll find incredibly stable ATC CNC machines featuring one-piece steel frames. ATC CNC Router Machines are much more reliable than many CNC Router machines you find elsewhere at similar prices. In addition to a 12HP ATC Air Cooling electro spindle, which helps with long production cycles, each of our FORSUN CNC Routers also features a user-friendly control system that's easy to learn and operate.
Benefits Summary of ATC CNC Router
Reduces total production time and makes processes more efficient.
Eliminates the need for staff to change the tools directly.
Less risk of loss or damage to tools when manually changing them
Easier to use heavy and large multi-tools.
Features and Advantages of the ATC CNC Router
This ATC CNC Router adopts a new generation bus controller system Syntec controller with better stable performance, Japanese YASKAWA AC Servo motor, and driver,  HSD air-cooled automatic tool change spindle from Italy, Delta inverter from Taiwan.
Automatic tool change system with 8, 12, and 16 tool magazines. Saving machining time compared with traditional machines.
Recommend automatic pusher function for this CNC Router Machine which can dock the automatic loading and unloading platform, reduce labor cost, and save loading and unloading time.
Intelligent processing of the out-of-bounds protection function prevents over-machining caused by mechanical collisions.
The ATC CNC Cutting machine can be equipped with an independent pressure roller, which effectively solves the problem of board moving when the machine is on cutting work
Applications of this ATC Wood CNC Router:  sofa keel cutting, wooden doors, cabinet doors, cabinet cabinets, mold industry, advertising industry, etc.
Competitive factory direct price and one year warranty.