CNC Lathe Cutting Machine In China for Sale
Thorpe
Woodturning, metalworking, metal spinning, thermal spraying, parts reclamation, and glassworking are some of the typical uses for a lathe. The workpiece is supported by one or two centers, one of which can be moved horizontally to accommodate workpieces of varying lengths.

Due to its ease of setup, operation, repeatability, and accuracy, CNC lathes are gradually replacing traditional production lathes. One type of CNC machining is CNC lathe work. The CNC Lathe in California is becoming more well-known as technology improves, but first, let us define what it is.

The wood lathe machine application includes industrial manufacturing, small business, school education, cylinder workpiece, roman column, wood balusters, wood cups, wood vases, wood bowls, stair spindles, sofa legs, table legs, ottoman legs, chair legs, furniture legs, baseball bats, wood pens, bowl sharp, buddha heads, and other wood crafts and arts.
The woodturning lathe is widely used in the manufacturing industry, wood furniture industry, woodworking industry, gifts and crafts industry, stair rail industry, advertising industry and so on.
How does a wood lathe work?
CNC wood turning is a form of CNC wood processing used to create wooden objects on a lathe. CNC wood turning is different from most other forms of CNC wood processing in that it uses fixed tools to cut and shape the wood while it is moving. CNC lathes can be made into many complex shapes and designs.
In the CNC turning process, the CNC equipment is a special CNC system that can control the CNC wood lathe and complete the automatic processing of parts. It receives digital part models, process requirements and other information, and performs interpolation operations based on specific mathematical models. As a result, the speed and position of the moving coordinates of each lathe can be controlled in real time to complete part processing.


A CNC machine, or computer numerical control machine, is one that is controlled by a computer system. A CNC lathe is used to produce items that are manufactured to exact specifications utilizing precise design instructions. A CNC lathe is a machine tool that holds a material or part in place and rotates it using the main spindle, while also attaching and operating a material-cutting tool on many axes.
The majority of modern CNC lathe machines feature tools that can work on several axes. Machines can have both X and Y axes, a second turret with more tools, or a second spindle, among other features. This means that a CNC lathe can do further milling, drilling, and tapping operations, resulting in a complete and even complex component production process that eliminates the need to transport the part to another machine for a second operation.

The cutting tool is held in place by an 8 to 24 station turret on a simple CNC lathe with two axes. "Turning" refers to the rotational action of the workpiece. This is why certain CNC lathes are also referred to as CNC turning machines. CNC lathes create precise round objects with outer diameters (OD) and inner diameters (ID) measured in millimeters (ID).
This machine tool can machine a wide range of structures depending on the needs of various sectors. Oil and gas, automotive, aerospace, medical, electronic, mining, power plants, steel and paper mills, and shipbuilding are just a few of the industries that employ them.

Types of CNC Lathe in China
The number of axes on a CNC lathe determines its kind as it is available in a multitude of axes, enabling for the production of more complex components without the use of manual tools or tool transfers. Throughout the machining process, the numerous axes dictate how the machined component or tool can be positioned, turned, and approached.
2-Axis CNC Lathe: This basic CNC lathe machine has two linear axes for outer diameter/inner diameter or cylindrical machining, as well as facing operations like drilling and tapping in the center of the object. Although there are X and Z axes, milling is not possible. Amongst the top CNC Lathe in China, 2 Axis CNC Lathe is prominently used.
3-Axis CNC Lathe: A C axis and a life tool system are added to a 3-axis CNC lathe, allowing the object to be positioned for milling, boring, and tapping operations. It is feasible to use helical milling procedures that need the workpiece to revolve slowly in sync.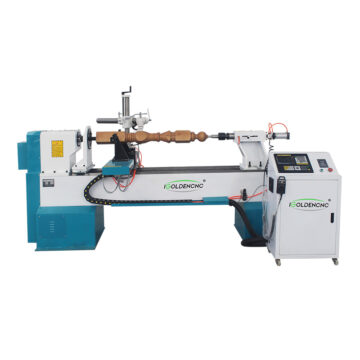 4-Axis CNC Lathe: A Y-axis on a 4-axis machine is used for off-center machining. The fourth axis is useful for lathework that is more irregular and intricate.
5-Axis CNC Lathe: A second turret is added to a 3-axis CNC lathe in 5-axis CNC lathes. These machines would feature two axes at each upper and lower turret, in addition to the C-axis on the revolving spindle. This enables the use of two tools on the workpiece at the same time, resulting in significantly increased machining speed.
6 Or More Axis CNC Lathe: Permutations with more than five axes include the following: two C-axes, each with primary and secondary spindles; two turrets, each with two linear axes; one Y-axis at the higher turret; and a second spindle that can move towards the main spindle to pick up the part.
There are machines available with more than eight axes. 8-axis lathes, on the other hand, are highly advanced and complex machinery that are only used for a few specific industrial jobs.
If you're seeking CNC Lathe in China, IGOLDEN is the greatest option thus far in terms of service quality and long-term reliability.