Double Spindle CNC Nesting Machining Center
Thorpe
What is the Double Spindle CNC Nesting Machining Center?
The Double Spindle CNC Nesting Machining Center is equipped with a drilling package, equipped with two 6.0kw air-cooled spindles, 9-hole drilling package, and independent operation. Fast, high precision, high efficiency, and stability. Metal holes of different diameters can be processed. Processing of various types of furniture, such as panel furniture, office furniture, cabinets, wardrobes, etc.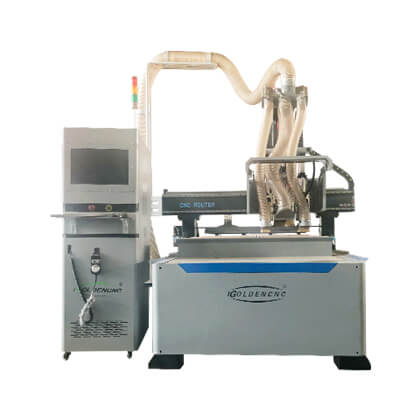 Production
It's a preferred device for coping with the nowadays challenges in the mill process of cabinet and wardrobe door. The traditional process structure from conception to the finished product has been subverted!
The superior processing precision and stability can be guaranteed thanks to the reasonable driving design and X-axis high-precision screw drive! High-quality flexible cables can ensure that the device can be stably operated at high speed with a long service life and zero faults in millions of reciprocating motions! With rigid climatic tests, the device can always operates stably in all climate conditions worldwide.
Efficient servo tool changer
The efficient servo tool changer is equipped with precision high-speed positioning function. The 16-cutter tool changer caters to the demand for more cutters, It can be extended to double tool library to meet more tool requirements providing flexibility at the greatest extent.
CNC Router
– Adopt High strength welded bed with tempering aging treatment, Five sides milling CNC machining center processing, guarantees rigidity and precision of the machine, cutting or carving aluminum won't vibration.
– Japan reducer and Syntec servo system to make sure speed and stability. Syntec servo motors run smoothly, no vibration phenomenon even at low speed and have overload ability, the servo is more reliable and better than a stepper.
– Can equip with automatic loading and unloading, also can add ATC tool changer system.
Features:
(1) Optimize cutting, punching, slotting, and perfect combination, and alternate processing of double tables to maximize efficiency and output;
(2) Equipped with a 5+4 nine-hole vertical drill package, which is more suitable for drilling panel furniture, more convenient and faster;
(3) Adopt 200*250 thick-walled generous square tube support structure, engineering aesthetic design structure;
(4) Advanced CNC system, stable performance and simple operation;
(5) Adopt double-layer vacuum adsorption table, which can adsorb plates of different sizes;
(6) Adopting four-direction and six-action automatic positioning system for plate, making plate positioning more accurate;
(7) Equipped with auxiliary feeding and dust removal devices;
Scope of application:
(1) Cabinets, wardrobes, bank office furniture, computer desks, children's furniture, panel furniture, office furniture;
(2) Making hollow lattices and soft package background walls for decoration;
(3) Cutting the board furniture, slotting and arranging holes.