Five-axis CNC engraving machine manufacturers
Thorpe
Five-axis CNC engraving machine is an efficient and precise engraving machine. It is suitable for the processing of complex curved workpieces. The workpiece can be clamped once to complete the complex processing requirements, and it is suitable for the processing of modern molds such as automobile parts and aircraft components. The five-axis CNC engraving machine has the function of five-axis linkage processing. He has expertise in space surface processing, special-shaped processing, hollow processing, punching, chamfering, chamfering, etc. Next, we will introduce Jiabang five-axis CNC engraving machine.

The advantages of five-axis CNC engraving machine:
The head is turned from 0 degrees to 360 degrees, and the head is from 0 degrees to ±110 degrees to ensure more functions.
The Italian 10 KW spindle is professionally used in the five-axis CNC engraving machine; the cutting ability is strong and the noise is low, which ensures the long-term operation of the machine.
The original Yaskawa servo motor and drive device from Japan ensure the strength and precision of the machine.
The Japanese THK 30 mm linear guide rail and the German frame are all well-known brands, with high quality, which ensures the performance and long life of the whole machine.
It can be used not only for plane engraving and cutting, but also for surface engraving, arc engraving and surface processing of various objects (such as special-shaped artwork, curved doors or cabinet panels, etc.).

Extra heavy duty steel frame and gantry frame for maximum straightness and stiffness.
The whole machine adopts welded steel structure. After aging treatment, long-term use will not deform. The base and beam adopt a split structure for easy transportation and hoisting
Worktable moving mechanism, flexible operation, high precision and low vibration.
Disc type automatic tool changer, the tool magazine is fixed on one side of the frame, on the same horizontal line as the spindle, automatic tool change, saving manual tool change time and higher efficiency.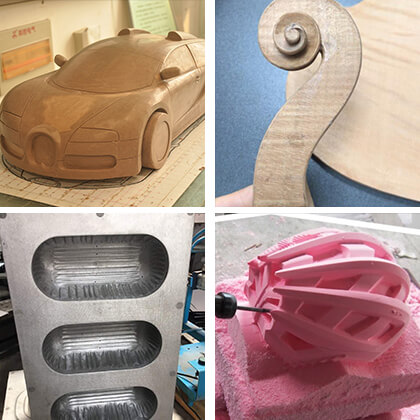 Equipped with an industrial cooler to cool, wear and age the spindle and casing bearings to prolong the service life of the machine tool.
Note: Add distilled water or pure water, do not add tap water.
Five-axis CNC engraving machine applicable industries:
Mould industry: wooden ship moulds, automobile moulds, aviation wood moulds and other wood moulds.
Foam industry: Engraving and cutting in 2 and 3 dimensions can be processed on any type of foam. Processing effect: engraving, cutting, grinding, drilling, flower, shadow, etc.
Carve all kinds of large non-metal molds, especially any type of foam (EPS) molds, wooden boat molds, wooden aviation molds and other wooden molds for three-dimensional processing: cylindrical, square sculptures, etc.
Wooden furniture industry: corrugated boards, exquisite patterns, antique furniture, wooden doors, screens, window sashes, composite doors, cabinet doors, interior doors, sofa legs, headboards, game cabinets, computer desks, countertops, instruments, etc. .
Ceramic sanitary ware industry: cutting or prototype of gypsum, ceramics, marble.
Five-axis CNC engraving machine features:
The CNC double swing head with five-axis and five-linkage function is used, which has powerful functions, high machining accuracy and fast speed, and can complete the processing of 5-sided milling, boring, drilling, tapping and sawing.
Five-axis five-linkage, with RTCP (true five-axis interpolation) is suitable for large-scale three-dimensional surface processing modeling. All parts are used. Diversified control can control the processing speed, idle speed and knife drop speed respectively, which greatly improves the quality of processed products and processing efficiency. It is suitable for the three-dimensional five-axis linkage processing of various types of vehicles, rail transit, and various industrial aluminum materials, and can complete the process content of holes, grooves and contour shapes on various aluminum profiles.
It is suitable for the manufacture of large and medium-sized molds, the processing of ships, aluminum alloy structural parts, the processing of aluminum profile structural parts such as rail transit, automobile anti-collision beams, photovoltaics, aluminum doors, windows and curtain walls. , Ideal equipment for the aerospace industry.
It adopts Taiwan's new generation (five-axis) CNC numerical control system control (with RTCP function), and the motion part of the machine tool adopts imported servo motor and servo driver, which has fast positioning speed and stable operation.
The CNC system configuration file storage unit can store tens of thousands of different processing program files, which can be called by the operator during on-site production, which is convenient and fast. The CNC system itself has the functions of fault detection, breakpoint recovery, power failure recovery, etc. The control system adopts a unit modular structure, which is convenient for maintenance and maintenance on the production site.
Due to the CNC numerical control system used in the equipment, the machine can meet various processing requirements such as drilling, milling, rigid tapping and sawing at the same time.