Linear ATC CNC Router VS Circle ATC CNC Router
Tina
ATC CNC router is the first choice for enterprises with large production volume. Compared with the traditional manual tool change production method, this type of wood CNC machine has an independent tool magazine with different tool bits. It can automatically change the required tools by computer program control without stopping work during processing. And this CNC wood router can complete a series of cutting, hollowing, grooving, punching, milling grooves, milling planes and other different processing needs. Therefore, both the processing quality and processing efficiency have been greatly improved.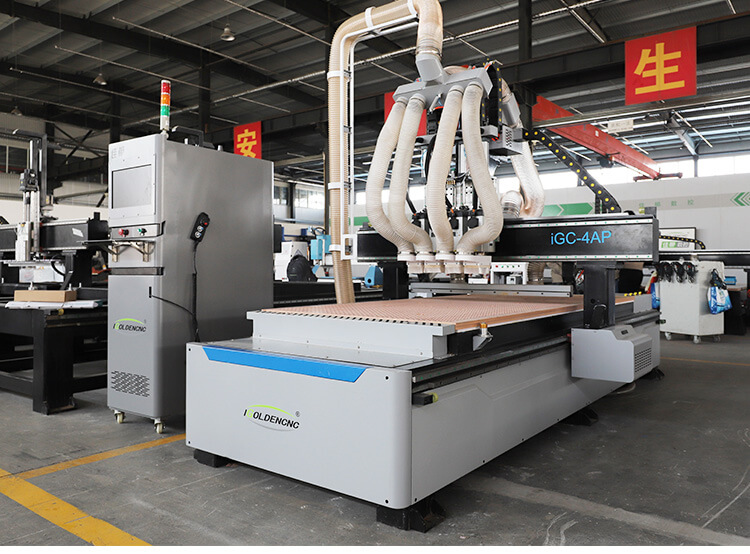 According to the different tool changing methods, the ATC CNC engraving machine can be subdivided into linear ATC CNC and Circle ATC CNC machines. Then we are talking about the linear ATC CNC Machine. This type machine uses a straight-line tool change device, and the tool change device can be installed in different positions according to the specific needs of the user. Firstly, the in-line tool magazine can be placed behind the bed. This conventional in-line tool changer engraving machine is cost-effective and can meet a variety of processing requirements for complex work pieces without high procurement costs. Secondly, the in-line tool magazine can also be placed under the gantry. This type of linear engraving machine does not need to go to the back of the bed to change tools, so the tool change speed is faster and the wear on the guide rail can be reduced, and the service life of the machine is relatively longer. It is worth mentioning that the number of tools in the in-line tool magazine can be customized according to the specific processing needs of the user.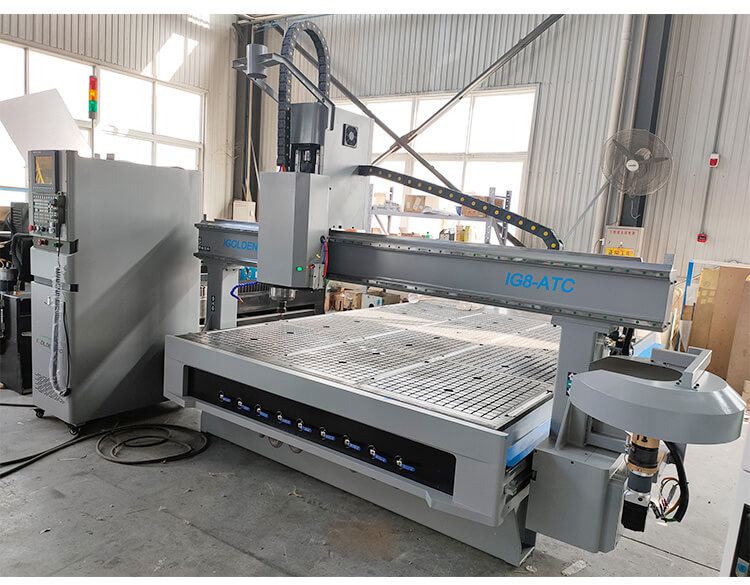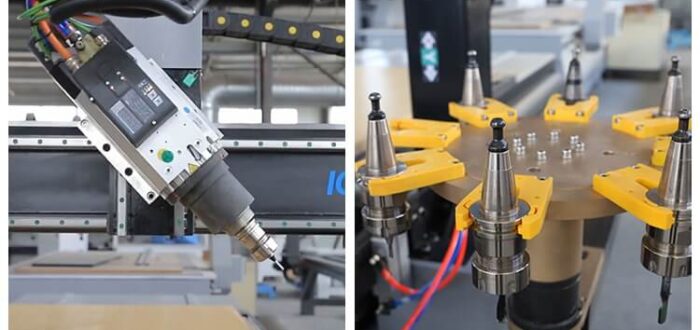 Next we are talking about the carousel ATC CNC Machine. This type machine is also one of the most selected by users. The position of the Circle magazine can also be selected according to user needs. On the one hand, the Circle magazine can be placed next to the spindle. The biggest advantage of this type machine is the fast tool change. However, the number of tool bits should be guaranteed to be within 20 tools. If the number of tool exceeds 20, the weight of the cutter head will increase, which will affect the bearing capacity of the Z axis and the gantry, especially the Z axis screw and the guide rail slider. And all these will affect machining accuracy. On the other hand, the disc magazine can be placed on the side of the gantry. This type of automatic tool changer engraving machine is not limited by the number of tools and has better stability. It also guarantees the processing accuracy of the machine and ensures that the ATC CNC router machine will be used for a long time, and processing accuracy is not affected.