Linear ATC CNC Wood Router -IGOLDENCNC
Thorpe
The Introduction to the Linear ATC CNC Wood Router 
Linear ATC CNC Wood Router suitable for solid wave board process, door of cabinet, wooden door, artistic wooden door, no-paint door, avoid wind, process of the artistic window, shoes cleaning machine, the cabinet of the playing machine and the board, mahjong table, computer table.
Linear ATC CNC wood router with SYNTEC control system is used for decorations, musical instruments, wood crafts, wood furniture, wood door making, cabinet making, windows, tables, etc. Now the best linear ATC wood CNC router for sale at affordable price.

Features of Linear ATC Wood Router
Welded structure by thick profiled steel stabilized under high temperature, ensures minimum distortion, excellent rigidity and powerful strength.
Japanese YAKSAWA servo motor makes machine stable running with low noise, high speed and high accuracy.
Italy HSD spindle makes machine with high precision and long service time and stable movement.
Configured with imported tool magazine of 8 tools the machine can change tools speedy and freely. Changing tools in 8 seconds.
Tool sensor enables the machine compensate the tolerance of the tool length.
Strong power suction of Yongdun free-oil pump.
Imported Taiwan SYNTEC control system, separated keyboard control, color LCD display add machine more versatility.
Strong dust collector ensures site cleanliness during the machine operation.
Automatic lubricating system, one touch can finish periodic maintenance easily.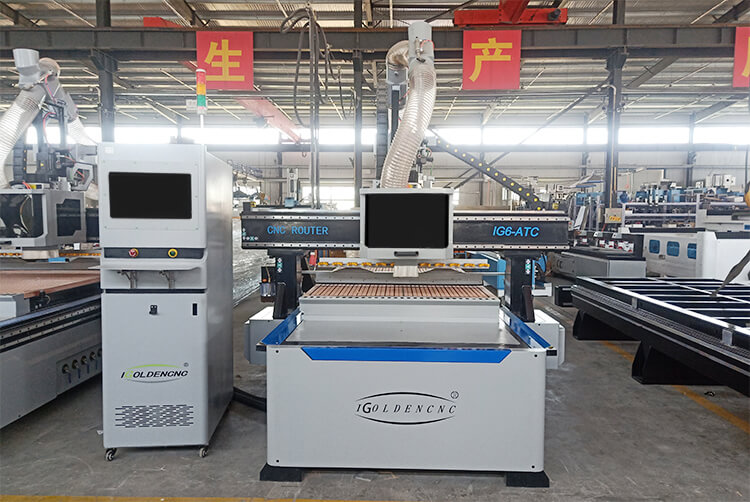 Advantage of Linear ATC CNC Machining Center
The ATC CNC router machine is equipped with a 9.0kw air-cooled spindle, and two tool change methods are available: linear tool change and disc tool change. Usually used in conjunction with labelling machines and automatic loading and unloading platforms.
Applications of Linear CNC Wood Router
Linear ATC wood CNC machine is mainly used in furniture making industry, furniture decoration industry, wood craft industry, wood decoration industry, automotive tooling industry, solid wood furniture,classical furniture, decoration material, door cabinets, wooden kitchen furniture ,etc.
Linear ATC wood CNC machine is designed for wood materials and other materials processing such as Aluminum, Acrylic, MDF, PVC, etc.
Furniture: cabinet doors, solid wood doors, craft wooden doors, paint-free doors, screens, craft fan windows, tables, chairs, etc. Wooden door cutting, wooden door artwork carving, wave board, 3d photo carving, small or large relief works, cylindrical wood carving, 3d photo carving, etc.
Advertising industry: advertising signs and logos, decorative products, wood, medium density fiberboard, bamboo, plastic, PVC, acrylic, metal, stone, etc.
Art industry: character carving, character carving and cutting, famous brand making, small gift cutting, souvenir making, carving various decorative letters, small windows, fences, figures on walls, etc.