Mixed Laser Engraving & Cutting Machine for Wood and Metal
Tina
Mixed laser cutting machine is a type of automatic hybrid laser cutting system to cut metal meterails such as stainless steel, carbon steel, copper, manganese steel, alloy steel, brass, aluminum, spring steel, titanium alloy, galvanized sheet, aluminized sheet and other alloy sheets, as well as non-metallic materials such as acrylic, fabric, textile, leather, MDF, plywood, bamboo, wood, paper, epoxy resin, and plastic. Looking for versatile system that cuts and engraves both metal and non-metal equally well? This multi-functional laser system with mixed cutting capability is what you need.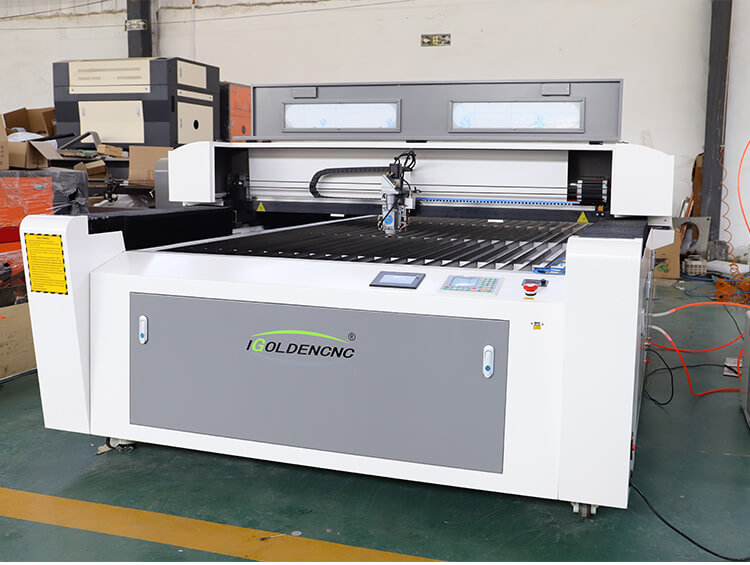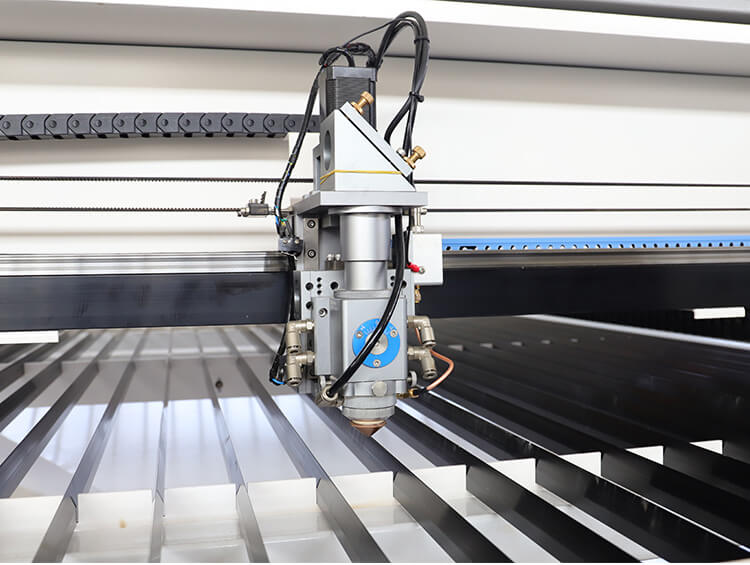 The laser head has a built-in motor drive unit, and the focusing lens is driven by a linear mechanism to automatically change the position within 20mm. The user can set continuous focus through the program to complete the rapid perforation of thick plates and automatic cutting of plates of different thicknesses and materials. The compound lens group equipped with D28 integrates the light beam and optimizes the optical and water-cooled design so that the laser head can work stably for a long time.

Features of CO2 laser engraving cutting machine
Adopting steel structure bed, the design is more scientific and the bed is more stable.
One machine with dual functions. It is able to cut both non-metal and thin metal materials such as stainless steel, carbon steel, acrylic and wood.
The high precision linear guide transmission ensures more steady of the cutting operation, thus maintaining high cutting precision and good stability.
The quality of the cutting section is good because it adopts the mechanical follow-up cutting through system. The cutting head follows the height of the plate, and the position of the cutting point remains unchanged, so that the cutting seam is flat and smooth.
Its cross beam uses high-strength aluminum alloy, which is lightweight, has small resonance, and operate more smooth.

Applications of 2022 Best Mixed Metal and Nonmetal Laser Cutting Machine:
Advertising industry: acrylic engraving and cutting, cutting and engraving of double- color plate and other advertising materialLeather processing industry: leather, fabric carved hollow
Arts and crafts industry: paper cutting, wood, bamboo products, leather, shell, ivory and other materials' engraving and cuttingModel industry: construction model, aviation and maritime models, wooden toys' cutting.
Packaging industry: printed rubber plate engraving and cutting, plywood cutting and laser cutter template cutting.Decoration industry: electrical and electronic industry materials engraving and cutting.
Mix Cutting Co2 Laser Cutting Machine can be used to cut both metal and non-metal material, so we call it mix laser cutting. It is a special laser cutting machine for metal and non-metal. The laser cutting machine for metal's cutting thickness can reach 1-2mm stainless steel, 1-3mm carbon steel and mild steel, 20-30mm acrylic and plastic, 10-20mm wood, 1-10mm MDF. The laser cutting machine for metal is really a good choice for user have demand to cut metal and non-metal material together.
One machine can fulfill all your demand. No need to buy one Co2 laser engraving machine plus one fiber laser cutting machine. The laser cutting machine for metal really is a high efficiency machine. It also called mix laser cutting,laser cutting machine for metal,arcylic cutting,stainless steel cutting,cutting acrylic sheets,mixed laser cutting.
White marks can be made on anodised aluminium using CO2 lasers and fibre lasers.  Setting the parameters for this is very simple.  The chromophoric metal salts are thermally corroded by the rise in temperature, meaning that the inscription is white.  Naturally anodised aluminium (i.e. with a metallic sheen but without any colour) and bare aluminium can be given dark or light inscriptions.  With anodised aluminium, the extremely mechanically tough, chemical-resistant and non-electroconductive layer of aluminium oxide is retained.
With painted metals or plastic laminates (at least 2 layers), the coat of paint or top layer of plastic can be removed using a CO2 laser, often without leaving any residue behind.
What is Laser mixed Cutting Machine?
The carbon dioxide laser is a gas molecular laser, the working substance is CO2 gas, and the auxiliary gas is nitrogen, helium, xenon and hydrogen. Since the energy conversion efficiency of this laser is as high as 25%, it is often used as a laser with high power output. The wavelength of carbon dioxide laser is 10.6 microns. It is impossible to see infrared light, has good stability, and is widely used.
Using the most advanced DSP control technology in the world, the first-in-class continuous and fast curve cutting function and the shortest processing path optimization function greatly improve the work efficiency. For the whole process of engraving, light attenuation compensation is automatically performed to ensure consistent cutting in different areas. The design of fast cutting control software and the buffer function during high-speed movement can improve production efficiency.