Portable CNC Flame Plasma Cutting Machine
Thorpe
Product Description
The Portable CNC Flame Plasma Cutting Machine for sale machine has a compact and microstructure. The horizontal and vertical rails of the whole machine are made of hard aluminium alloy, which reduces the weight of the equipment, so as to achieve the characteristics of easy movement, compact and flexible operation. It is an ideal upgrade product to replace handheld flame-cutting equipment, handheld plasma cutting devices, profiling cutting machines and semi-automatic cutting carts. The use is as flexible and convenient as the cutting trolley, and it can be moved at will without occupying a fixed site. It is a CNC equipment specially used for sheet metal blanking.
Portable CNC Flame Plasma Cutting Machine with plasma torch is type of portable CNC plasma cutter designed for heavy sheet metal fabrication with oxy-fuel gas, the portable CNC oxy-fuel gas and plasma cutter machine adopts gantry structure with double-driven system, now the portable CNC plasma/flame cutting machine for sale at cost price within your budget.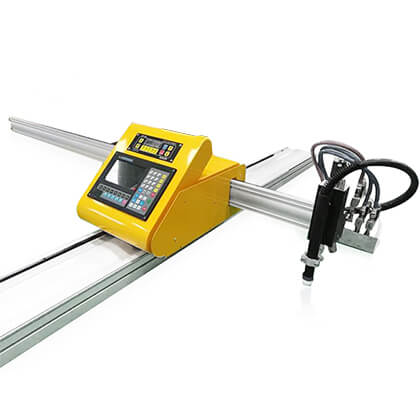 Overview
CNC flame cutting machine is a type of CNC metal cutting system that uses fuel gas with oxygen or gasoline with oxygen to cut metal materials, and CNC plasma cutting machine is a type of CNC metal cutting system that uses the heat of a high-temperature plasma arc to melt and evaporate the metal part or part of the incision of the workpiece, and uses the momentum of the high-speed plasma to remove the molten metal to form the incision. The CNC plasma flame cutting machine is to ionize the material to produce a high temperature of 6000 degrees Celsius to 8000 degrees Celsius to quickly melt the object. In the energy center of the plasma arc, the gas can completely form an ion state to reach a high temperature of 15,000 to 30,000 degrees Celsius, and quickly merge metals to achieve rapid cutting. The purpose is to melt the metal through the plasma arc when working, and then use the attached airflow to blow the melted metal away to achieve the purpose of cutting.CNC flame cutting machine with plasma torch is a type of portable plasma cutter with CNC controller, which can cut metals up to 200mm. It's also known as CNC oxy-fuel gas and plasma cutting machine, CNC plasma and flame cutting machine, CNC oxy fuel cutting machine, CNC plasma & oxy-fuel cutting machine.
Machine Advantages
The machine is all welded as seamless steel structure. Steady structure and long life time.
Guide rail is originally imported form Germany TBI brand, more precision and more stable more durable.
With Torch Height Control system, selfadjusting to choose the best torch distance to ensure cutting accuracy.
Free air compressor is send together with the machine, don't need to buy other parts for the machine.
CNC system configuration high, automatic arc, stable performance, the success rate of 99% arc starting.
Machine Features
The portable plasma cutter can cut large and small metal parts. The working size is 1300*2500mm and we also can customize the working size according to your requirements, like the Y axis, we can make it up to 8-10m.
The portable CNC plasma cutter has two cutting head, one of them is Hypertherm plasma cutting head and other is independent lift flame cutting head can cutting around 150-200mm metal.
Hypertherm power supply can provide a high and stable power when the portable CNC plasma & oxy-fuel cutting machine working.
STARFIRE control system and with ARC voltage automatic height adjusting device, arcing can protect plasma torch from damage, improve the cutting quality, the success rate is over 99%.
Double guide and square rails can keep the portable CNC oxy-fuel gas and plasma cutting table stability.
Ultra big torque stepper motor and driver with features of function detecting, high running precision, wide speed range and short speed up time.
High-precision HIWIN rail linear guide, smooth movement to ensure that the CNC oxy fuel cutting machine tools with high precision, small cutting gap, no residua.
Excellent performance on cutting illuminated letters for advertising and channel letters on sheet metal.
Perfectly design, equipped with the best machine accessories to minimize the failure rate preferred.
Application
Widely used in machine tool manufacturing, petrochemical equipment, light industry machinery, shipbuilding, pressure vessels, engineering machinery, mining machinery, electric power, bridge construction, aerospace, steel structures, boilers, radiators, and other industries.