CO2 Laser Engraving Machine 1325 for Sale -igolden-cnc
Thorpe
Low cost CO2 laser cutting machine is used for engraving and cutting hard nonmetal materials such as wood, plywood, MDF, plastic, acrylic, color plates, ABS, and rubber. Now the affordable CO2 laser cutter for sale at cost price.

Cutting bed type CO2 laser engraving machine, the standard worktable size is 1325, which can meet the engraving and cutting needs of large-format panels such as wood and acrylic. The best CO2 laser engraver is widely used in signs, arts, crafts, gifts, shoes, toys, garments, packaging, and paper industry.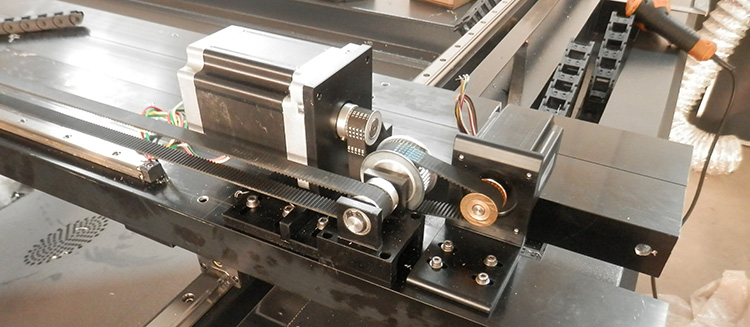 The CO2 laser cutting machine adopts open-type worktable, which is widely used in cutting and engraving large size materials with high precision and speed, such as advertising, light industry, woodworking, arts and crafts.
Powerful stepper motors and high imported HIWIN linear guide ensure the fast speed and stability.
DSP control: RD6442 control system with high speed, stability, anti-interference ability. Advanced USB control and Flash Disk (U Disk) off-computer control system are optional.
Independent R&D efficient laser power: New high-voltage switch-mode, PWM master control technology, which is more stable.
Professional software for laser machine, which can support PLT, DXF, BMP, AI, DSF formats, it is applicable for drawing programs such as Corel Draw, PhotoShop, Auto-CAD, etc.
The CO2 laser cutting machine has 512 memory which will allow to save and store files in the machine and can work without connecting computer.
Good design of dust-proof structure for X, Y axis to ensure longer life of the machine.
The stability and integrity design idea with advanced industry cooling system and water alarm Automatic Protection Function, improve the stability and safety of continuous operate. Perfect dust, pollution prevention design greatly improve the overall stability of the machine.
Using flying path design, unique structure, small optical path deviation, high stability, easy to adjust.
Optical Accessories adopts best imported K9 mirrors and ante focusing mirrors whose reflectivity and transmittance is the best with more detailed spot, more cutting edge.
CO2 laser cutter applicable industries:
CO2 laser cutter is used for cloth, leather, toys, computer embroidery cutting, mould, crafts, bamboo and wood, advertising and building decoration, packaging and printing, paper products industries.
CO2 laser cutter applicable materials:
CO2 laser cutter is available for engraving and cutting hard nonmetal materials such as acrylic, color plates, ABS board, rubber, plastic, cloth toys, leather, wool, crystal, glass, ceramic tile, jade, bamboo, wood, etc.