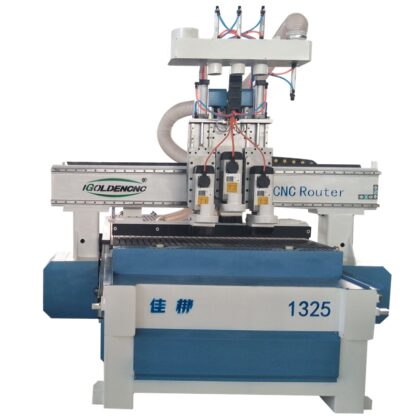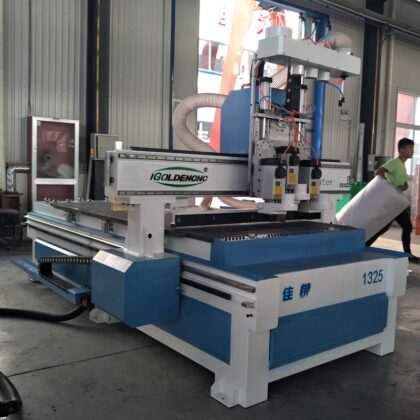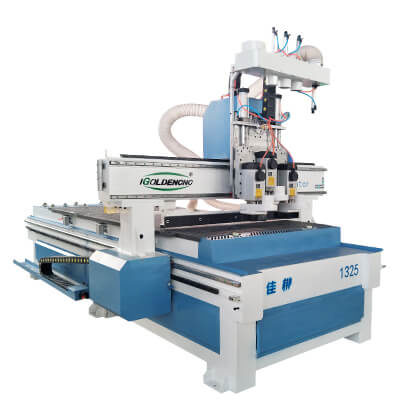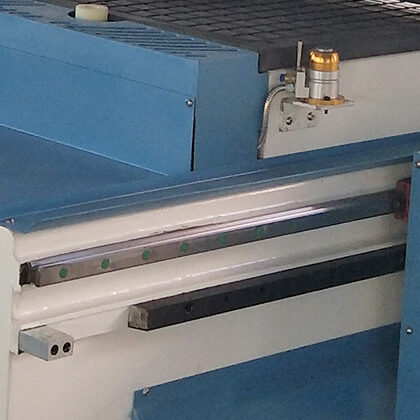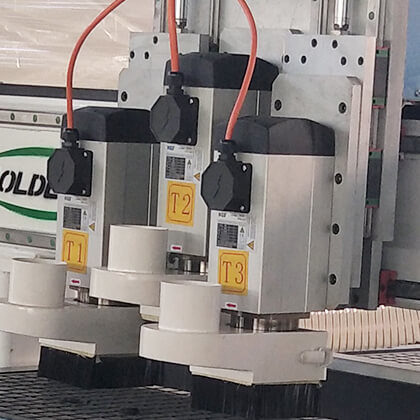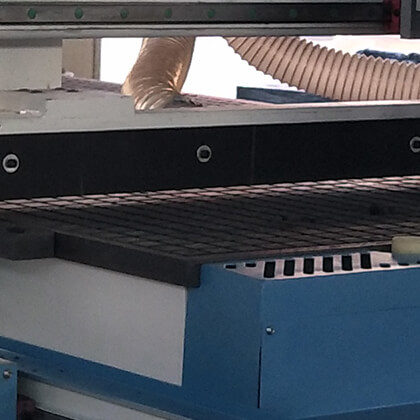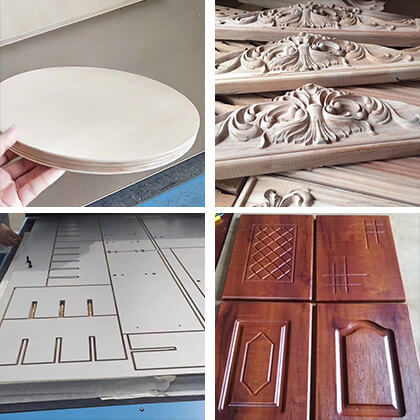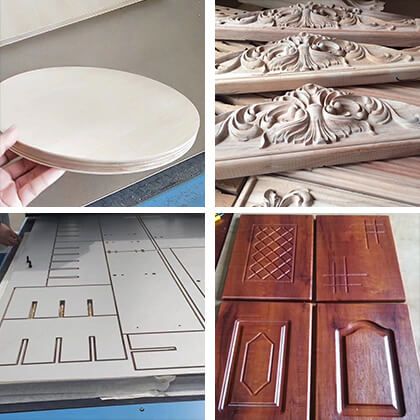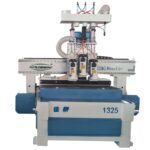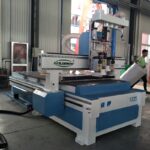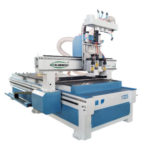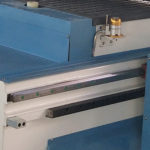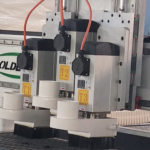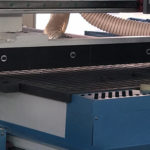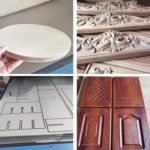 Multi Head Nesting CNC Router for Cabinet Making
Item No.: iGC-3AP
The affordable nesting CNC router is a multi-function automatic CNC nesting machine, which integrates cutting, chamfering, relief, hollowing, punching, slotting and other processes, while meeting the processing requirements of cabinet doors and cabinets.
Category: Furniture Making Machine>>Cabinet Maker
Response time: Within 1 hour
Supply Ability: 300 sets/month
Price Range: $13050-$15050
Description
Who is it for?
The most popular, affordable nesting CNC router with 3 spindles, perfect for small and medium furniture factories, the affordable model designed by iGOLDENCNC for changing tools easily while working, combined with a competitive set of configurations. Hot applications include:
>Furniture industry: panel furniture, cabinets, sliding doors, soft bags, office furniture, wooden doors, whole house customization, etc.
>Wooden products: speakers, game cabinets, computer tables, sewing machine tables, musical instruments;
>Sheet metal processing: insulation parts, plasticized workpieces; pcb; inner body of motor vehicles, bowling track; carbonized mixtures such as anti-fold special board, epoxy resin, abs, pp, pe;
>Decoration industry: engraving and cutting of acrylic, PVC, MDF, plexiglass, plastic, and copper and aluminum soft metal plates.
What makes it unique?
Popular with micro or small board type furniture factories which are set up newly, the iGW-3AP series affordable nesting CNC router is not only suitable for cabinet processing but also cabinet door processing.
>Plate utilization rate is up to 98%, saving material costs;
>Improve production efficiency by 60% and quickly recover costs;
>Heavy industry quality, stable operation for 10 years;
>Easy to operate, quick obstacle removal, conducive to learning;
>Supported by industry leader iGOLDENCNC.
Application of Affordable Nesting CNC Router

Wood Slotting

Wood Hollowing

Wooden Cutting

Wood Carving

TATAMI Processing

Office Furniture Making

Kitchen Cabinet Making

Closet Processing
| | |
| --- | --- |
| Max. Rapid Travel Rate | 50000mm/min |
| Max. Working Speed | 30000mm/min |
| Spindle Power | 4.5KW*2+6KW air cooling |
| Spindle Speed | 24000rpm/min |
Working Voltage
380V/50Hz
Running Environment Temperature
About 25℃
Relative Humidity
<85%
Ps. Adjustment is available according to locally requirement
Features of Affordable Nesting CNC Router
High-precision Transmission System
The positioning accuracy of the machine is 0.02mm, the maximum running speed is 50,000mm/min, and the nesting CNC router working life up to 10 years.
Options of Affordable Nesting CNC Router
Automatic Loading and Unloading Table
Save labor costs, quickly return to cost, meet the needs of the production line, fully automatic intelligent operation, increase efficiency by 200%.
This machine is economical and much cheaper than the automatic tool change machining center. In the case of no more than four processes, the tool change speed is also very fast and the efficiency is also very high. This equipment can be selected according to the needs of customers, including the economic model, the efficient model, the duplex model, and the automatic loading and unloading platform model (optional)
This machine is suitable for processing cabinet door panel, sliding door and other series of products, which can be processed in no more than four process shapes on the same panel.
Single station, four process economic model, according to eight hours per day processing, can complete 30-40 sheets. Single station, four process, high efficiency model, according to eight hours per day processing, can complete 50-60 sheets. Note: the number of plates processed above is calculated according to the cabinet process. The number of plates processed is different from the material, thickness, size and cutter of the plates processed by customers.
Four processes can process cabinet door and cabinet body, but four processes and one process can only process four knives, and the machining center has 12 or 16 tool changes, which can process more complex door panels. If the customer considers that they will process more complex door panels in the future, it is suggested to use the processing center, which is the trend in the future.
The four process CNC cutting machine is an economic and practical panel furniture cutting equipment, which has four processing spindles, pneumatic switching, and can install four different cutting tools, it can be used for panel furniture drilling, slotting, cabinet door milling and other technologies.
The main structure of CNC Wood Router includes spindle, bed, gantry, servo motor and actuator, CNC operating system, CNC software, rack guide, screw, worktable, power supply, limit switch and so on. 
CNC Wood Router is also known as wood CNC machine, woodworking CNC router, wood CNC router, CNC wood carving machine, wood CNC cutter, CNC wood milling machine, wood CNC table, CNC wood table, CNC wood router machine, CNC woodcarver, CNC wood engraver, CNC woodcutter, CNC wood cutting machine, c and c wood router, CNC woodworking machine, CNC wood engraver, wood c and c machine.
Do you need a catalogue, price or machine working video?
Please let us know your name and email, we will send you more information asap.