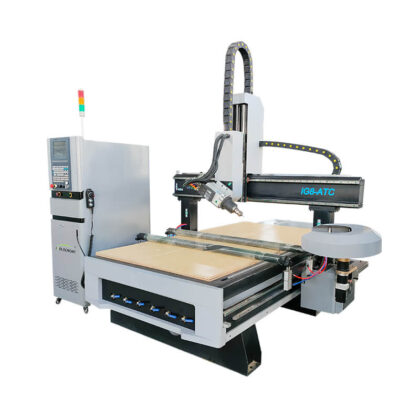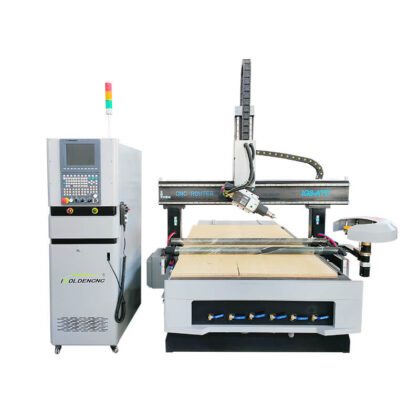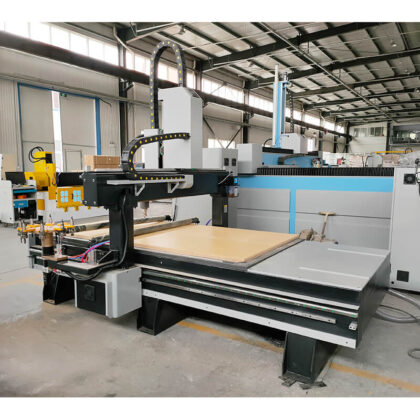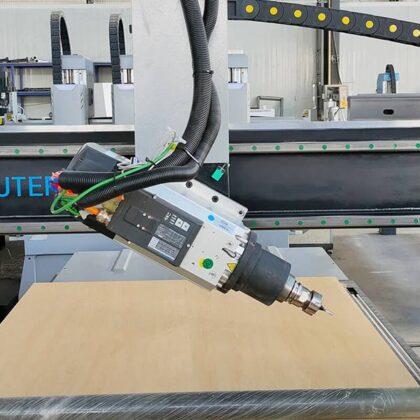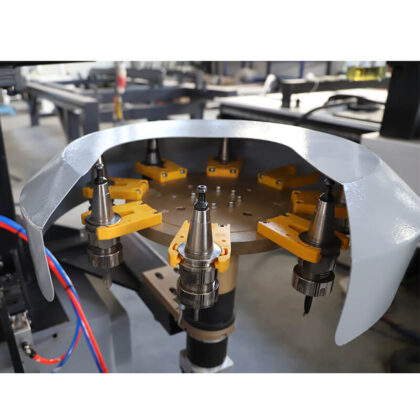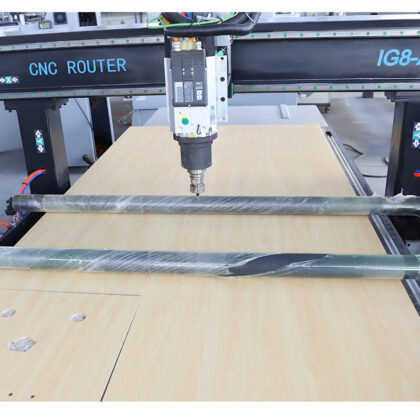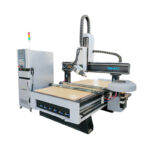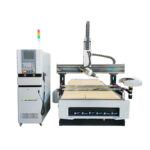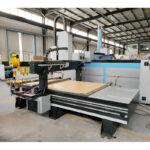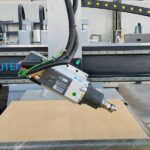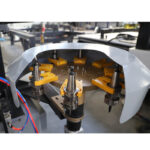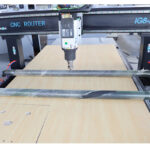 ATC CNC Router with Pinch Roller Wood Working Machine
Item No.:1325 ATC CNC Router
Automatic tool changer for cnc router uses a professional CNC motion control system, it can directly support G code and PLT code formats generated by various CAD/CAM software such as Type3, MASTERCAM, CASMATE, Art CAM, AUTOCAD, UG, CorelDraw, etc. The control system software is based on the Microsoft Windows operating system, which has the advantages of simple, reliable operation and easy to learn.
If you need more detailed information, please inform us as soon as possible.
Description
This machine brings superior flexibility in routing single sheet, stacked sheet, small part, large part, and rollers engaged or disengaged. This machine combines the capability of multiple CNC machines into one. Its compact design makes it a space saver thus allowing installation in small areas. Equipped with 2 rollers on either side of the cutting spindle(s) it automatically holds down the warped sheet stock or stacked sheet by extending & retracting rollers as they roll off. It is available in cast-iron fixed bridge moving table design (similar to our S-Series) and twin table moving gantry design (similar to our Pro Series) ensures efficient material handling, and also a continuous triple table moving gantry design. It has a standard choice of flow through or dedicated spoil board to suit your requirement.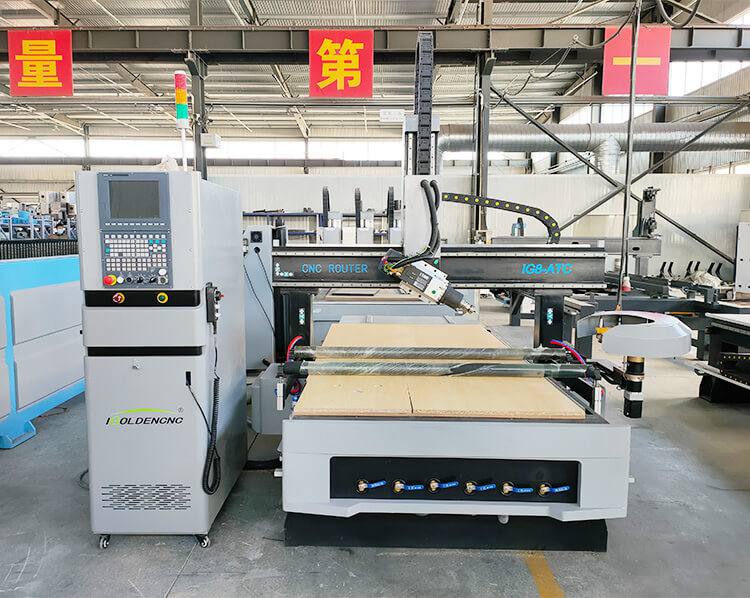 Multifunctional Atc Wood Cnc Router Machine Feature:
1. With 8 or 12 sets of tools to change automatically, which can saving time of tools changing and improving working efficiency.
2.Vacuum table using high-density material with great suction strength, comfortably accommadating all sizes of work piece.
3. Control system is simple, convenient and easy to learn, users can quickly get the fleciblity to master the use of equipment, strong independence.
4.The frame adopts the gantry column structure, the machine parts are produced and assembled with extremely high precision to ensure the high performance and stability of the machine, excellent quality and tolerance.
CNC Wood Router Machine Applications
1. Furniture Making: Cabinets, office furniture, home furniture, chairs, tables, doors, and windows.
2. Woodworking: Computer tables, game cabinets, voice box, sewing machines table, music instruments, wood balusters & spindles, table legs, and some cylinder woodworking projects.
3. Decorations: MDF, organic glass, artificial stone, PVC, acrylic, plastic and soft metals such as aluminum, copper, brass cutting and milling.
4. Industrial Manufacturing: Sign making, plastic chemical components, insulation part, bowling tracks, inner body of car, stairs, epoxy resin, anti bate board, PCB, ABS, PE, PP, and other carbon mixed compounds.

Wooden Window Hollowing

Wooden Crafts Embossing

Wooden Door Processing

Plastic Carving

Wooden Furniture Processing

Cabinet Door Processing

Wooden Crafts Relief

Acrylic Cutting
iGOLDENCNC, Your best choice
Becoming a customer of iGOLDENCNC, we will cooperate with you on the basis of complete trust and comfort. You will find that we are a reputable supplier and worth your trust. We understand that every customer is valuable, and we will cherish every opportunity to cooperate!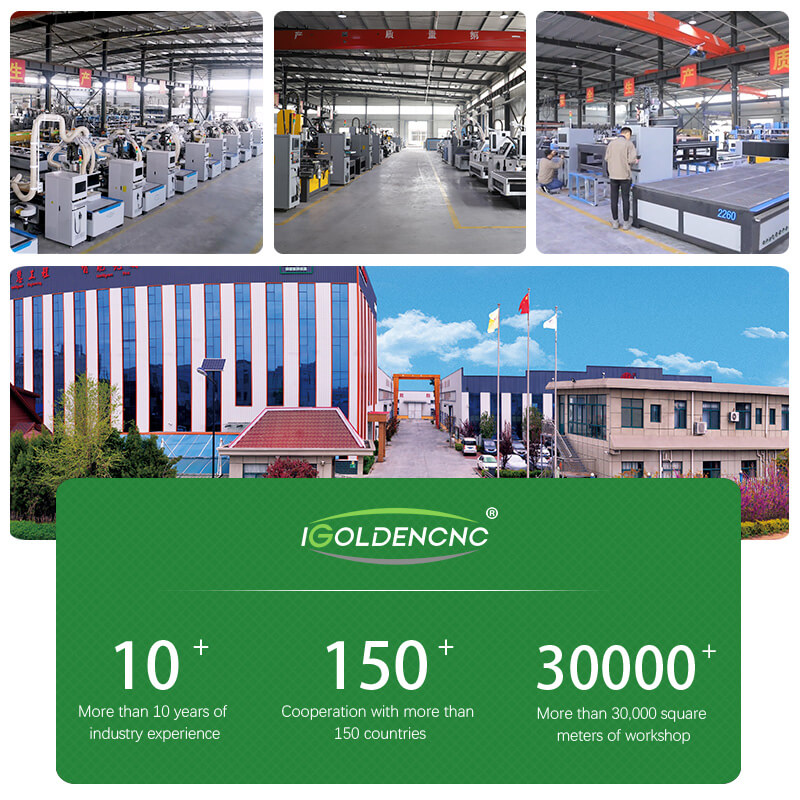 Strict Quality Control System
Advanced testing equipment are used, such as: dynamic balance tester, CNC high precision machining machine, 3D measuring machine; iGOLDENCNC has established a complete and strict quality control system, including 48-hour running test and 72-hour aging test, to ensure the excellent quality of our machines.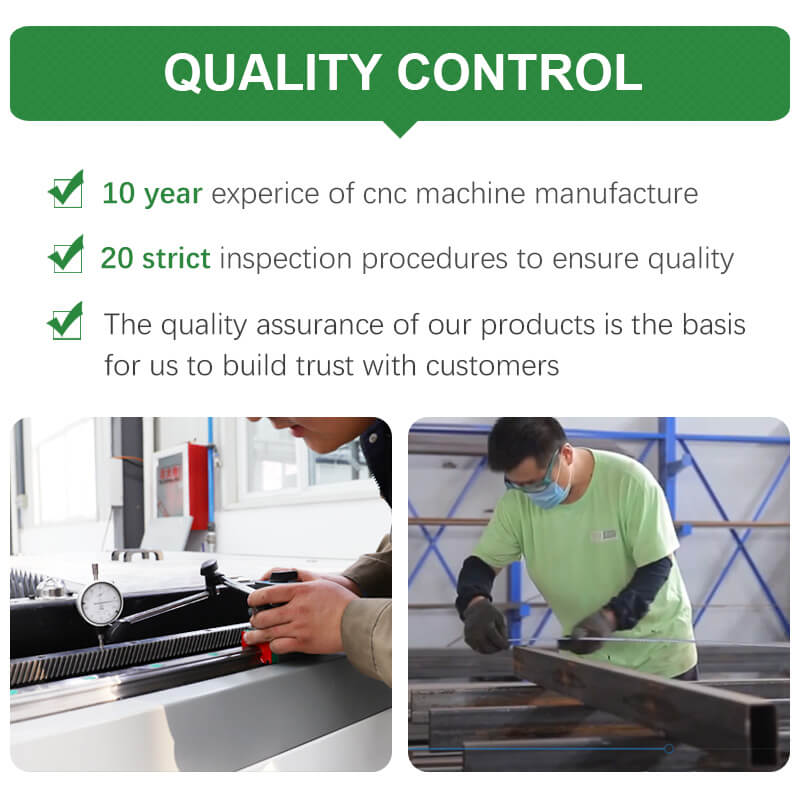 All machine parts adopt high configurations, higher working efficiency. It's change the tools by automatic, no need change by hand, save time and manpower.
Our this type ATC machine support many tools, each tool have different functions, can engrave, cut, polish, make different shapes and patterns on sheet.
There is a professional QUALITY CONTROL DEPARTMENT in our factory. So there is a serious control for each process, at the same time we have complied with the standards for welding processing, machining processing, assembly processing, manufacturing processing and packaging processing, etc.
Yes, we can add the oil misting system for you, it can used to cool the cutting bits and materials.
We will send the manual with machine together to you, we also will take full operate video to you to help you use machine well.
Related Products
Do you need a catalogue, price or machine working video? Please let us know your name and email, we will send you more information asap.