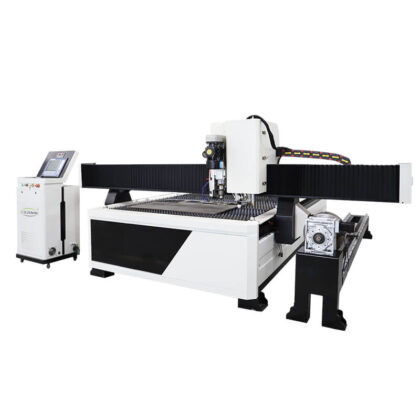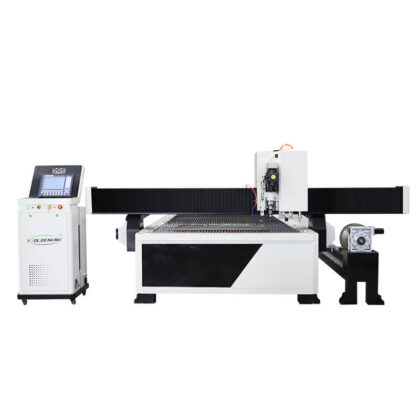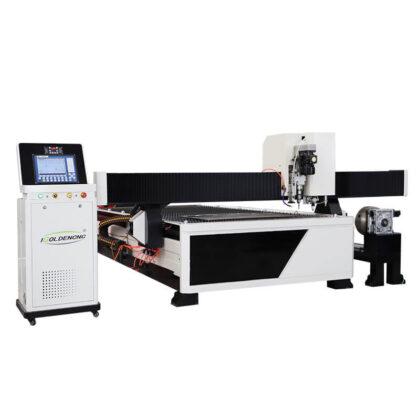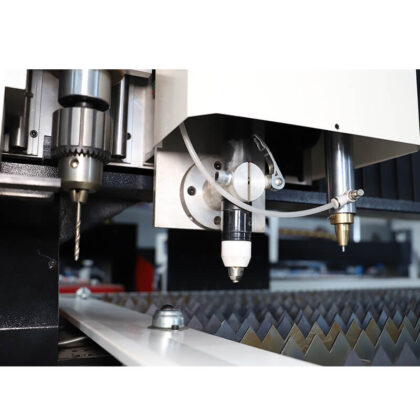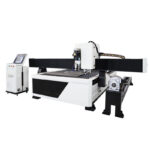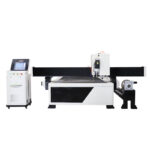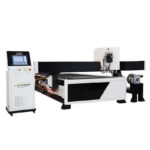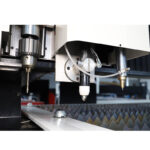 CNC Plasma Cutter With Marking And Punching
A CNC plasma sheet metal cutting machine uses a plasma cutter to cut thin to thick metals along a multi-axis grid. The CNC method provides an advantage over handheld plasma cutting tools due to the cut being programmed and controlled by a computer instead of human motion.
Category: CNC Plasma Cutting Machine >> CNC Plasma Tables
Response time: within 1 hour
Supply capacity: 300 sets/month
Price range: $5200-$17500
Description
CNC plasma cutter -Model iGP1530-4A
The IGP-1530 is a multi-functional plasma machine that has the ability to drill and mark in addition to the normal cutting functions. The machine comes with a rotary axis to cut round and square tubes.The CNC plasma cutter machine can not only meet 80% of the needs of large-scale flat cutting, but also 20% of the needs of tube cutting. It is equipped with an advanced tube-sheet dual-use CNC cutting system and a tube-sheet dual-use CNC cutting system.
The new generation of 1530 series CNC fine plasma cutting machine for sheet metal adopts industrialized appearance design, which integrates technology and art to create the flagship version of flatbed cutting machine. It can be equipped with fine plasma power supply. The high-precision plasma has introduced a multi-gas process, with high arc stability and finer arc compression. The cutting surface quality has reached the lower limit of laser cutting, and the cost is much lower than that of laser cutting.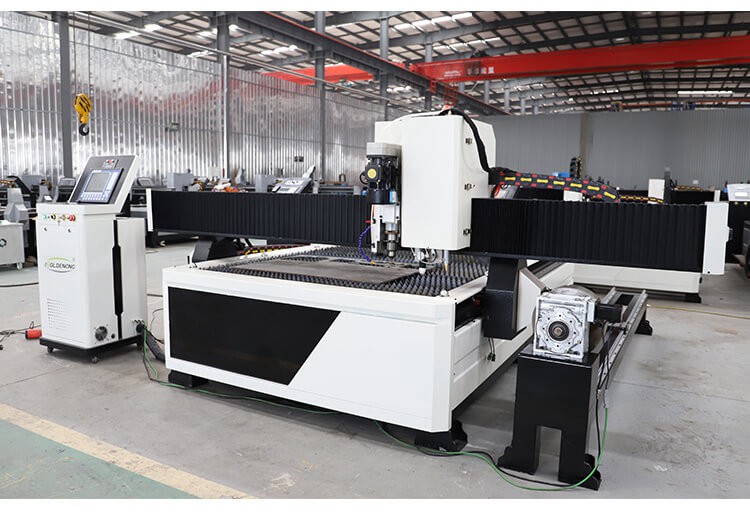 CNC plasma cutting machine details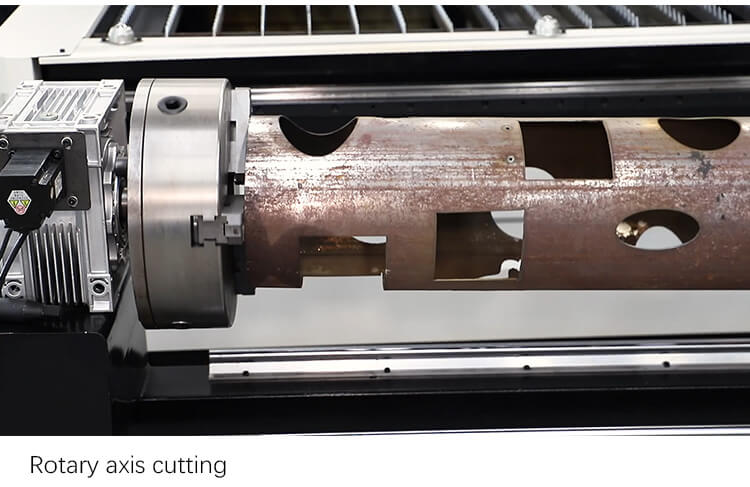 ---
CNC Plasma Cutter Features:
1. VERSATILITY
One of the biggest benefits of CNC plasma cutting is that it is an extremely effective option for cutting both thin and thick metals, such as steel, stainless steel, brass, copper, and aluminum. CNC plasma cutting machines can also be used to help improve production speeds and reduce costs for a variety of different industries.
2. FAST CUTS
Since CNC plasma cutters are specifically designed to complete large-scale projects in a fraction of the time it would take to complete using a hand tool, CNC plasma cutting can help reduce the overall time spent on a project, while also producing cleaner cuts. CNC plasma cutting machines can be programmed to cut a wide range of diverse shapes, making it a much more efficient means of completing cuts on short notice.
3. PRECISION
CNC plasma cutters are operated using a computer program that is incredibly precise. Once a cut has been programmed into the machine, the plasma torch will follow the exact path created by the computer, providing a reliable and consistent cut every single time.
4. EASE OF USE
While most metal cutters require a lot of training and experience to use extremely well, CNC plasma cutters are easier to use and do not require as much training to handle properly. This means that CNC plasma cutting machines can help minimize the overhead costs and downtime associated with training new employees.
5. INCREASED SAFETY
Since CNC plasma cutters are computer operated, they are much safer to use than other metal cutters. All cuts programmed into a CNC plasma cutting machine are set up and complete electronically, eliminating the need for handling the torch or metal during the cutting process. CNC plasma cutters also do not use or store any explosive gases.
---
CNC Plasma Cutter Application
Plasma CNC cutters are used for cutting sheet metals, square and round metal tubes, including iron, cold rolled steel, hot rolled steel, stainless steel, galvanized steel, carbon steel, copper, brass, alloy, bronze, aluminum, titanium. Plasma machines are widely used in the industries of machine tool manufacturing, petro-chemical equipment, light-industrial machinery, pressure vessel, shipbuilding, mining machinery, electric power, bridge construction, aerospace, steel structure, etc.
Marking depth adjustable functions to draw lines, the greater the pressure,the depper draw lines.
---
CNC Plasma Tables Parameter
| | |
| --- | --- |
| Model | IGP-1530 Muti-function Plasma machine |
| Working area | 1500x3000mm          |
| Drilling head | With |
| Marking head | With |
| Torch height controller | with |
| Rotary axis | Option 100/150/200/250/300/400mm… |
| Working table | Saw tooth table |
| Plasma power supply | Huayuan LGK63A/120A/160A/200A  Hypertherm optional |
| Cooling system | Air/ Water cooling |
| Control system | Starfire control system/FangLing system |
| Flies transfer | USB interface |
| Transmission | X,Y-helical rack pinion, Z ball screw |
| Guide rail | Taiwan Hiwin guide rail |
| Drive system | Stepper motor and drivers Optional Japan AC servo motor |
| Arc | Untouched Arc Striking |
| Traveling speed | 0-40000mm/min |
| Working speed | According to the cutting thickness |
| Working voltage | 3 phase 380V/50HZ |
| Software | Fastcam |
It is applied in all types of machinery, metal structure manufacturing, repair and installation service, sheet metal fabrication, hole drilling, digging and patching, beveling and more metal cutting projects & plans.
---
Plasma Table Metal Cutting Machine Advantage
CNC plasma machine uses a plasma cutter to cut thin to thick metals along a multi-axis grid. The CNC method provides an advantage over handheld plasma cutting tools due to the cut being programmed and controlled by a computer instead of human motion. CNC plasma is where high speed and precision meet low cost – among a vast array of additional benefits. Plasma cutting is a high-tech cutting method that uses an ionised, focused jet of gas to slice through thin sheet metal. An internal, high-voltage electrode in the cutter rapidly heats a compound gas mixture to over 20,000 centigrade when switched on.
Shielding gas is used as a propellant and barrier to focus and move the induced plasma from the ionisation chamber. The ionised, superheated, concentrated beam of plasma then melts and blasts any metal it touches. A clean, sealed cut is made each time.
---
FQA
Tell us the max working area,the material and its thickness you want to cut,we can help choose the best suitable machine
.
Plasma CNC cutter is a process that cuts through the electrically conductive material with the help of hot plasma. Plasma cutting machines use a high-velocity jet of ionized gas that is delivered from the orifice. Plasma conducts electricity from the torch of the plasma cutter to the workpiece and heats the object, thereby melting the material. The high-velocity stream of ionized gas mechanically blows the molten metal away, splitting the materials. In the simplest term, plasma machine can be used in various types of conductive metals such as mild steel, aluminum, and stainless. The milder is the consistency of the steel; the operator can experience thicker as well as faster cuts.
Desktop CNC plasma cutting machine is a high-efficiency, high-precision and high-reliability cutting equipment integrating precision mechanical transmission and thermal cutting technology. The good man-machine interface makes the operation more convenient and simple, and can quickly and accurately cut various complex shapes of plates, especially suitable for automatic cutting and blanking of medium and thin non-ferrous metal plates, stainless steel and carbon steel plates. It adopts integrated modular design, which is quick to install and easy to move.
The whole bed is of steel structure. After welding and finishing, the whole is tempered, which can fully eliminate welding stress and has stable and reliable performance. The beams and end beams are made of cast aluminum after finishing, and the movement performance is good. Longitudinal use of bilateral synchronous drive system. Guarantee the speed and accuracy of the whole machine.
The vertical and horizontal guide rail adopts domestic or imported linear guide rail, which has high precision and good guiding. The transmission racks and gears are customized by professional manufacturers, surface carburized and quenched, with high precision.
Equipped with LCD screen, all Chinese characters are displayed. The bottom of the display screen prompts various operation methods at any time, and the operator can perform various operations with simple training, which is very clear and convenient to use.
The drive system is servo drive or stepper drive, and the world's top products can be selected according to user needs – AC servo drive or stepper motor drive imported from Japan's Panasonic, the whole machine runs more smoothly, the speed regulation range is wider, and the acceleration time is short;
This machine has a unique dust removal device, suction cutting table and slag storage device to create a good working environment.
Equipped with an arc voltage height adjustment controller with high response sensitivity, which can automatically adjust and select the best cutting distance to ensure precise cutting of the workpiece.
A variety of plasma power sources can be selected according to user requirements to meet the cutting of different metal materials.
A plasma cutters tables for sale is capable of cutting thick metal sheets in any shape and size. This computer-controlled machine gives instructions through a computer over the manual handheld plasma cutter. It is compatible with optional CNC parts and improves the accuracy, flexibility, and productivity. When you purchase this plasma cutting machine, you will receive plasma cutting software that needs to be installed before operating the machine.
OMNI CNC plasma cutting machine is compatible with optional CNC parts to customize your CNC plasma cutter machine and improve accuracy, flexibility, productivity. Contact iGOLDENCNC sales engineer to find out which optional configuration could meet your demand.
Do you need a catalogue, price or machine working video?
Please let us know your name and email, we will send you more information asap
iGOLDENCNC, Your best choice
Becoming a customer of iGOLDENCNC, we will cooperate with you on the basis of complete trust and comfort. You will find that we are a reputable supplier and worth your trust. We understand that every customer is valuable, and we will cherish every opportunity to cooperate!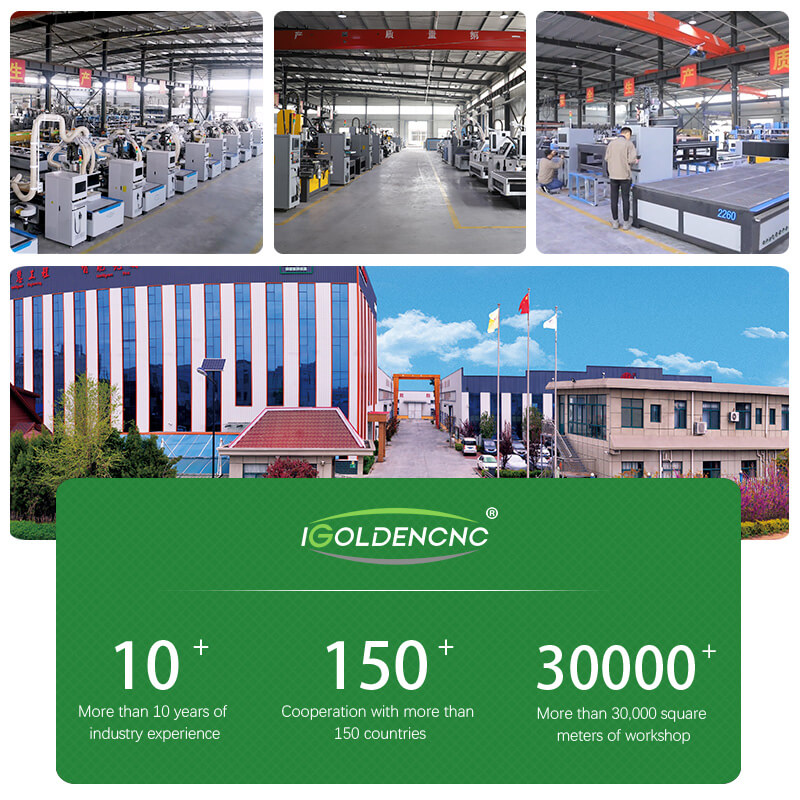 Strict Quality Control System
Advanced testing equipment are used, such as: dynamic balance tester, CNC high precision machining machine, 3D measuring machine; iGOLDENCNC has established a complete and strict quality control system, including 48-hour running test and 72-hour aging test, to ensure the excellent quality of our machines.