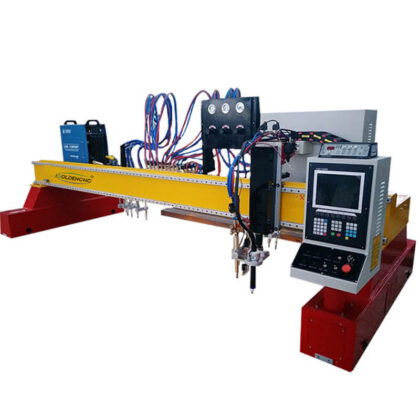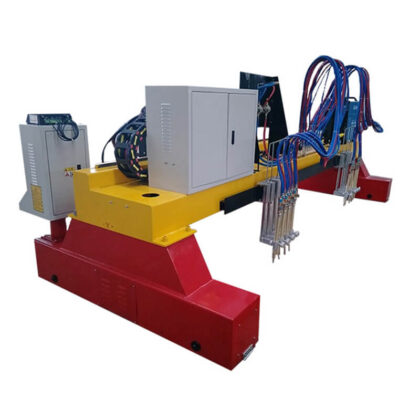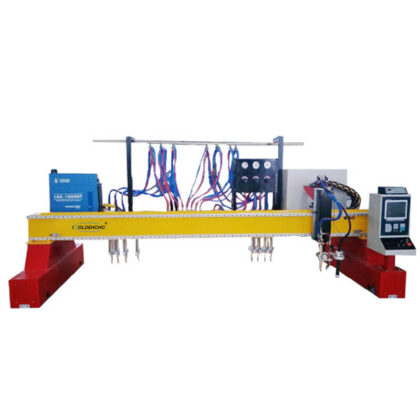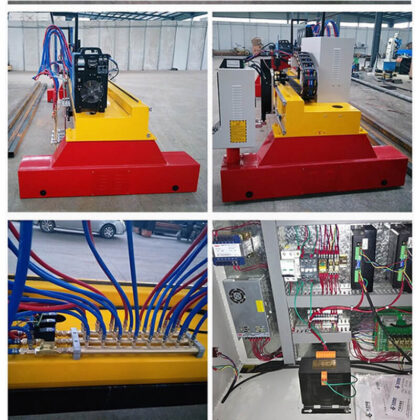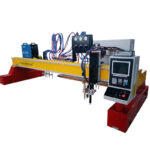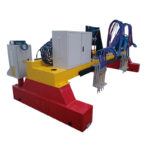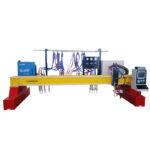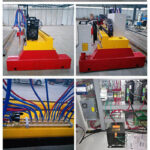 CNC Plasma Flame Cutter for Metal Sheet /Plate
Gantry Cnc Plasma and Flame Cutting Machine is a high-efficiency, high-precision, and high-reliability multifunctional thermal cutting automation equipment that combines computer control, tight mechanical transmission, oxygen gas cutting or plasma cutting technology. This model is small in size, light in weight and easy to operate. Has a very high-cost performance. We set the automatic high arc pressure adjusting device: when the plate shape changes a little during processing, the spearhead will adjust itself to avoid damage to the plate.
Category: CNC Plasma Cutting Machine >>  Gantry Plasma Cutting Machine
Response time: within 1 hour
Supply capacity: 300 sets/month
Price Range: $1100-$1400
Description
Gantry CNC Plasma Cutter for Metal Steel Sheet
The whole equipment adopts steel plate structure welding (welding body, overall stress relief vibration aging) section welding length is consistent, effectively prevent structural deformation. Epoxy for shot blasting primer and two-component polyurethane for finish can ensure long appearance of equipment without rust. The transmission mechanism is striving for perfection, especially the rack and pinion with high standard and high precision manufacturers.
Pioneering field adjustable cutting torch height control, over the cutting torch raised control body design has all the necessary movement and control keys, to mobile operators in the cutting torch counterpoint is very convenient. Humanized design, more efficient operation.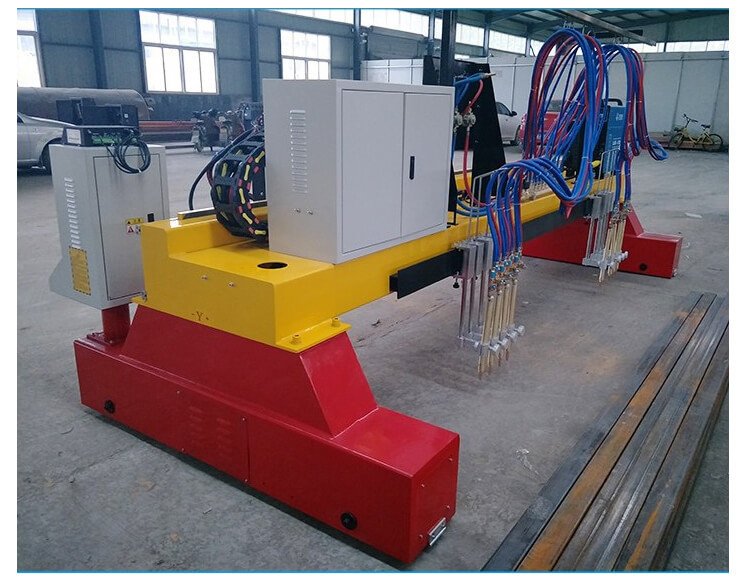 Gantry CNC Plasma Cutter Details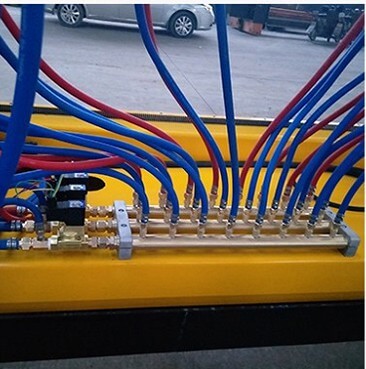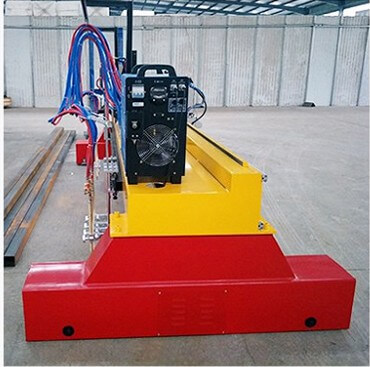 ---
Features of cnc plasma cutter
1. Plasma power and cutting gun with high quality, made by famous factories in China.
2. Cutting mouth, little and tidy and avoid second trimming.
3. Applied for metal sheet, aluminium sleet, stainless sheet, Titanium sheet and so on
4. High cutting speed, high precision, and low cost.
5. Plasma power: 20A-60A / 380V, the plasma power can be adjusted.
6. Plasma source adopts advanced integrated module control system, it ensures the high precision and stability.
7. With unique handling with breakpoint and interruption of power supply, it can move forward and backward according to the track.
8. Support Wentai, ARTCAM softwares, Type3 produce standard G code way document, also can change software to read AUTOCAD softwares
9. The control system uses the U-disk exchange processing document, easy to operate.
10. When machine working with water pump and tank provide circulating water cooling.
11. Difference with other factory plasma cutting machine, this machine use screw-ball as drive mode, whic provide high precision for this machine.
---
Gantry CNC Plasma Cutting Machine Application
Gantry cnc plasma cutting machine  is specially designed for sheet metal fabrication, it is characterized of high automation and efficiency, easy operation and long service time.
Application Materials: CNC Plasma Cutting Equipment is suitable for metal cutting with Stainless Steel Sheet, Mild Steel Plate, Carbon Steel Sheet, Alloy Steel Plate, Spring Steel Sheet, Iron Plate, Galvanized Iron, Galvanized Sheet, Aluminum Plate, Copper Sheet, Brass Sheet, Bronze Plate, Gold Plate, Silver Plate, Titanium Plate, Metal Sheet, Metal Plate, Tubes and Pipes, etc
Application Industries: CNC Plasma Cutting Machines are widely used in manufacturing Billboard, Advertising, Signs, Signage, Metal Letters, LED Letters, Kitchen Ware, Advertising Letters, Sheet Metal Processing, Metals Components and Parts, Ironware, Chassis, Racks & Cabinets Processing, Metal Crafts, Metal Art Ware, Elevator Panel Cutting, Hardware, Auto Parts, Glasses Frame, Electronic Parts, Nameplates, etc.
---
Gantry CNC Plasma/Flame Cutting Machine Parameter
T

he main technical parameters

Lateral gauge (mm)

3000mm

Longitudinal gauge (mm)

8000mm

Flame torch group

1

Plasma torch group

1

Lifting device stroke

180mm

Drive System

Leadshine

Drive mode

Bilateral drive

Effective cutting width (mm)

2400mm

Effective cutting length (mm)

6500mm

Flame cutting thickness (mm)

6mm-200mm

Plasma cutting thickness

Depends on plasma size

Machine idle speed(mm/min)

6000mm-10000mm

Flame cutting speed(mm/min)

50-800mm/min

Surface cut roughness

Ra12.5-25μm
---
The Advantages and Disadvantages of Plasma Cutting
Plasma cutting, sometimes known as plasma arc cutting, is a melting process. In this process, a jet of ionized gas is used at temperatures over 20,000°C is employed to melt the material and expel it from the cut.
During the plasma cutting process, an electric arc strikes between an electrode and workpiece (or cathode and anode respectively). The electrode is then recessed in a gas nozzle which has been cooled, limiting the arc and causing the narrow, high velocity, high-temperature plasma jet to be created.
How Does Plasma Cutting Work?
When the plasma jet is formed and hits the workpiece, recombination occurs, causing the gas to change back to its original state and it emits intense heat throughout this process. This heat melts the metal, ejecting it from the cut with the gas flow.
Plasma cutting can cut a broad variety of electrically conductive alloys such as plain carbon/stainless steel, aluminum and aluminum alloys, titanium and nickel alloys. This technique was initially created to cut materials that could not be cut by the oxy-fuel process.
---
FQA
• To be shipped overseas in containers, table type plasma cnc machines generally have a small cutting area. Usually, the X-axis does not exceed 2m, and the Y-axis does not exceed 6 meters. However, due to its unique mechanical structure, the gantry type is not restricted by the container's size. For example, suppose you need to cut a large sheet of 3×12 meters; you can only go with the gantry type option. Because you cannot find a container to get, a table type machine of the same size accommodated in the real world. Therefore, if you need to cut plates larger than 2×6 meters, please choose a gantry type cnc plasma cutting machine.
• The cutting size for table type is fixed; the gantry type has more flexibility; you can increase or decrease its cutting area in the future.
• The table type is prior to gantry-type for small and medium-size plate cutting. This type of machine is more environmentally friendly. You can get downdraft or water table options on the working bed.
The warranty period is 2 years for the Protablr CNC torch machine. When you need to replace the wearing parts of cheap CNC machine, we will provide them at the agent price. If there are any problems during the warranty period, we will replace the main parts free of charge. The protable CNC plasma for sale software provides free lifetime update service. 24-hour online technical support (phone, email, Teamviewer, Whatsapp, Skype, WeChat, QQ, etc.) We provide English training videos and user manuals for crossbow plasma machine sale installation and operation, etc. We can also provide technical guidance remotely. Free training at the iGODLENCNC factory. The engineer can repair the Protable CNC Plasma overseas.
Using bilateral servo motor and steering rotation mechanism, high cutting precision, using professional display software, can design all kinds of graphics or text instant processing, flexible processing, simple operation, convenient. Used for high speed cutting, with high speed and stability.
If your budget is relatively small, but you want to have an advanced CNC plasma cutter, then this Protable CNC plasma cutter is your best choice.It is offers a flexible solution, it has all advantages of a CNC portable cutting machine.The The guide rail of this Protable CNC plasma cutter is made of aluminum material at one time, so it has a stable structure, wear resistance, no deformation, anti-shake, can withstand 250kg, and has a long service life. This Protable CNC plasma cutter is easy to assemble and disassemble, can be easily carried anywhere, and it can also be configured as an oxy-fuel cutting machine or a plasma cutting machine.Whether you are a dealer, a busy workshop owner, or a metal artist, this lightweight yet reliable unit will exceed your expectations.If you want to know more about this crossbow portable cnc plasma cutting machine price,just contact me.
Do you need a catalogue, price or machine working video?
Please let us know your name and email, we will send you more information asap
iGOLDENCNC, Your best choice
Becoming a customer of iGOLDENCNC, we will cooperate with you on the basis of complete trust and comfort. You will find that we are a reputable supplier and worth your trust. We understand that every customer is valuable, and we will cherish every opportunity to cooperate!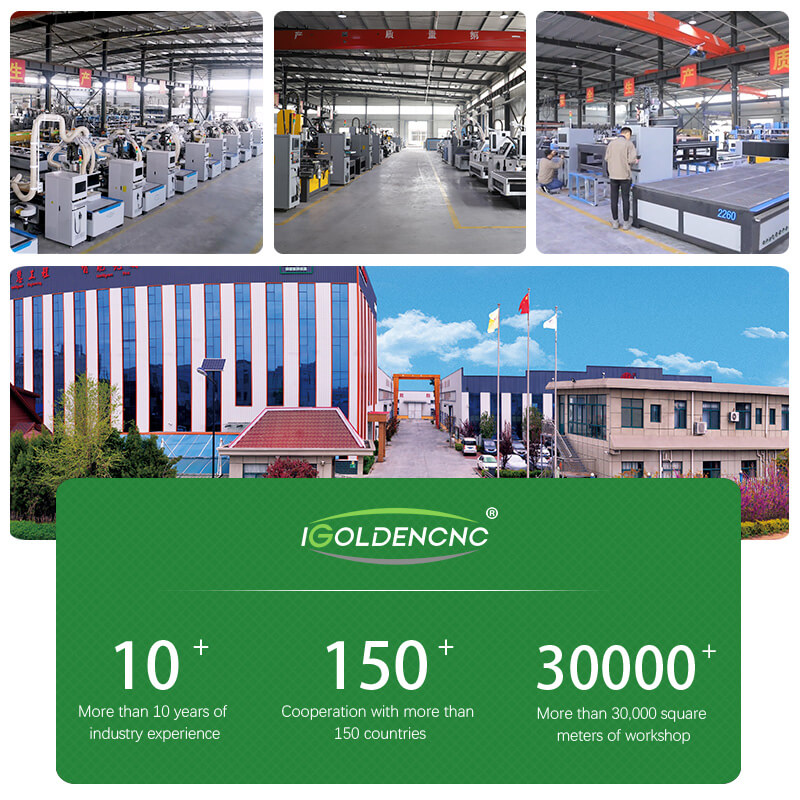 Strict Quality Control System
Advanced testing equipment are used, such as: dynamic balance tester, CNC high precision machining machine, 3D measuring machine; iGOLDENCNC has established a complete and strict quality control system, including 48-hour running test and 72-hour aging test, to ensure the excellent quality of our machines.