1325 automated cnc router table for sale with 4×8 vacuum table
Thorpe
CNC Wood Door Engraving Machine is suitable for the processing of various complex products or a variety of processing. It can be equipped with 6, 8, 10, 12 tools according to the different production process requirements of customers. There are two tool change modes for inline tool change and disc tool change. Widely used, including engraving, milling, chamfering, side milling, drilling, cutting, grooving, etc.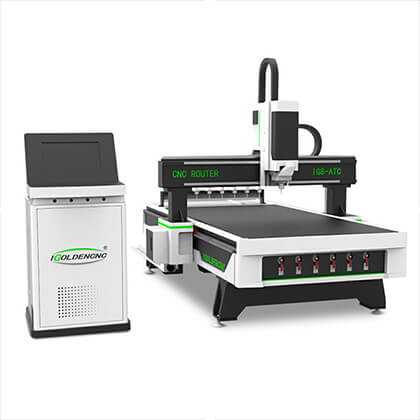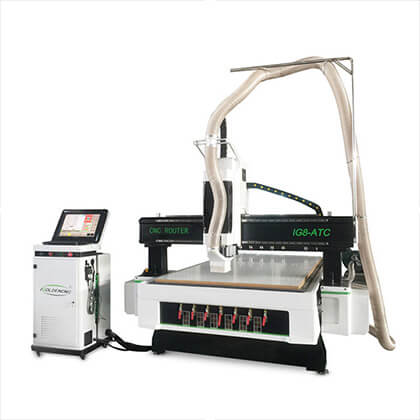 Wood cnc router machine Standard Configuration:
1) DSP control system: Popular and easy operation, with USB port to transfer program;
2) Italian HSD Air-cooling Spindle: Long working life, easy maintenance;
3) Big Stepper Driving Moto: With highly control precision and high speed, reliable and stable;
4) Taiwan Hiwin Guide and Block: Guaranteed genuine rail with good quality, realizing smooth movement;
5) Taiwan TBI ball screw: linear motion with high precision and and in high speed
6) Helical rack and pinion: quiet running, greater accuracy, smoother cutting and allows greater acceleration and feeding rates, longer lifetime because of smaller wearing force.
7) Taiwan Delta Inverter: Guarantee the variety working speed and protect the spindle very well.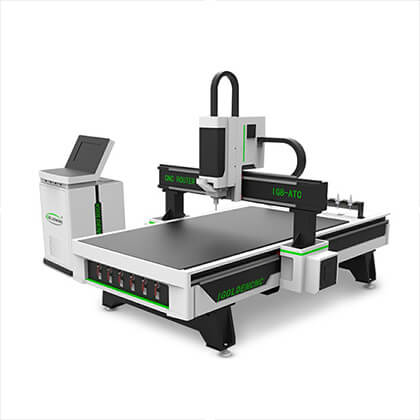 Feature of the Automated Wood Door Engraving Machine
With 8 or 12 sets of tools to change automatically, which can saving time of tools changing and improving working efficiency.
Vacuum table using high-density material with great suction strength, comfortably accommadating all sizes of work piece.
NC studio control system is simple, convenient and easy to learn, users can quickly get the fleciblity to master the use of equipment, strong independence.
The frame adopts the gantry column structure, the machine parts are produced and assembled with extremely high precision to ensure the high performance and stability of the machine, excellent quality and tolerance.
Application of Automated Wood Door Engraving Machine
Woodworking industry:
Solid wave board process,door of cabinet,wooden door,artistic wooden door ,no-paint door,avoid wind,process of the artistic window,shoes cleaning machine,the cabinet of the playing machine and the board, mahjong table,computer table .c.ny furniture carving, solid wood art fresco carving and other industries.
Advertising industry:
Advertising board,Label design,Acrylic cutting,model, of the multi material decoration products.
Model industry:
It can engrave on the metal materials such as copper, aluminum ,iron etc and non-mental material.s such as man-made marble,sand, plastic board PVC materials, wood board etc.
Art industry:
Character carving, character carving and cutting, famous brand making, small gift cutting, souvenir making, carving various decorative letters, small windows, fences, figures on walls, etc.
Other industries:
CNC wood engraving machine can engrave all kinds of large reliefs and shadows, which are widely used in craft gift industry.