1500w Fiber Laser Cutting Machine Laser Cut Metal Panel
Glover
After years of development, 1500w fiber laser cutting machine has improved the production efficiency for the processing and production of various industries, and is more and more widely used in various industries. The laser power of this laser machine can range between 1500 watts and 4,000 watts. Fiber laser cutting machine it can do plane cutting, also can do bevel cutting processing, and the edge neat, smooth, suitable for metal plate and other high-precision cutting processing, coupled with the mechanical arm can be three-dimensional cutting instead of the original import of five axis laser. Compared with ordinary carbon dioxide laser cutting machine, it saves more space and gas consumption, and has a high photoelectric conversion rate. It is a new product of energy saving and environmental protection, and also one of the world's leading technology products.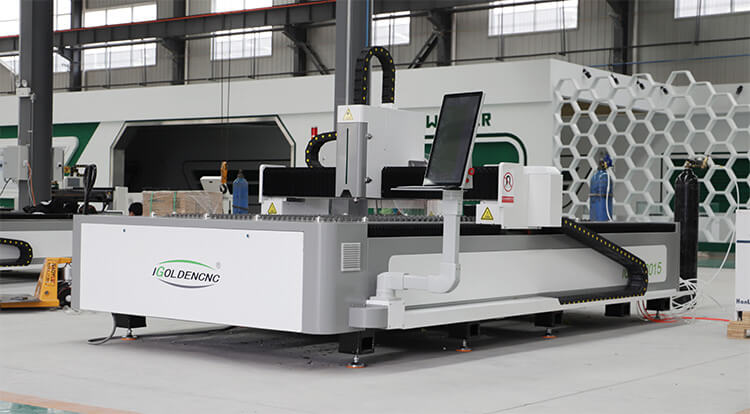 Features Of 1500w Fiber Laser Cutting Machine:
1.Achieve high-speed cutting, high-precision cutting, no burrs, no slag, no black edges, no deformation, no need for secondary processing.
2.Single countertop make plates loading and unloading available during cutting, which improves the processing efficiency.
3.Suitable for stainless steel, carbon steel, alloy, galvanized steel, titanium and other metal plates and pipes (different materials, different power).
4.Fiber laser has the advantages of high beam quality, high brightness, high conversion rate, maintenance-free, stable and reliable operation, low cost, and small size.
Advantages Of Laser Cutting Machine Sheet Metal
Fast cutting speed, high efficiency, safe operation, and stable performance.
The spot quality is good, the deformation is small, the appearance is smooth and beautiful.
Adopting an imported servo motor and a guide transmission mechanism, and it has high cutting accuracy.
Professional software to design various graphics or text for immediate processing, flexible processing, simple and convenient operation.

1500w fiber laser cutting machineare usually equipped with different laser powers ranging from 1000W upto 800ow, this power ensures how swiftly the machine is able to cut through various metals and the speed and time it takes to do so. IGOLDENCNC's laser machines are highly precise and cuts smoothly and has excellent speed. We also have 2KW – 8KW laser cutting machine that is highly powered and has optimal speed.

Laser Cutting Machine Sheet Metal Applications
Electronic appliances, subway accessories, confidential accessories, automobiles, ships, metallurgical equipment,
household appliances, crafts, gifts, tools, processing, decoration, advertising, metal processing, etc