What Is 4 Axis CNC Router?
Tina
4 Axis Cnc Router
Are you looking forward to DIY 4 axis CNC router kit plans or coming up with an idea to buy affordable 4 axis CNC router tables for wood, aluminum, stone, plastic, foam with small business, home use, school education, hobbyists or industrial manufacturing? Review the new 4 axis and 4th axis CNC router machine buying guide for CNC machinists, operators, beginners, wood fabricators, woodworkers, metal fabricators, metalworkers, stone fabricators, stoneworkers, and foam fabricators, we'll offer you best 4 axis CNC router machines with custom 4 axis and 4th axis rotary CNC router machine service to fit your rotary 4th axis or 4 axis CNC projects, ideas, and plans.

What Is 4 Axis CNC Router?
4 axis CNC router machine is based on the ordinary 3 axis CNC machine, adding the fourth axis (rotary axis). In addition, the 4 axis CNC machine is divided into four-axis three-linkage and four-axis four-linkage CNC machine, not to say that the rotation is added, the axis is a four-axis linkage machine, and a CNC system with a rotating axis and a four-axis linkage can be called as a real 4 axis CNC machine. Because of the rotation movement of the 4th rotary axis, 3D machining of cylindrical, arc, and circular surfaces is realized. A real 4 axis CNC router machine can engrave 360° wood, foam, stone, white marble, human body, buddha statues, sculptures, handicrafts, furniture, etc.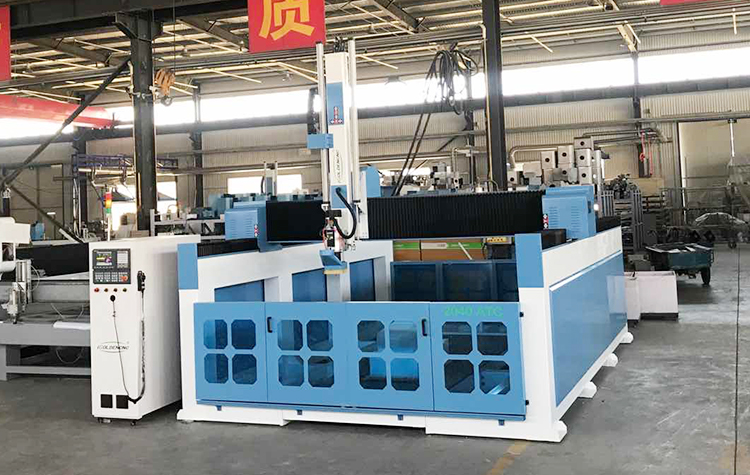 4 axis is refer to X-Y-Z-A, X-Y-Z-B or X-Y-Z-C, 4 axis are linked, the four axis can work at the same time. If the machine has only three feed axes (X, Y, Z), the Y-axis can be manually replaced with a rotating axis, and it can only be three-axis linkage at most. This is a 4th axis CNC router machine, and it is also the usual fake four axis. In terms of use, it can process planes, reliefs, and cylinders. If the machine has four feed axes (X, Y, Z, A), it can be processed with four-axis linkage, and can process planes, reliefs, cylinders, non-standard three-dimensional patterns, and corners of 3D patterns. 4 axis CNC routers are also known as 4th axis CNC routers, rotary CNC routers, 4 axis CNC router tables, 4 axis CNC router machines, 4 axis CNC router kits, 4 axis CNC machines, 4 axis CNC machining centers.