3 Axis ATC CNC Router with Automatic Tool Changer for Woodworking
Thorpe
The Automatic Tool Changer (ATC) on the 3-axis CNC router allows for the fast and efficient changing of cutting tools during the machining process, eliminating the need for manual tool changes and reducing downtime. This feature makes the machine ideal for manufacturing environments where high throughput and efficient production are critical. The 3-axis CNC router is typically used for cutting, carving, and milling of various materials such as wood, plastics, and metals. The machine can perform complex cutting operations with high precision and repeatability, making it an essential tool for manufacturing businesses.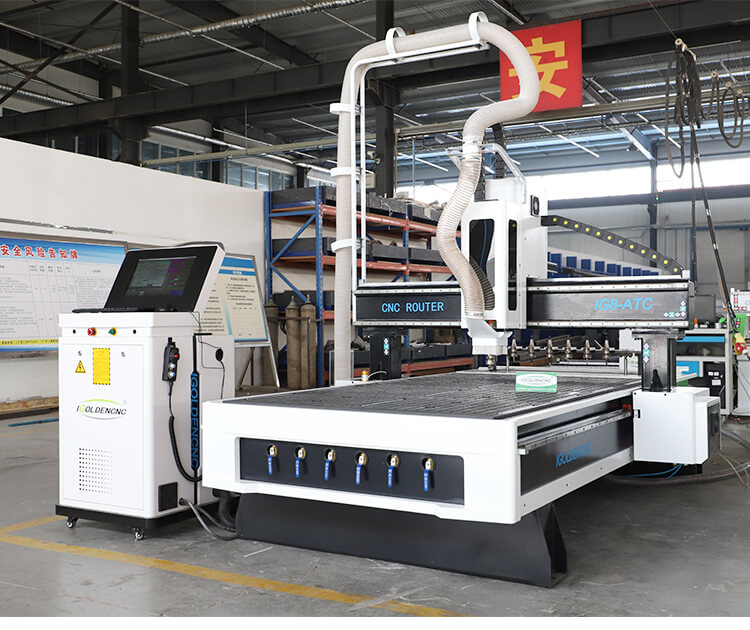 What is the  ATC CNC Router?
The 3 Axis ATC CNC Router machine is suitable for various complex products processing. According to the needs of different production processes, customers are equipped with 6, 8, 10 and 12 bits. Their are two kinds of tool changing modes: straight line change tool and disc tool changer. Widely used in plate carving, milling, chamfering, side milling, drilling, cutting, slotting and so on.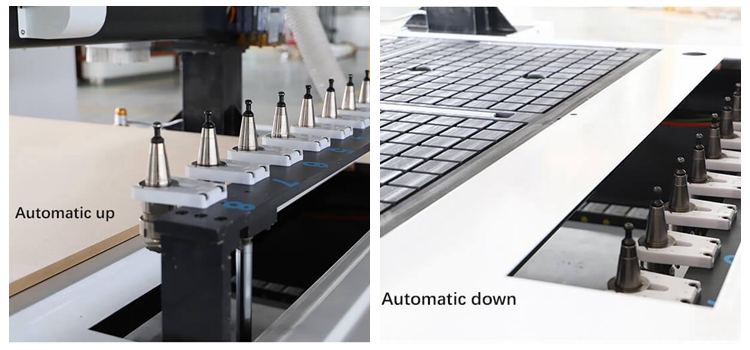 Features of the ATC CNC Router with Automatic Tool Change
The whole machine uses high quality seamless welded steel structure, the assembly contact surface is used scraping process, the whole structure high-temperature aging treatment, upright and support plate, using aluminum cast process that ensures the high stability.
Driving rail adopts original Taiwan Hiwin 30mm square lead rail.
Z axis adopts Taiwan TBI original coarse pitch precise rubbing screw rod, high precision transmission.
The CNC machining center adopts Italian high-speed HSD 9KW air-cooled spindle motor, spindle cooling fully guaranteed, it can work long time.
The CNC machining center adopts imported Japanese Yaskawa Servo drive system, torque, high precision, fast and stable performance.
The CNC machining center adopts Taiwan Syntec controlling system, good compatibility, compatible with type3 /Artcam /Castmate /Artcut /CAD/CAM and other design softwares.
It can control the completion of multi-dimensional 3D processing, and can do fast, smooth three-dimensional processing, carving and cutting.
The CNC machining center table is vacuum adsorption countertops which is an international leader technic, made of high strength rigid plastic, high-absorption edge and strong adsorption of different sizes of materials, density, non-deformation.
Auto-oiling lubrication system, easy to operate, greatly improve the life of the various components of the machine.
Application of the 3 Axis ATC CNC Router with Automatic Tool Change
3 axis CNC machining center with ATC system is widely applied in industrial board cutting, mould manufacturing & processing, wooden products processing, building decorating & furnishing, stone, glass, copper, aluminum and advertising products processing, etc
Woodworking Industry:
Ideally suitable for furniture decoration, musical instruments, wooden crafts, solid wood furniture, MDF paint-free door, wood composite door, cabinet, kitchen doors, windows, night table, etc.
Decoration industry:
Art model, Wall Art, screen relief engraving and cutting, decoration processing, gifts wrapping, waved plate, electrical cabinets panels, sports equipment, and other wooden industrial products.
The woodworking ATC CNC router with automatic tool changer is ideal for a wide range of woodworking applications, including cabinetry, furniture making, and custom woodworking projects. The machine can perform complex cutting operations with high precision and repeatability, making it an essential tool for woodworking professionals.