3D 4D 5D Foam 4 Axis EPS Foam Carving Machine
Thorpe
What is the 4 Axis EPS Foam Carving Machine?
3D 4D 5D Foam 4 Axis EPS Foam Carving Machine, the spindle can swing 180 °, optional 8 linear tool changers can be selected to meet the needs of different processing technologies, full-scale 3D engraving, and curved surface processing is available, also known as foam CNC router machine, mold CNC router machine, EPS CNC carving machine.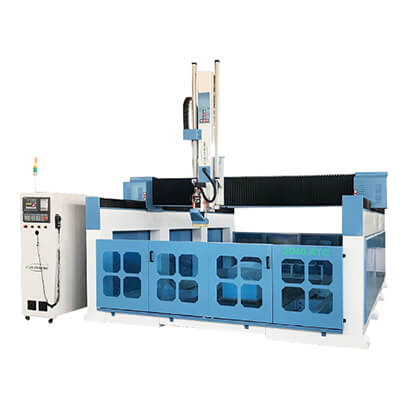 Features
1)Driving system is servo motors and drives of 1500w
2)Control system is Taiwan Syntec 5 axis cotroller with handle
3)Spindle 9kw automatic tool change.  It's easy to change the cutting tools
4)Heavy-duty machine frame for stable working
5)Taiwan Hiwin square gudie rails and rack
6)Automatic oil lubrication system
7)Dust cover on X Y Z axis for clean working
8) Table can be steel tube welding and cast iron
9) Electrical cabinet is installed with air conditioner for good cooling
10) Hand wheel is easy to operate the machine working.
Machine Advantage
1)We use top-quality four-row imported ball bearing, wide linear lead rail and self-lubricating block for the machine. It can balance the force in all directions to ensure the machine's accuracy and strength when engraving.
2)The route of Z axis can be heightened to 900mm, so it is suitable for processing large-scale and super-thick material.
3)The design documents of intelligent processing cross-border protection can prevent the excessive process caused by mechanical impact.
4)The diversified processing speed can be controlled separately. The speed of idle running and roll setting improve the quality of processed products and processing efficiency greatly.
Application
Sculpture wood carving cnc router machine can work on wood, EPS and non-metallic carbon material, making automotive foam mold, wooden ship model aviation, trains and other wooden mold, carving 3D musica instrument, bumper, bonnet interior trim mold and aviation etc.