4 Axis CNC Foam Cutter on Sale
Thorpe
The Introduction of 4 Axis CNC Foam Cutter
2021 best 4 Axis CNC Foam Cutter is used to mill and cut foam board, styrofoam, EPS foams, XPS foams, and rigid polystyrene foams to different 2D/3D shapes, and now the CNC foam cutting machine for sale at affordable price.
EPS CNC router 4 axis machining centre, the spindle can swing 180 °, optional 8 linear tool changers can be selected to meet the needs of different processing technologies, full-scale 3D engraving, and curved surface processing is available, also known as foam CNC router machine, mold CNC router machine, EPS CNC carving machine.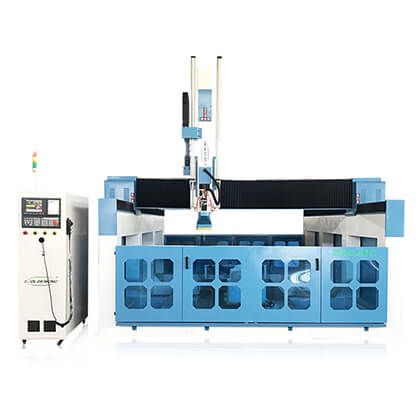 What can be done?
CNC foam cutter is a type of automatic computer numerical controlled router machine to cut rigid foam, soft foam, sponge, and plastic into squares, rectangles, and strips. The foam cutting machine is a computer controlled machine that can cut any 3D projects from the extruded and expanded EPS foam.
Sculpture making
Automotive
Construction purposes
Moulds of Fiber Glass
Furniture
Event Decors
Building decors
Set Designs

Advantages
It can make large non-metallic moulds, especially automotive foam mould, wooden ship mould, aviation and train wood mould. And wood mould casting, food mould (e.g. moon cake mould) and other moulds making.
With the rotary axis, it can do any kind of 3D cylinder material and mold making for woodworking, advertising, molding industries.
With the 180 degree spindle rotation, it can can mill some arch shaped work piece as well.
Z axis can be heightened to 1,000mm for large-scale 3D curve milling.

Applicable industries and materials:
Mold industries: sculpture and various large non-metallic mold, it is suitable for milling any kind of foam (EPS) mould, wooden ship model, wooden model aviation and other wooden mould.
Musical instrument industry: three dimension musical instrument and contour.
Non-ferrous metals: aluminum, copper, alloys and other ligh non-ferrous metals.