8 Spindles Wood CNC Router Machine for 3D Carving
Thorpe
8 Spindles Wood CNC Router Machine is specially designed for customers with batch production needs. 8 spindles work together to process 8 products at one time. It is mainly used in the furniture industry, decoration industry, musical instrument industry, mold industry, crafts industry, building model industry, advertising industry, etc.
Compared with other multi spindle CNC router, this machine has more spindles, 8 spindles work in the same time, greatly improving the processing efficiency. In this case, the machine has some similarities with ATC CNC router Machine.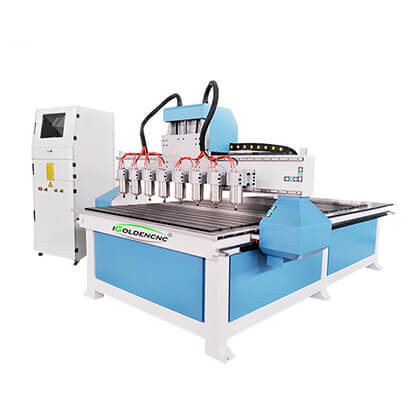 Features of the 8 Spindles Wood CNC Router
1.Distinct from 1325 Multi Spindle Woodworking Machine, the amount of spindles can be added to 8 sets or more.
2.Like 1730 Multi Spindles Woodworking CNC Machine, multi-spindle can work simultaneously, which can greatly improve the efficiency of working.
3.Manufactured with Removable t-slot table and rotary device, realizing multi functions to process 2d、3d、4d figures. And customer can choose to process different kinds of materials with them or not.
4.Multi spindles can work at the same time, and the machine can improve the engraving efficiency.
5.Adopting water cooling spindle, it has the features of low noise and better cooling effect.
6.Designed with rotary device, the machine can be used to process cylinder objects such as table legs, stair handrails, sculptures, 3D relief and so on.
7.The account of spindle and working area can be customized according your requirements.
Summary
This is a multi-spindle cnc wood carving machine, also known as multi spindles cnc router (since someone would consider the spindle as head). It is equipped with a total of 8 spindle motors; This ingenious design opens a lot of possibilities for productivity (In terms of this point, we will elaborate in the following paragraphs), which is ideal for mass relief sculpture carving works in wood. So, it is usually applied to the production of solid wood European style furniture. 8 spindle cnc wood carving machine for sale with good price and excellent expert service here.
Application of the 8 Spindles Wood CNC Router
Applicable Industry
It is ideal for mass wood carving jobs in furniture production. It is always applied to furniture plants, especially the one who makes European style furniture.
Materials
Good for all kinds of wood including Solid Wood and MDF.
Packing Details
Due to the fact that the overall dimension of this eight spindle cnc machine is bigger than the container size, to get it accommodated in, the gantry will need to be disassembled first and then full set machine is packed in a plywood case.