CNC Metal Cutting Machine for sale
Tina
A metal CNC machine is a computer numerical controlled machine tool for carving, cutting, molding or milling metal materials.  A metal CNC machine is also known as CNC metal machine, CNC metal router, metal CNC router, metal carving machine, metal engraving machine, CNC milling machine.

Metal Laser Cutting Machine Features:
1.It adopts advanced branded optical fiber laser core technology,good optical mode,stable performance.
2. High efficiency of photoelectric conversion,twice of domestic laser source.
3. Low heat of laser source,only needing 5P water cooling machine,saving electricity.
4. The gantry flying light path design,light operation,saving about 40% electricity than competitors.
5. Achieve a perfect cutting effect by only blowing compressed air during processing,which can largely reduce costs of auxiliary gas such as Oxygen.Nitrogen about thousand dollars,
6. Equipped with centralized lubrication system to make the machine run more stable.
7.Axial positioning accuracy of workbench: ≤±0.03mm/m.
8.Repetitive positioning accuracy of workbench: ≤±0.03mm/m.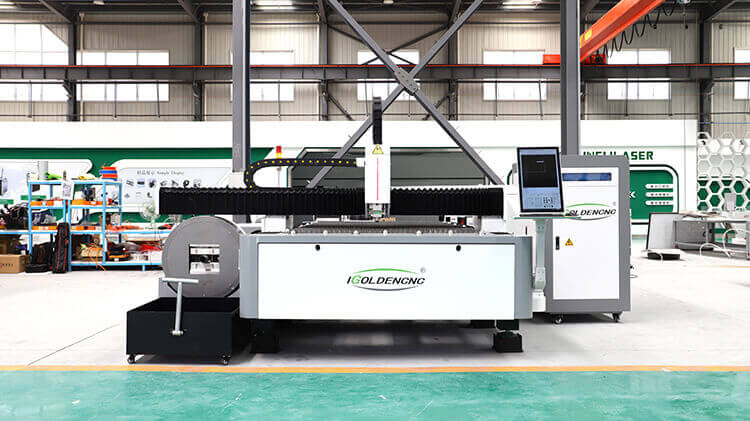 Applications
1. Metal CNC machine is suitable for carving, milling, molding and cutting compactly all sorts of materials such as steel, copper, aluminum and plastics.
2. Metal CNC machine is widely used in automotive, injection mould, ironware mould and engrave mould industries.
3. Metal CNC machine is especially designed for molds, eyeglasses, watch, panel, badge, brand, graphics and words of three-dimensional and outside surface's sleeking of large size molds.
Fiber Laser Cutting Machine Advantages
1.Speed
When cutting mild steel, stainless steel, and aluminum plate, fiber laser cutting machine of equal power is 2-3 times faster than CO2 laser with smooth cutting .
2.cost The maintenance cost of CO2 laser cutting machine is very high. Not only front lens and back lens are expensive, but also the working life of turbine bearings.
At the same time CO2 laser cutting machine photoelectric conversion rate is only 8% to 10%, and it consumes too much gas when cutting. But fiber laser cutting machine photoelectric conversion rate can reach 30%, which is more economic.
3.maintenance We know that CO2 laser cutting machine laser has complex structure, inconvenient maintenance and high operation requirements. But the CNC fiber laser cutting machine has simpler maintenance. Besides,tolerance of dust, shocks , temperature and humidity in poor work environment.
What are the characteristics of the fiber laser cutting machine?
The fiber laser cutting machine replaces the traditional cutting machine and is widely used in industrial environments. The use function can be said to be very powerful. It has played corresponding special functions in various industrial environments, and the work efficiency is very fast and the cutting accuracy is particularly high. , It can naturally solve the various problems of manual work, so there are lots of use characteristics indeed.
1. The work process is smoother
When performing cutting work, if you can apply the fiber laser cutting machine correctly, you can naturally ensure faster work efficiency, the entire work process will become smoother, and various problems will be avoided. When the staff are operating It is very simple and convenient, and will not cause any harm or accidental hazards to the staff, so that the working environment will be more comprehensively improved and better work efficiency can be achieved.
2. The cutting accuracy is very high
By using a fiber laser cutting machine to work, it can ensure that the cutting accuracy is particularly high, and the cut section is particularly smooth, so there is no need to worry about material waste, improve the efficiency of products leaving the factory, and allow manufacturers to achieve a more comprehensive safety production work. Guarantee will naturally make the working environment better. If the quality of the structure can meet the higher-precision standards, the functionality of the product can be better.
The above is a comprehensive introduction to the characteristics and advantages of the fiber laser cutting machine. If you can buy it from a professional and regular manufacturer, and you can choose the specifications and models that suit your application, let the staff use it in the correct way, and you will naturally be able to use it. With more comprehensive functions and advantages, you can get a better experience in actual operation.



Fiber Laser Cutter for Metal Sheet Details
1. Moved crossbeam with imported high precision racks and linear guide rail, transmission stable, working with high precision.
2. Machine tool, crossbeam and worktable adopt integral welding structure, machine tool, crossbeam and worktable adopt integral welding structure, in accordance with the standard large machine, to stress annealing after precision finishing and then for vibration aging treatment, it can completely eliminate the welding stress and processing stress, keep high-strength, high precision, and also keep the 20 years of normal use don't deformation.
3. X, Y and Z axis use imported Japan servo motor, high precision, high speed, large torque and large inertia, performance is stable and durable, ensure the high speed operation of the whole machine.
4. Based on Windows operating system, use professional Cypcut numerical control system for fiber laser cutting machine, integrated with laser cutting control special function module which is powerful with a good man-machine interface and easy to operate.
5. Laser-produced without gas, it could use air to cut sheet metal.