Gantry Type Pipe Sheet Plasma Flame CNC Cutting Machine For Steel Structure Metal
Glover
Gantry type pipe sheet plasma flame cnc cutting machine is designed for large format sheet metal fabrication, the industrial plasma system is used to cut mild steel with flame cut and cut high carbon steel, stainless steel, aluminum, copper and other non-ferrous metal with plasma cut.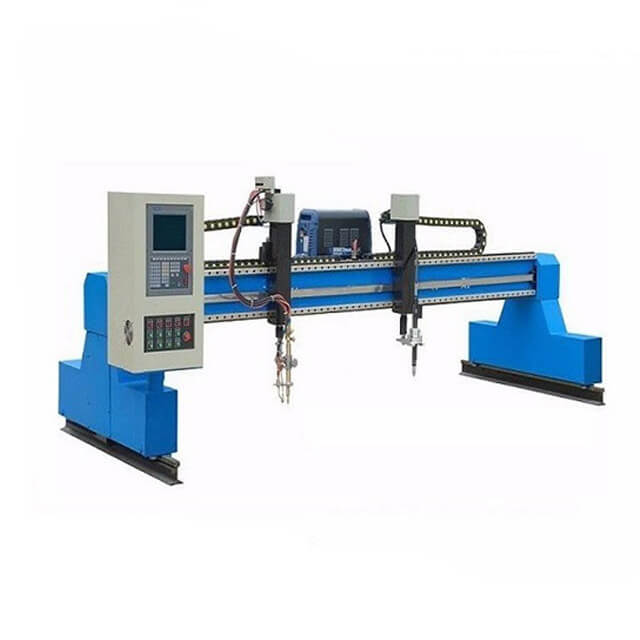 Gantry Type Pipe Sheet Plasma Flame CNC Cutting Machine Features:
1.square tube structure through stress‐relief and surface oxidation treatment, with high rigidity, high strength, and corrosion resistance and guaranteed operation accuracy.
2.Cutting torch lifter use towing chain type cable trailer to ensure that the air‐pipes, wires be in good protection;
3.Cross‐beam lifter use one main and multi servo movement method in horizontal direction, up to 6 lifers can be installed on, that is,6 cutting torches, each lifter equipped with a cutting torch and a lifting mechanism;
4.In longitudinal direction, using bilateral drive method;
5.Longitudinal configuration is equipped with high‐precision rack, dedicated heavy‐duty railroad rail ( NO.40 rail ), running reliably and accurately, and working surface use finishing grinding technology to ensure the smooth operation and accuracy of Gantry Cnc Cutting Machine.
What Is The Configuration Of Gantry Type Pipe Sheet Plasma Flame CNC Cutting Machine ?
1. Install the plasma automatic height controller. During the machine cutting process, the cutting torch can automatically rise and fall according to the unevenness of the steel plate to prevent the cutting torch from crashing, extend the life of the cutting torch, and save costs. Optional: flame automatic height controller.
2. The control system has a graphic display function, which can observe the cutting process in real time. And supports 9 languages, it is easier to use your own native language to operate. With power-off memory function, you can continue cutting after the power on, saving time for cutting from the beginning. There are 48 kinds of graphics, regular graphics can be directly used, change the size, set the quantity, save the computer drawing time and improve efficiency.
3. Adopting servo motor driver, stable operation, low noise and no step loss.
4. Install a special reducer to reduce the speed and increase the torque to make the CNC cutting machine run more smoothly.
5. Install flame automatic igniter and tempering device to avoid burning hands when igniting with a lighter and explosion due to tempering during cutting to ensure safety.
6. Install the plasma anti-collision holder, which will automatically stop when the torch hits the steel plate to prevent the torch from crashing and save costs.
7. Equipped with fully automatic nesting software, which saves time for typesetting and improves the utilization rate of steel plates.
8. Optional remote control, the control distance is 30 meters, the operation is more convenient.
What Can a Plasma Cutter Cut Through?
Because plasma cutters use high-velocity ionized gas to create a flame, they can cut any electrically conductive metal. Examples include:
Mild steel
Stainless steel
Carbon steel
Expanded steel
Aluminum
Copper
Brass
Other ferrous (iron-containing) and non-ferrous materials
Heavy-duty plasma cutters can process metal plates ranging in size from 1 millimeter to 1 inch. Anything larger would require a more powerful plasma cutting machine.

What Can a Plasma Cutter Not Cut?
Is plasma cutting a catchall solution for any type of fabrication? No. Because the material must be electrically conductive to react to the ionized gas coming from the torch, non-conductive materials cannot be processed with plasma cutting. For instance, plasma cutters cannot cut wood, glass, and plastics, or poorly conductive metals like manganese, lead, tungsten, and tin.