Multi Head 4 Axis 3D CNC Router for Woodworking
Thorpe
What is the 4 Axis 3D CNC Router?
The 4 Axis 3D CNC Router is specially designed and developed for the three-dimensional cylindrical batch engraving process. Multi-spindle can be processed at the same time. It is a high-efficiency machine. It is mainly used in furniture manufacturing, gift manufacturing and crafts industries 360 ° carving.
2021 best 4 axis CNC router machine is designed for 3D curved surface carving, 4 axis is refer to X-Y-Z-A, X-Y-Z-B or X-Y-Z-C, 4 axis are linked, the four axis can work at the same time. Now the affordable 4 axis CNC router for sale at cost price.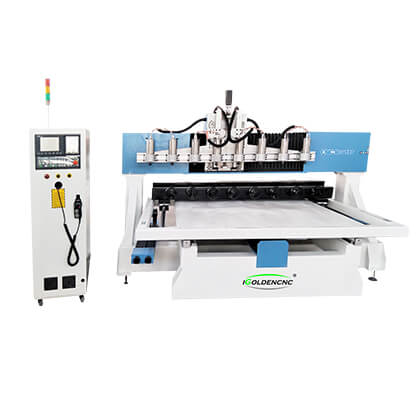 What is the 4-axis CNC router?
The 4-axis router has all the same axes as a 3-axis router plus the additional A-axis that rotates the spindle around the X-axis up to 180 degrees during the cutting process.
This rotational axis allows cuts to be executed on multiple sides of the workpiece without resetting, while a 3-axis router can only perform cuts to one side of the same piece at a time. 4-axis CNC routers are the preferred method for advanced, intricate cuts and carvings like those often seen in furniture, musical instruments, cabinetry, and more.
Features and Advantages
The 4 axis CNC machine is especially designed for processing on different 3D curved surface carving.
The machine's body is strong, high-precision, reliable and durable.
Imported high-precision ball screw, which moving smoothly, to ensure the machine's high precision.
Well-known Colombo automatic tool changer spindle, strong cutting ability, low noise, to ensure the machine working for long time.
High-performance driven motor to ensure the machine's high speed and accuracy.
Applications
Carpentry: relief and hollow carving of hardwood furniture.
Furniture: wooden doors, cabinets, panel, office, solid wood furniture, doors and windows of tables and chairs,
Advertising: advertising signs, logo production, acrylic cutting, plastic molding, and various materials for advertising decorations.
Woodworking: audio, game cabinets, computer tables, sewing machines, musical instruments.
Panel Processing: Insulation parts, plasticized workpieces, PCB, bowling track, stairs, anti-fold special board, epoxy resin, ABS, PP, PE and other carbon mixtures.
4 axis CNC machine can be applied to aluminum cutting industry, aluminum plate, aluminum plastic plate, aluminum honeycomb plate, aluminum profile, 3D machining process, wave plate production, various kinds of artificial plate special-shaped cutting, LED, neon slotted literal cutting, plastic suction Light box mold production. Acrylic, copper plate, PVC plate, artificial stone, MDF plate and other panel processing.