Multi Processes 4 Heads Wood CNC Router Machine for Cabinet Door
Thorpe
What is the 4 Heads Wood CNC Router Machine?
The 4 Heads Wood CNC Router Machine is suitable for engraving and milling of 3-4 types of flower knives. It can install four different tools at one time to achieve four-processing easy automatic tool change. It is mainly used for various large-area plate carving and door and window processing.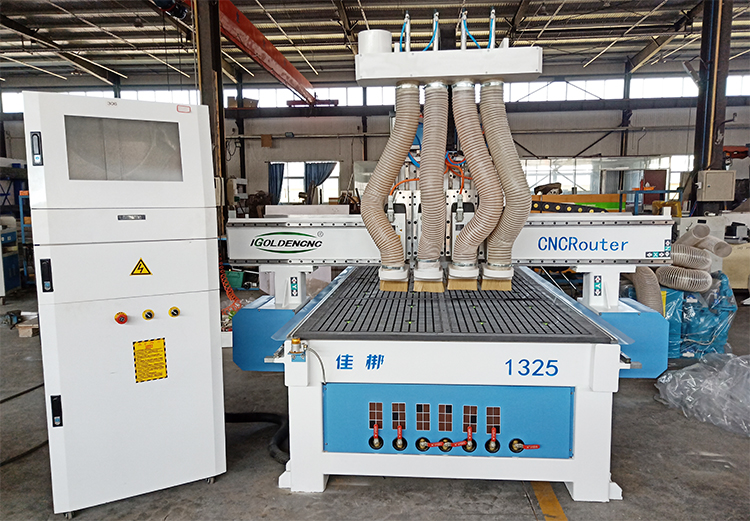 Feature
This style is equipment with 2-4 kinds of cutters, there is no need to change the cutters when engraving or cutting. The program can work automatically. The advantage is low investment. High profit, low maintenance, easy to operate. It is also very easy for new user to operate.
♥Advanced control system can multiply level of 3D work automatically. It is very convenient, and can finish the 3D work fast and smoothly.
♥The whole machine is welded with thick seamless steel structure, the stability is good, not easy to be deformed. The machine adopts gantry movement, it can process any kinds of materials freely.
♥Adopt important linear square orbit, two line sliding track, heavy loading, stable working, high precision and long lifetime.
Adopt imported ballscrew, high precision.
♥Well compatibility: CAD/CAM designing software e.g.TYPE3/Artcam/Castmate/ Wentai etc.
♥This model is suitable for processing any kinds of materials in bulk.
Advantages
Multi spindle processing: Multi-spindle can work on the same pattern at the same time, which greatly increases the processing speed. It can also work independently with a single spindle to control the production cost.
Multi spindle CNC wood router machine frame adopts the overall thickness of the steel structure design, after the welding tempering aging treatment, strong rigidity, high strength, smooth rotation, making long-term high-speed operation without deformation, no jitter.
Multi head CNC woodworking machine adopts Taiwan Hiwin linear guide transmission, three-axis full orbit, can be re-cut; Adopts international brands microsteps subdivided stepper motor and high-speed drive to ensure that the machine for a long time high-speed operation.
Multi head CNC wood router machine adopts DSP control system don't need connect to PC. DSP is easily operate and learned,especially for beginners. It has power off. , Breakpoint continued carving and other advantages, processing time prediction and other functions, the real human design. Perfectly supports the G standard of the ISO standard, the ENG process, and is compatible with various processing codes generated by various CAD/CAM design software such as Types/ArtCAM//Wentai.
Application:
Furniture industries: woodworking,cabinet doors, wooden doors, solid woods, plates, antique furniture, doors, windows, desks and chairs.
Decoration industries: screens, wave boards, large-size wall hangings, advertising boards and sign making,3d art design.
Arts & Crafts industries: Engrave on artificial woods, bamboos, organic boards, double-color boards and so on for achieving effects of exquisite patterns and characters.
Processing material: engraving, milling and cutting processing for acrylic, PVC, density boards, artificial stones, organic glass, plastics and soft metal sheets such as copper and aluminum.