China Woodworking CNC Router Factory
Tina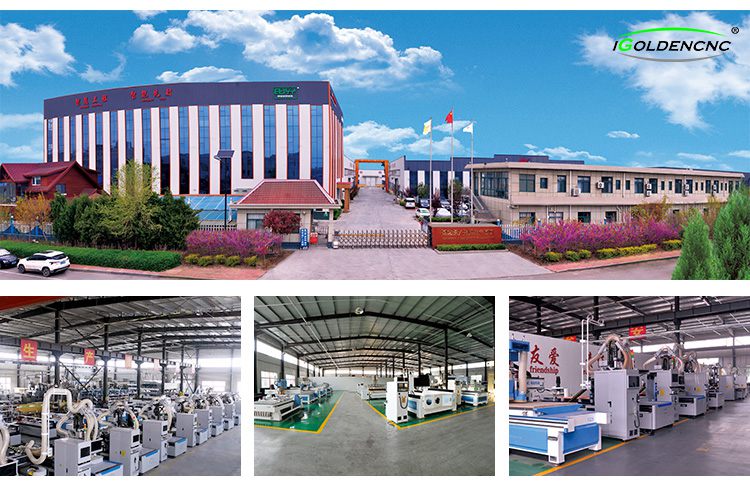 Our series of CNC routers for wood and other materials can help create elaborate carvings, including modeling decoration and 3D carving, fabricate furniture—ranging from the cabinet to closet and door panels— make signs, such as dimensional letters and directional signage, and cutouts. With a range of CNC cutting machine, we are a manufacturer that caters to industry of all scales.
3 axis woodworking cnc router machine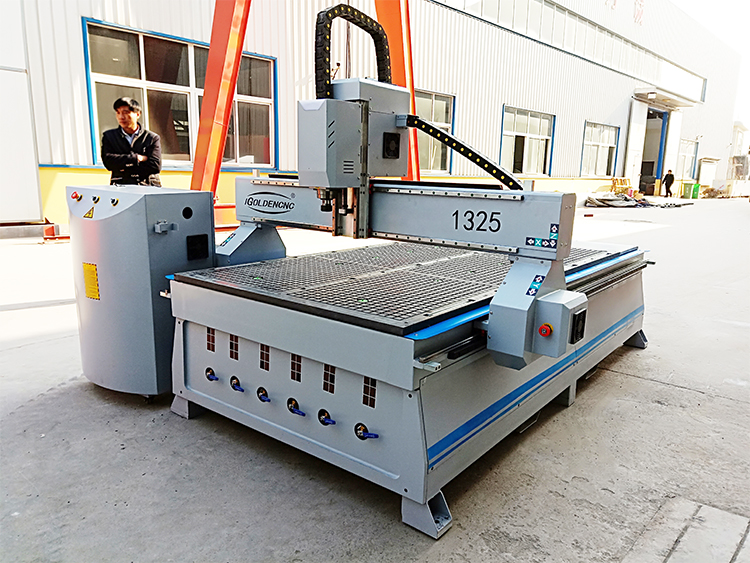 The 3 axis CNC router has outstanding features, such as low cost, simple operation, multiple functions, and easy maintenance. So it is considered as an entry-level wood CNC machine in the CNC woodworking industry. And it is quite popular with users at home and abroad. The CNC wood cutting machine mainly performs some plane processing on wooden panels. If you are just doing flat machining on some plates, this 3 axis CNC router is definitely your ideal choice. For example, engrave patterns on or cut shapes out from a wood board.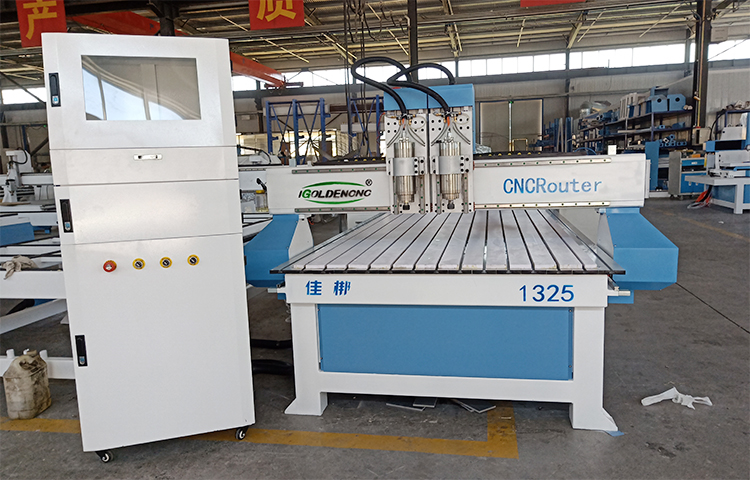 3 axis machining is one of the most commonly used techniques in the industrial process. Hence, using 3 axis machines allows the router to work on material on 3 axes that are X, Y, and Z.
3 axis CNC router is a solid steel frame structure with a high frequency of 4hp/6hp spindle. It has a high-speed 3-axis Motion Controller with a DSP remote Control user-friendly operator interface.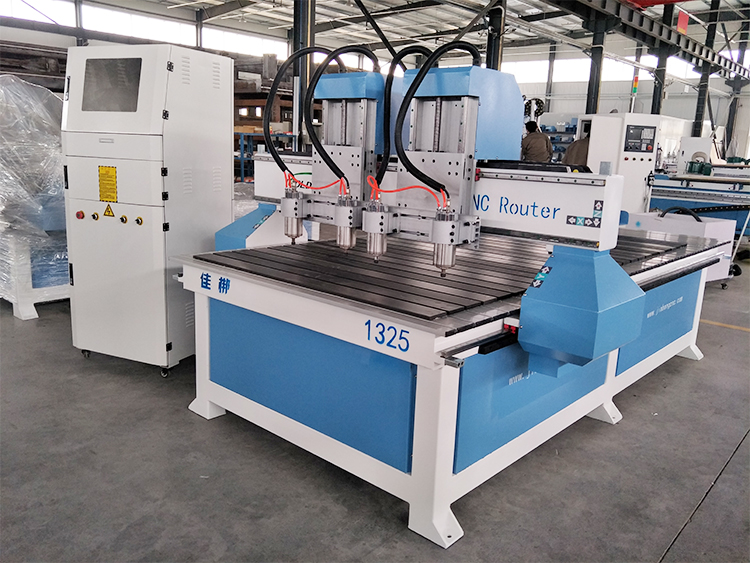 This CNC router can be used for various industries like Building Industry ( Architectural Decoration Elements, Kitchen Cabinet & Door, Facades &Curtain wall, Column & Balustrade ), Sign& Advertising ( Signage Indoor & Outdoor, Engraving& Bas-Relief, 3D Letters, Funeral), Models & Prototyping ,Plastics & Composites ( ACP, ACM and solid surface material etc. ) and non-ferrous metals & Marine.
Increase precision and elevate your performance quality with iGOLDENCNC's 3 axis CNC routers.
Due to our highly effective engineering and manufacturing processes, these CNC routers reliably provide precise cuts and a perfect finish. Our 3 axis CNC router tables offer maximum versatility, and they can easily be supplied with dual heads.
These heavy-duty machines are available in a range of standard and custom table sizes to suit your space and production needs.
Whether it's for furniture and cabinetry, or for manufacturing insulation panels, plastic products, PVC, artificial stone, or even glass, our 3 axis CNC routers are dependable and built to last.
4 axis cnc router woodworking machine
iGOLDEN designed gantry moving and table moving 4 axis CNC router for medium and large 3d mould processing of EPS, automobile, ship, yacht and large musical instrument. 4 Axis CNC router can do the curved surface carving, and it can carry out all-round carving for curved plates and all-round plates. Regardless of whether the bent plate is a 180-degree or 90-degree guard, it can be carved naturally, and the carving effect of each angle will not be deformed.

In a broad sense, a 4 Axis CNC Router machine refers to a CNC machine whose processing path include X, Y, Z, and A axis. And we are going to talk about a 4 axis machine whose spindle can swing left and right. Because the spindle of this type of CNC can swing left and right, the spindle can approach the work piece from multiple different angles and efficiently process three effective processing surfaces.
This CNC machine can realize not only the plane engraving, but also the 3d carving of irregular work pieces. And this type of wood CNC machine is suitable for common work piece, three-dimensional work piece, complex work piece and irregular graphics processing. In addition, this type of CNC engraving machine makes full use of the geometric configuration of the tool, controls the angle of the force, reduces the vibration of the force, prolongs the life of the tool, enhances the stability of the processing, and improves the processing accuracy. With the advantages of complete functions, wide processing range and high processing accuracy, more and more users choose the 4 axis machines for 3D Wood Carving. If you have similar three-dimensional work pieces, this CNC Wood Router will be your ideal choice.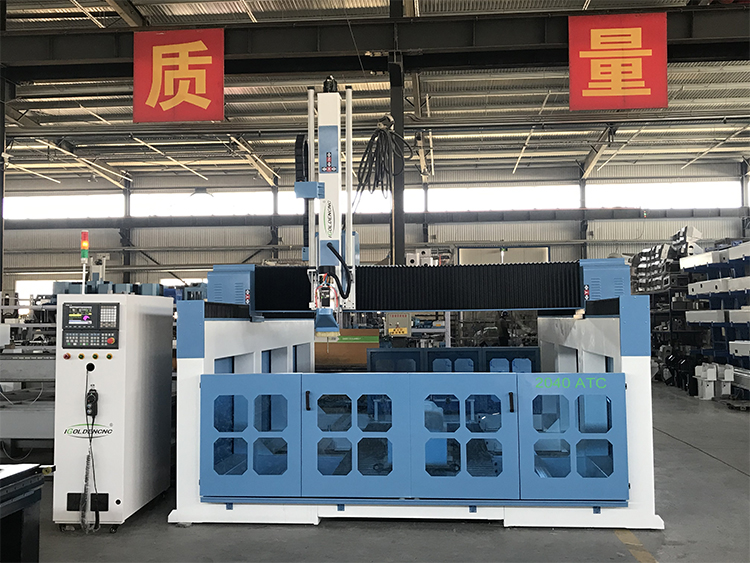 The 4th axis is also called as the CNC indexing head of CNC machine, which is a machine tool accessory that clamps the workpiece on the chuck or between the two centers, and makes it rotate, index and position. The advantage of adding the 4th axis to the machine is that it can make the plane of the tool machining more extensive, and can reduce the repeated clamping of the workpiece, improve the overall processing accuracy of the workpiece, and help simplify the process and improve the production efficiency.

Specifically, the 4 Axis CNC Router Machine can complete the tasks that the 3 Axis CNC Router Machine cannot complete at one time. It can realize multi-sided processing of the product through rotation, which greatly improves the machining efficiency and reduces the number of clamping, shorten production time.
atc woodworking cnc router
ATC CNC router is the first choice for enterprises with large production volume. Compared with the traditional manual tool change production method, this type of wood CNC machine has an independent tool magazine with different tool bits. It can automatically change the required tools by computer program control without stopping work during processing. And this CNC wood router can complete a series of cutting, hollowing, grooving, punching, milling grooves, milling planes and other different processing needs. Therefore, both the processing quality and processing efficiency have been greatly improved.

According to the different tool changing methods, the ATC CNC engraving machine can be subdivided into linear ATC CNC and disc ATC CNC machines. Then we are talking about the linear ATC CNC Machine. This type machine uses a straight-line tool change device, and the tool change device can be installed in different positions according to the specific needs of the user. Firstly, the in-line tool magazine can be placed behind the bed. This conventional in-line tool changer engraving machine is cost-effective and can meet a variety of processing requirements for complex work pieces without high procurement costs. Secondly, the in-line tool magazine can also be placed under the gantry. This type of linear engraving machine does not need to go to the back of the bed to change tools, so the tool change speed is faster and the wear on the guide rail can be reduced, and the service life of the machine is relatively longer. It is worth mentioning that the number of tools in the in-line tool magazine can be customized according to the specific processing needs of the user.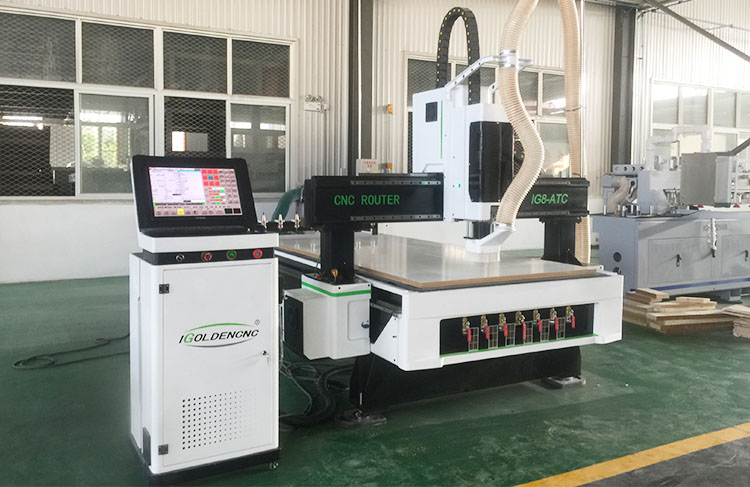 ATC stands for automatic tool changer. An ATC CNC router adopts an electric spindle which automatically loosens or clamps tools by the movement of the internal cylinder. And the electric ATC spindle quickly auto changes the cutting tools without stopping work. An ordinary CNC router only adopts one cutting bit on the spindle. And the operator needs to stop the machine and then manually replaces the tool, which affects the processing efficiency in a negative way. The invention of automatic tool changer CNC router represents the most technological CNC router. It changes tools automatically and greatly saves the processing time and manpower.

The intelligent tool change function of the machine depends on the control system and tool magazine. The control system controls the movement of gantry and spindle. And the tool magazine carries multiple cutting tools. When a tool completes its machining work, the spindle moves to the tool magazine and releases the tool. Next, it automatically grabs the next tool for subsequent processing. Automatic tool changer function is the final trend of CNC router development. It is the best choice for large and medium-scale processing projects. Linear tool magazine and disc tool magazine. Linear Tool Magazine Linear tool magazine is a linear device on which there are multiple cutting tools are adopted. This tool magazine can be installed under the gantry or behind the workbench according to user's requirements.
woodworking cnc nesting machine
Nesting CNC machine is mainly used to cut various wooden works. Generally, through the design of intelligent software, the nesting CNC routers can automatically optimize the typesetting design and generate the effect map. Besides, the nesting machine can also perform operations such as modification intuitively, and automatically generate various paths. Therefore, it can save sheets and improve sheet utilization. The nesting CNC machine is widely used in the furniture industry such as cabinet doors, wardrobe doors, solid wood doors, paint-free doors, solid wood composite doors, and suite doors. If you are a manufacturer of furniture production lines, this nesting CNC machine is definitely one of your indispensable CNC equipment.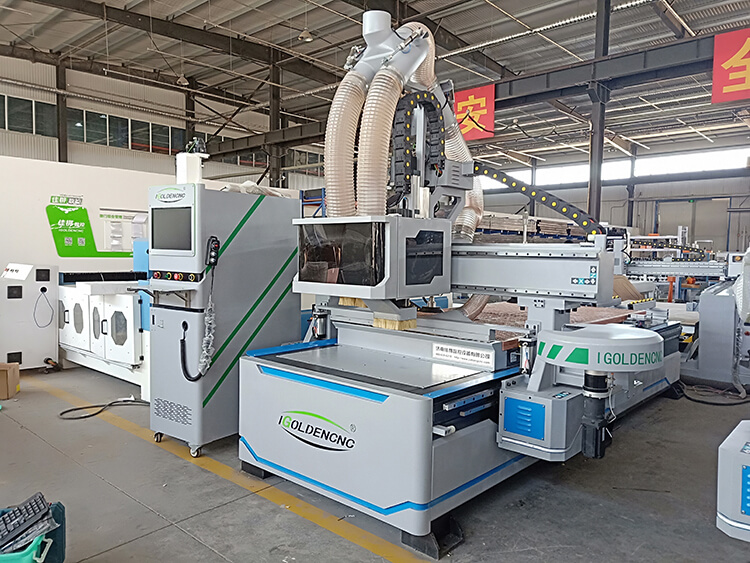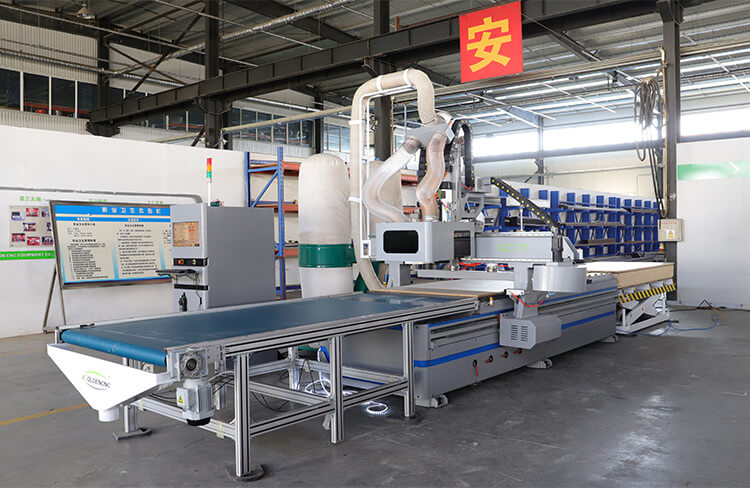 As a core CNC machine for furniture making, the CNC nesting machine is widely used to cut, drill, punch, groove, pocket, and engrave various wooden boards. With the help of automatic nesting software, the nesting CNC router can maximum the utilization of a wood panel and minimize cutting time and material waste. A nesting machine can be equipped with multiple additional functions to increase the CNC cabinet making efficiency. For example, nesting CNC router with automatic tool changer, multi-spindle nesting machine, nesting machining centres with auto loading, unloading, and labeling platforms, nesting CNC machine with double worktables, etc. We also provide other wood nesting machine to meet your custom and personalized panel furniture production requirements.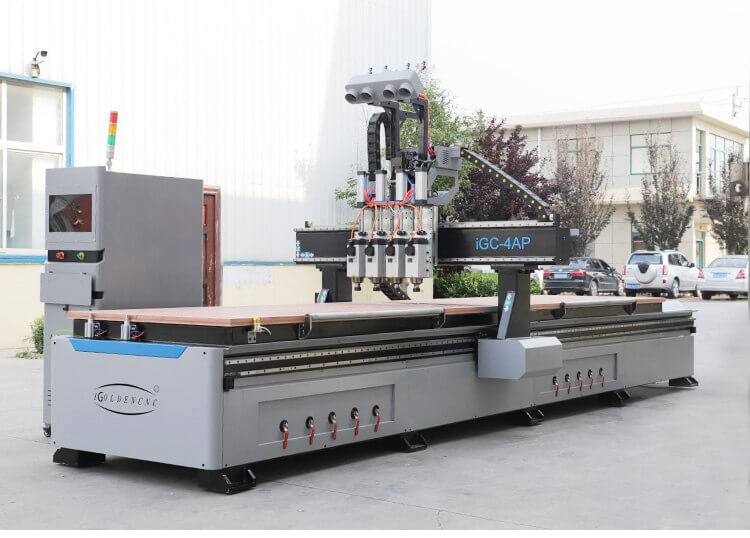 Find professional cnc nesting machine manufacturers and suppliers in China here. We warmly welcome you to buy high quality cnc nesting machine at competitive price from our factory. For more information, contact us now.To great our service, we offer the items with all the superior top quality at the reasonable selling price for 1325 CNC Router Machine, Engraving On Wood Machine, Wood Double Gantry CNC Machine.
5 axis cnc router woodworking
As advanced CNC equipment, 5 axis CNC machining center or CNC router is designed specifically for complex curved surfaces. It is widely used in aviation, aerospace, automotive, military, scientific research, precision instruments, high-precision medical equipment, and other industries. It can process an extensive range of materials, such as wood, metals, stones, plastic, styrofoam, composites, etc.

This 5 axis CNC router adopts an OSAI control system, which supports 5-8 axes linkage and has diversified control functions. Diversified functions can guarantee the processing speed, idling speed, cutting speed, and greatly improves the quality of processed products and processing efficiency.


The heavy-duty 5 axis CNC machining center can realize multiple complex and heavy-duty processes. It adopts the moving gantry and fixed worktable structure, ensuring great flexibility and wide processing range.
The 5 axis CNC router machine is also known as 5 axis machining center, 5 axis CNC milling machine, 5 axis CNC mill, etc. It has the advantages of high machining accuracy and is specially used for the machining of complex curved surface workpieces. At present, it is the most effective means to solve the processing of impellers, blades, marine propellers, large diesel engine crankshafts, etc. It plays an important role in aviation, aerospace, military, scientific research, precision equipment, high-precision medical equipment, and other industries.
woodworking cnc router for sale