Plywood Kitchen Furniture Manufacturing CNC Machiney
Tina
Do You want to have a CNC computer cabinet machine that produces furniture? iGOLDENCNC's newly launched CNC furniture manufacturing machine maybe can meet your need.This CNC plywood kitchen machine is manufactured using global state-of-the-art techniques, and It is equipped with a 9KW (12HP) high-frequency automatic tool-changing spindle with an 8-position tool post, a pneumatic telescopic vacuum cover and a multi-zone vacuum T-slot worktable. The main advantage of the automatic furniture making machine is the tool rack moving together with the machine gantry, which can improve work efficiency. Now this machine can cut about 50 pcs of wood board per 8 hour, it can process wood, medium density fiberboard, Plywood and plastics, soft metals and many other different materials. Now, this CNC furniture manufacturing machine is widely used in the cabinet making industry.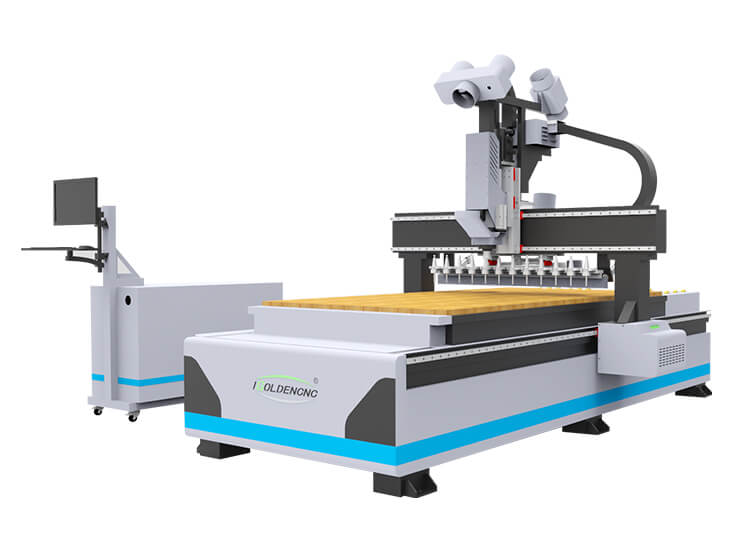 The use of CNC technology in plywood furniture manufacturing offers several advantages. It enables efficient production, reduces material waste, ensures consistent quality, and allows for intricate and complex designs. CNC routers can create precise cuts, intricate patterns, and custom details that would be challenging to achieve manually. Whether it's creating chairs, tables, cabinets, shelves, or other furniture pieces, CNC technology plays a significant role in the production process, providing furniture makers with the ability to produce high-quality plywood furniture efficiently and with precision.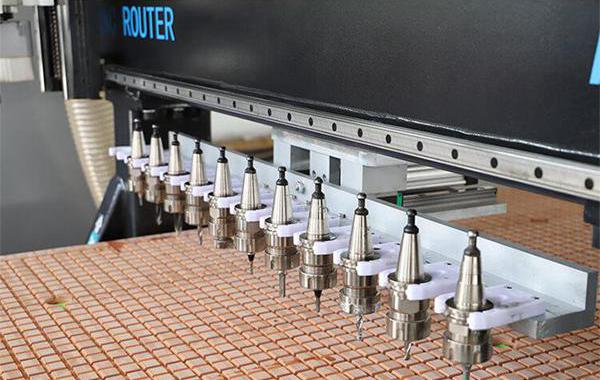 This CNC Furniture manufacturing machine is a very cost-effective CNC router machine. Its cutting ability is very powerful. The cnc kitchen cabinets machine can do milling, drilling, engraving, and cutting work. Its biggest feature is the CNC router vacuum table, the The vacuum table can absorb the materials automatically by a vacuum pump, not need to fix the materials. Thereby improving work efficiency and quality. If you don't like the auto CNC router vacuum table, then you can also fix the material with T-slots.

Furniture Manufacturing CNC Machiney Features :
Nesting technology with heavy duty gantry structure ensures efficient cutting, routing, grooving & routing in one operation with panel optimization.
High performance machine with High feeding speed gives more production.
Heavy duty 2 separate air cooled 6 kw spindle & precision 9 spindle vertical boring head.
Equipped with high quality and accurate Weihong control system with servo motor & Shimpo reducer.
Stronger and large helical rack/pinion and high precision linear rails.
Save tooling and labour cost as customer requires manpower & tools only for 1 machine.
All electronic & pneumatic parts are from well-known international brands.
Ensuring longer machine life, safe operation, reduced unscheduled downtime and more economical operation costs.
Low maintenance m/c, easy available cost effective spares, best service support.

One of the key benefits of using CNC plywood furniture is that it can be easily replicated and mass-produced. This makes it ideal for commercial applications such as office furniture, restaurant seating, and retail displays. CNC plywood furniture can also be customized to meet specific design requirements, making it a popular choice for interior designers and architects.
CNC plywood furniture offers a cost-effective and efficient way to create high-quality and unique furniture pieces that are both functional and aesthetically pleasing. With the ability to cut and shape plywood materials with precision and accuracy, CNC machines have revolutionized the furniture manufacturing industry and opened up a world of design possibilities for furniture makers and designers.