Portable CNC Flame Plasma Cutting Machine for Sale
Thorpe
Portable CNC flame/plasma cutting machine consists of a CNC drive unit and two aluminum alloy rails, which makes the machine can be easily disassembled into some small parts to transport and quickly assembled to use.  It's ideal for small fabrication shops, maintenance and repair shops, trade schools, or for portable use within large facilities and construction sites.
Automated functions and a user-friendly CNC system has 45 different cutting path settings and any plane shape composed of beeline also can be programmed.  Precision and solid guide rails and accuracy motion control makes the machine can precisely cut the shape as customers' need.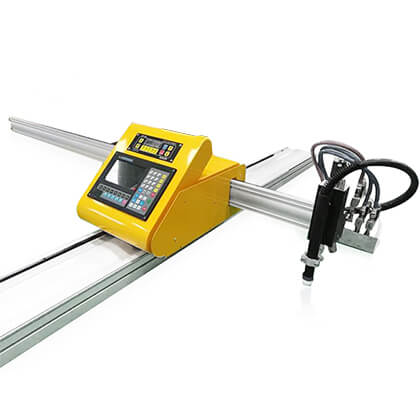 The portable CNC plasma cutter for sale machine has a compact and micro structure. The horizontal and vertical rails of the whole machine are made of hard aluminium alloy, which reduces the weight of the equipment, so as to achieve the characteristics of easy movement, compact and flexible operation. It is an ideal upgrade product to replace handheld flame-cutting equipment, handheld plasma cutting devices, profiling cutting machines and semi-automatic cutting carts. The use is as flexible and convenient as the cutting trolley, and it can be moved at will without occupying a fixed site. It is a CNC equipment specially used for sheet metal blanking.

Other features include:
Compact keyboard design and easy to input files.
USB port for program loading.
64M SDRAM for memory storage.
Support the Flame, Plasma, Dusting draw and Demonstration four kinds of mode.
Plasma arc feedback, positioning feedback, automatically shut down the arc at the corner.
According to plate thickness, the cutting speed is automatically restricted by a speed limit in the corner, effectively preventing over burn.
System can be upgraded by USB interface easily, and lifetime free upgrade is available.
Self-diagnostic function, to diagnose the key status and all the IO status, facilitate inspection and debug.
RM-1530 can be programmed to cut any plane shape parts composed of beeline and arc. There are two ways to program on this machine:
For simple graphics, users can choose required graphics from 45 cutting path settings in the CNC system and change parameters according to the size of the grapics.
For complex graphics, users can draw graphics in CAD software and convert the .dwg files in the nesting software comes with the machine, then import the converted files into the machine by U disk.