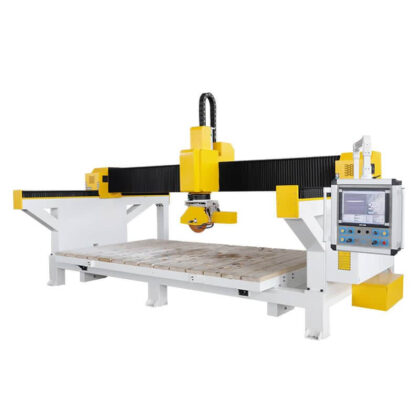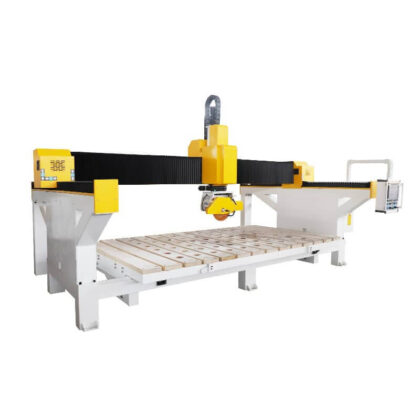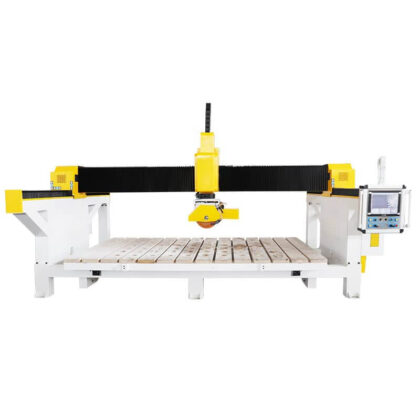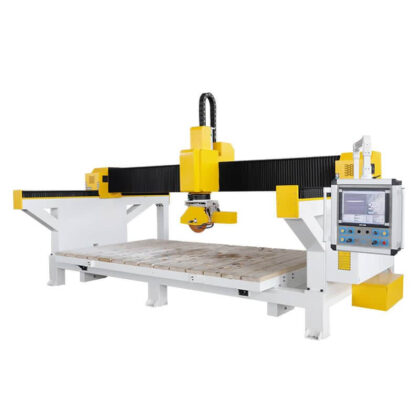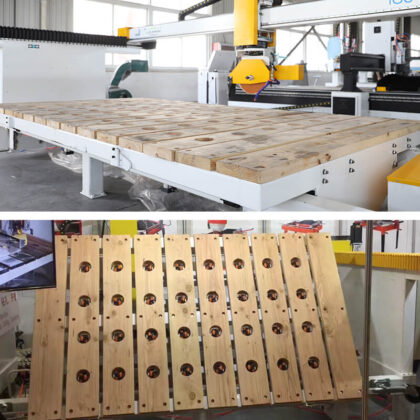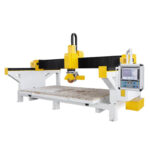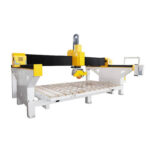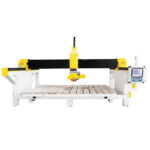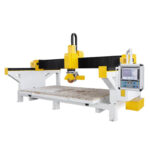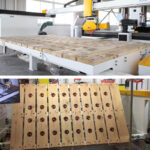 Bridge Saw Machine 4-Axis And 5 Axis For Granite Marble
Item No.:Bridge Saw Machine 4-Axis And 5 Axis iGS-B
The bridge stone cutting machine can realize cutting, chamfering, edging, profiling, milling, drilling, slotting, rounding, circular arc and other special-shaped processing through five-axis linkage. It is simple to operate and has strong practicability. A variety of configurations are available
If you need more detailed information, please inform us as soon as possible.
Description
Functions of 5-Axis Bridge cutting machine included: all kind of stone lines design, arc-edge, French edge, straight edge, bevel edge, abnormity edge, antiskid slot, dry-hang, washbasin processing and so on. "Multifunction, Cover small area, Low energy consumption, Simple operation, Accurate processing, easy and fast transformation between different functions" makes bridge saw machine 4-axis and 5 axis a sharp weapon for stone processing enterprises.Our machines are made with precision and care, ensuring that you get the most accurate cuts every time.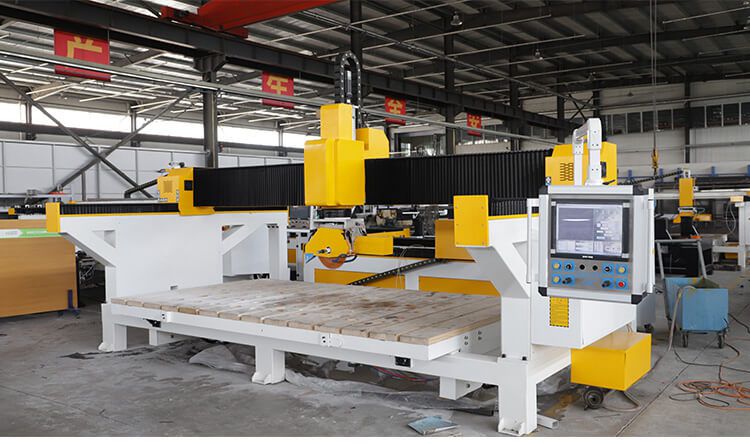 5 axis CNC bridge saw is an automatic stone machining equipment that can complete the processing of pentahedron special-shaped curved surfaces at one time through five-axis linkage control, that is, three linear moving axes and two rotating axes.
---
Features Of Bridge Saw Machine 4-Axis And 5 Axis For Countertop With Granite, Marble, Quartz
Through the optimization of the process parameters by the numerical control system, the product data files can be stored in modules and called manually. The ideal effect of extremely coordinated movement of each precision component is realized. The process of machine cutting stone slabs can realize automatic and intelligent cutting of stone materials through the pre-setting of the cutting coding program and the automatic operation of the cutting process, so as to achieve the mass production of stone slabs.
1. The integrated design gives the machine more advantages, such as occupying small space, easy installation and debugging, high precision, stable performance, easy operation and so on.2. Bridge, sliding rails and blade holder are built in strong and stiff cast iron for stability, durability and low resonance.
3. Cutting head rotate 90°, tilting 45° suitable for chamfering cutting.
4. 0° to 360° cutting head rotation and 0° to 90° cutting head tilting.
5. The worktable installs independently, the hydraulic console panel level 0, 45°, 90° turns. Worktable tilting vertical turn 85°, easier and safe loading raw materials.
6. The CNC bridge saw is made up of main motor, longitudinal slicing part, worktable assembly, electric control system, hydraulic system and so on.
7. The CNC bridge saw is equipped with infrared tool setting gauge, to accurately adjust the cutting size.
8. This is all-in-one machine with good stability and small floor space.
---
Bridge Saw Machine 4-Axis And 5 Axis Advantages:
1. The bridge stone cutting machine head can swing 360 degrees freely, and the plate can be cut at any angle and shape
2. It can be used for cutting large plate, 45 degree chamfering, pot hole, stove hole and oblique line cutting
3. The platform is turned over at 85 degrees to facilitate loading and unloading.
4. The operation is simple and the control system can input data.
5. Equipped with grinding wheel device, it can polish the table face and cutting surface
What Can 5 Axis CNC Stone Cutting Bridge Saw Do?
1. Countertop cut: blank slab cutting, rear gear cutting, reverse buckle cutting, hanging material, L-shaped table to length, corner cutting reserved, 45-degree chamfered front mouth, pot hole, stove hole, Diagonal line cutting, cutting at any angle of the wall crenel.
2. Automatic cut: Realize the import of CAD drawings, cutting completely according to the drawing style, no need to enter complex data.
3. Bridge cut: It has all the functions of bridge cutting equipment on the market.
4. Roman column cut: Cut the square Roman column main board and both sides at one time, and simultaneously chamfer 45 degrees on both sides to complete the Roman column hole cutting.
5. Arc-shaped line cut: Install the line grinding head to complete the arc-shaped line shape, and cut into a rough arc-shaped line as a whole, which requires manual polishing.
6. Concave-convex cut: According to the arc, grind out the desired convex or concave plate. It is mainly used for grinding and making curved plates of special-shaped background walls or special-shaped decorative panels.
7. Abnormity cut: To solve the problem of uneven walls, cut out asymmetric quadrilaterals or isosceles trapezoids.

Automatic Rounding

Sink Processing

Marble Carving

Furniture Decoration

Stone machine processing

Marble Cutting

Jade Making

Furniture Decoration Making
---
iGOLDENCNC, Your best choice
Becoming a customer of iGOLDENCNC, we will cooperate with you on the basis of complete trust and comfort. You will find that we are a reputable supplier and worth your trust. We understand that every customer is valuable, and we will cherish every opportunity to cooperate!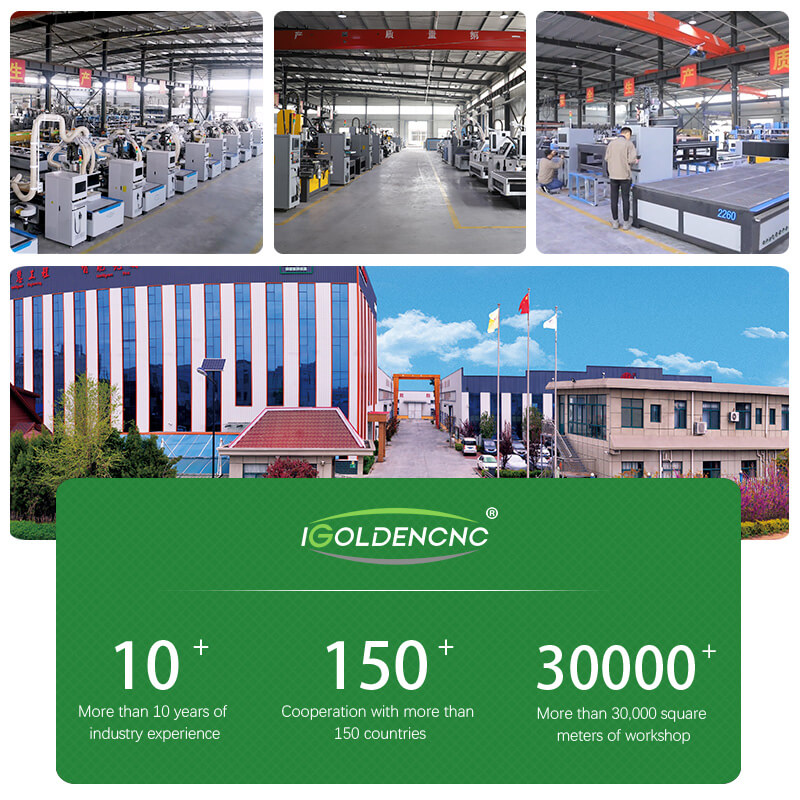 Strict Quality Control System
Advanced testing equipment are used, such as: dynamic balance tester, CNC high precision machining machine, 3D measuring machine; iGOLDENCNC has established a complete and strict quality control system, including 48-hour running test and 72-hour aging test, to ensure the excellent quality of our machines.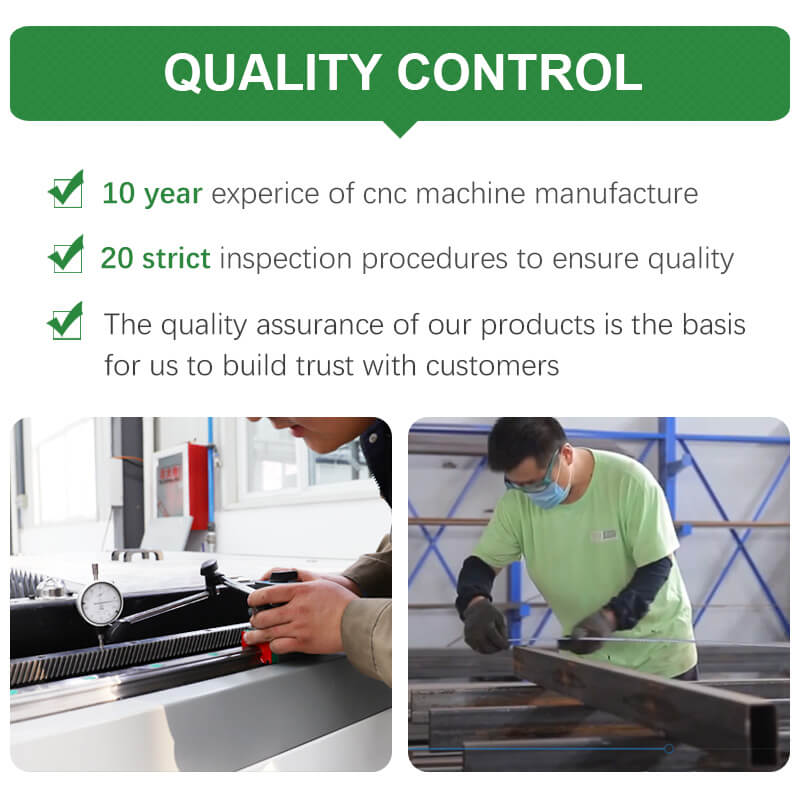 Most of stone materials, such as natural stone, marble, artificial stone, granite, sandstone, bluestone, terrazzo, and other materials, such as glass, ceramic tile, wood, aluminum plate, copper plate.
Stone background wall, bridge engineering, garden engineering, tombstone engineering and other industries.
About 300sets per month.
Yeah, we can shipping on time.
When you received this machine, connect power can work for you.
The main function is plane carving , relief, line carving, cutting, lettering, hollowing, chamfering, drilling, etc..
Related Products
Do you need a catalogue, price or machine working video? Please let us know your name and email, we will send you more information asap.