What is the Automatic CNC Bending Machine?
Thorpe
What is the Automatic CNC Bending Machine?
The CNC Automatic CNC Bending Machine is a highly automated machine that replaces the manual edge banding procedures (loose, pre-milling, glueing, cutting, flushing, rough trimming, fine trimming, scraping, polishing, grooving, profiling tracking) machine. The edge banding process is a very important process in the manufacturing process of panel furniture.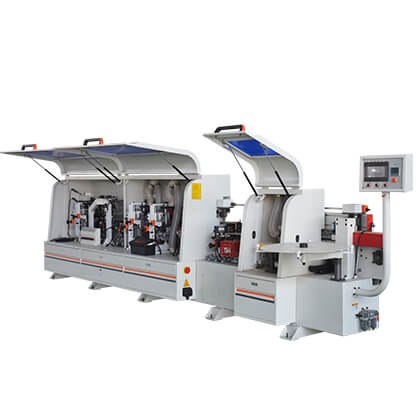 Advantage
Full automatic CNC Pipe/Tube Bending Machine is full automatic type machine for bending three dimensional complicated work-pieces, which can input YBC or XYZ into controlling system, and machine make the tube bend accordingly.
Bending-Auto driven by servomotor, Rotation-Auto by servomotor, Feeding-Auto by servomotor
pneumatic movement of machine——clamp, pressure clamp, clutch, mandrel  (High speed)
Automatic lubrication system of machine head and mandrel
X.Y.Z. transferred to Y.B.C. which is convenient for user
Different tooling design customized for user
Anticipated Mandrel Extraction good for tube of very small thickness
Re-clamp function suitable for tube length without limitation
Optional function ——punching hole, cutting, multiple radius, roll bending, etc
Standard tooling including clamp die, wiper die, mandrel, pressure die, bend die
Separate oil tank with oil filter–easy for cleaning
Option control system—-Industrial computer with function of 3D simulation, 3D      view, inch input, drawing input, remote control
Product  Details:
TAIDA PLC control system:The independent LCD screen has a touch screen speed control function, and you can see the operation process of the machine more clearly, real-time monitoring, real-time adjustment, and more precise.
Pre-milling:When the edge-sealing surface of the plate is not flat, it can be milled first and then glued and pressed.
Gluing:Non-sticky pot, uniform sol, cylinder control pressure roller, better tape effect.
End cltting:Through the structure of automatic profiling and high-frequency high-speed motor, the redundant edge bands before and after are cut off to ensure a smooth and smooth section.
Rough trim:The rough trimming knife is a flat knife, which is used to trim the excess edge banding material on the upper and lower parts of the processed sheet edge band,
Scope of application
This machine is suitable for linear edge banding and edge banding materials of solid wood board, fiberboard, particle board and other plate workpieces.
Available solid wood strips, pvc, melamine, veneer strips, etc.