CNC Gantry Plasma Gas Cutting Machine-IGOLDENCNC
Thorpe
What is the CNC Gantry Plasma Gas Cutting Machine?
CNC Gantry Plasma Gas Cutting Machine is a high-efficiency, high-precision, and high-reliability multifunctional thermal cutting automation equipment that combines computer control, tight mechanical transmission, oxygen gas cutting or plasma cutting technology. This model is small in size, light in weight and easy to operate. Has a very high-cost performance.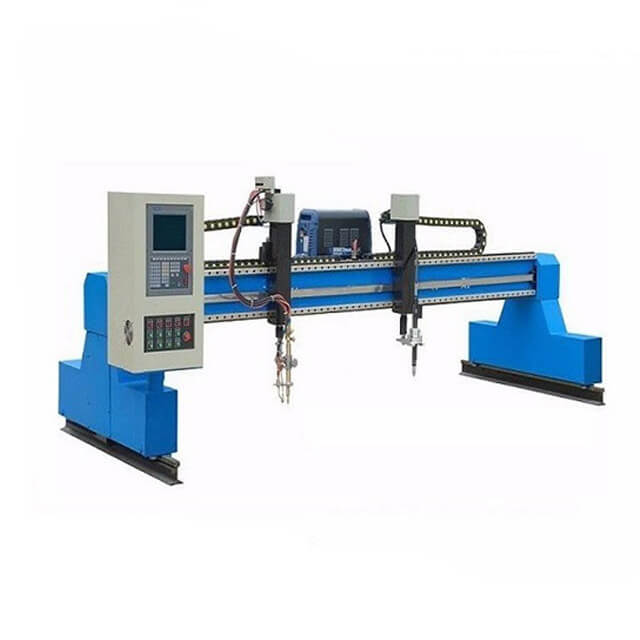 Features of Gantry Plasma Gas Cutting Machine
1.This cutting machine is widely used in cutting sheet metal to various size and shape.
2.This cutting machine adopts gantry type structure,double driving and linear guide,plasma cutting
3.Torch number is set according to customer' request. Cutting plate is normally 1-60mm thick.
Gantry structure double driving increase the work stability and accuracy; double lifting devices makes operation simple and smoother.
4.The whole wedding thick square steel tube with artificial aging processing frame.
Reasonable working table design, covered with finishing cating iron mask to protect the vertical steel plate.
5.Reasonable slope design to ensure the processed workpiece
Adopted with Japanese Panasonic motor servo driver and Taiwan made high-precision servo gear,rack and pinio to ensure low noise, steady and precision performance.
6.Adopted with US made control system with Germany auto-saving material auto-layout software.
Equipped with HYPERMAX powermax series cutter machine and US original torch.
7.Applications:Metal parts cutting, thick abnormal metal plate cutting and welding processing.
All kinds of metal materials such as steel, copper, aluminum and stainless steel can be processed.
Details of CNC Gantry Plasma Cutting Machine
1.Hypertherm
The maintenance demand is low and the normal running time can be maximized – this system can always keep normal operation.Low operating cost
Long life of easily damaged parts, can reduce the cost and prolong the normal operation time
Higher power efficiency reduces power consumption.
2.Thermadyne
The water mist cutting technology initiated by Feimartre has made its cutting quality more advanced than in the past , and also has been a piece of sky for it to focus on the fine plasma cutting market.


Machine Advantages
1.The bed part adopts a rectangular parallelepiped frame structure, and a rotating shaft is provided on the left end stage to cut both round tubes and flat plates。
2.The machine tool adopts high rigidity design and undergoes secondary aging treatment to fully eliminate internal stress. The precision of the machine tool is stable for a long time, ensuring the cutting precision of the whole machine.
3.The moving beam of the machine tool adopts a square tube welding structure. The overall rigidity is good and the strength is high. Each guide surface is precision machined to ensure the correct positioning of each moving body. The dynamic performance during telling operation is better, greatly improving the cutting accuracy of the whole machine.
4.Using professional CNC cutting software, easy to learn, easy to use, reduce operator requirements, greatly improve work efficiency. With professional software, real-time processing of various graphics and text can be realized. Simple to use, flexible and convenient.
5.Unilateral drive at both ends adopts pull-out three-point positioning, bilateral drive adopts symmetrical treatment, and the center of gravity is stable, ensuring a good dynamic balance.
Application of the Gantry Plasma Cutting Machine
Widely used in metal (carbon steel, stainless steel and other non-ferrous metals) processing, suitable for high-precision steel processing industries, environmental protection equipment, mechanical processing, bridge construction, boilers, shipyards, steel processing and other industries.