High Definition CNC Plasma Square Tube Cutter Machine For Sale
Thorpe
Plasma CNC Square Tube Cutting is a rotary type plasma cnc table for the metal-working industry engineered to process cutting, notching, and piercing operations of square / rectangle / round tubes. It has a single plasma torch, and the maximum working area for the standard package is 230mm x 6,000mm (D x L). In imperial, that is 9 inches by 20 feet. The working diameter can be upgraded to 320mm or 400mm as per your requirement. With an AC servo motion system, it features excellent acceleration and deceleration. High Definition CNC Plasma Square Tube Cutter Machine For Sale with best support now.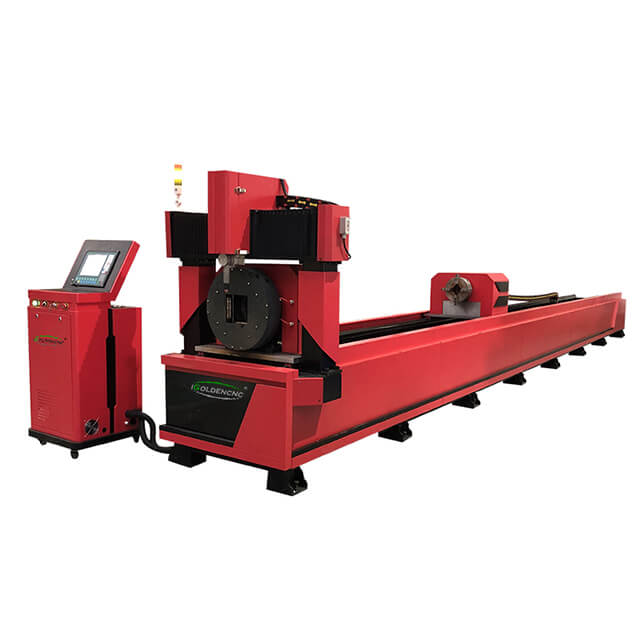 Applicable Field of Rotary CNC Tube Plasma Cutter
The cnc plasma tube cutter is ideal for intersecting line cutting application; process cut off, straight cut, angle cut, mitre cut, notch, pierce, open holes operations (round hole, rectangle hole, polygon hole, obround hole, and freeform hole) on square tube, rectangle tube, circular tube, H shape (H beam), L shape (angle iron), U-beam (channel), and freeform parts.
Square Tubing Plasma Cutting Machine Applicable Materials
Carbon Steel, Galvanized Tube, Stainless Steel, Aluminum, And Copper.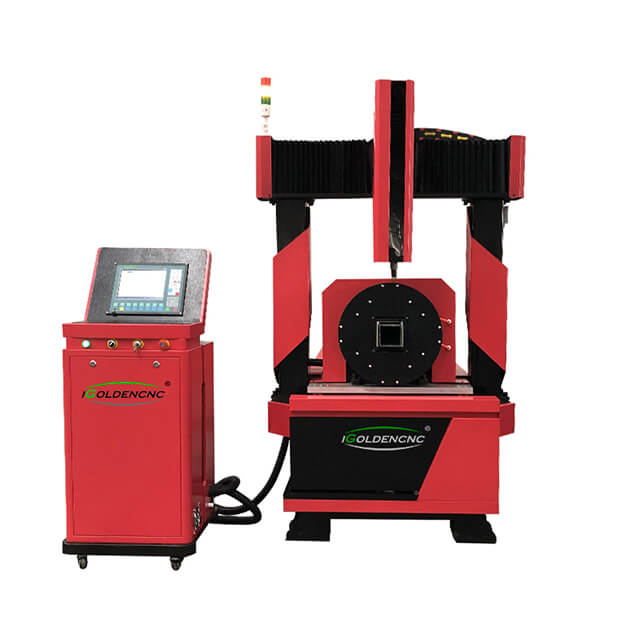 The headstock of the rotary unit fix and supports the square tube. And it is equipped with rollers to facilitate the movement of the square pipe forward and backward.
The front chuck is air-actuated. It has automatic positioning to ensure that the tube is clamped in the center of the chuck.
The tailstock is a four-jaw chuck with two sets of motion systems. In addition to the clamping function, it is also responsible for the tube's rotation and forward and backward movement.
Dual drive design – both front and rear chuck are powered by Yaskawa AC servo motors (750W or 850W). In addition to the top-quality servo system, the machine is also equipped with top-level planetary gearcases as the transmission mechanism. It features a small gap and good precision. It brings us benefits like robust power, fast feeding speed, and high cutting efficiency.
The cnc plasma system is the 4-axis controller FX430A with simple programming options. It comes with a drawing library of commonly used industrial cut parts. Program input from the USB flash disk. The system has two languages, Chinese and English, which can be switched according to actual needs.
The THC torch height regulator controls the rising and falling of the cnc plasma torch to allow the cnc tube plasma cutter to work along the uneven surface. The latest version of the control system already includes a built-in height controller, so there is no need to use an external style.
Yaskawa servo system drives the headstock and the tailstock with excellent accuracy, quiet operation, fast acceleration, and deceleration. The Leadshine Hybrid servo system powers other motion axes. Most electrical components are placed in a well-sealed electronic house.