2D&3D 4 Axis Multi -head CNC Router for Sale
Thorpe
The 2D&3D integrated woodworking router CNC 4 axis milling machine is a multifunctional high-efficiency wood CNC machine for sale, which can both engraving three-dimensional cylindrical and batch engraving planes, and multiple spindles can be processed at the same time, which meets the needs of small-format batch processing production.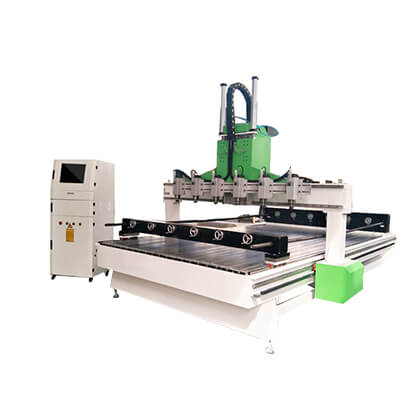 1、It can be used for plane engracing machine or stereo engraving by using aluminum profiles and rotating shaft table tops;
2、The frame adopts the gantry moving columne structure,and the various parts of the machine are produced and assembled with high precision to ensure the high performance and stability of the machine ,excellent quality and tolerability;
3、Optional advanced USB excuses DSP excuses operating system,fully offline work,does not occupy any computer resources,can achieve antomatic stop of DSP ,achieve high-speed processing,music,line synchronization,the curve is more perfect;
4、Optional imported CNC system ,stable perfor,amce,simple operation,ordinary people can complete the operation after simple training,no professional knowledge;
5、Compatible with carved software /Typ3/Artcam/Castmate/Wentai and other CAD/CAM design and produvtion software.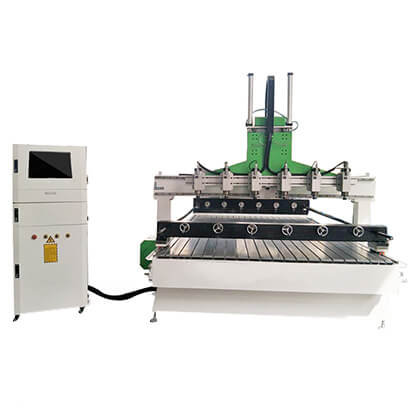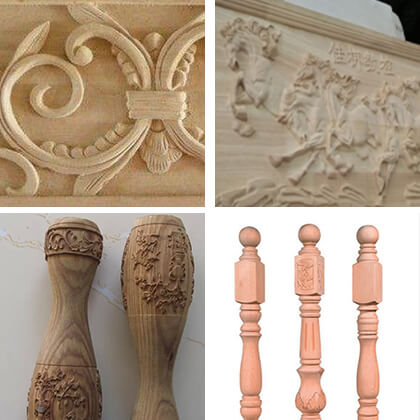 1、Wood working:
solid wave board process,door of cabinet,wooden door,artistic wooden door,no-paint door,avoid wind ,process of the artistic window,shoes cleaning machine,the cabinet of the playing machine and the board,mahjing table,computer table.
2、Advertising:
Advertising board,Label design ,Acrylic cutting ,model ,of the multi material decoration products.
3、Die industry:
It can engrave on the metal materials such as copper , alumninum,irometc and non-mental mam-made marble,sand,plastic board PVC materials,wood board etc.
4、Other field:
It can engrave many image,embossment,and widely used in artistic industry.