Best 5 axis cnc router wood machine
Thorpe
Advanced 5-Axis CNC Router Machine, also known as 5 axis cnc machining center, 5 axis cnc milling machine, is good at space curved surface processing, special-shaped processing, hollow processing, punching, oblique drilling, chamfering, etc. It is widely used in aerospace, military scientific research, precision machinery, high-precision medical equipment, normal manufacturing, etc.
Five axis CNC machining refers to the CNC processing in which the tools can work in 5 different directions simultaneously. Compared with the basic 3 axis machining, the five-axis CNC machining is more flexible and variable. The 5 axes refer to X+Y+Z+A (rotates around X)+B (rotates around Y), X+Y+Z+A+C (rotates around Z), or X+Y+Z+B+C.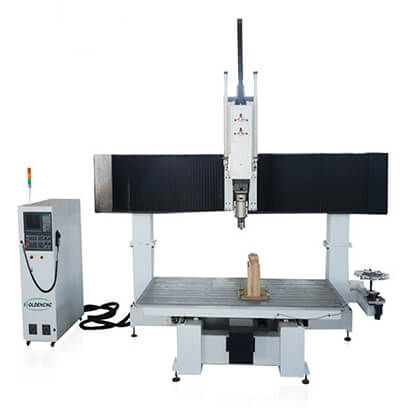 What is 5-axis CNC Machining?
In the simplest terms, 5-axis machining involves using a CNC to move a part or cutting tool along five different axes simultaneously. This enables the machining of very complex parts, which is why 5-axis is especially popular for aerospace applications.
However, several factors have contributed to the wider adoption of 5-axis machining. These include:
A push toward single-setup machining (sometimes referred to as "Done-in-One") to reduce lead time and increase efficiency.
The ability to avoid collision with the tool holder by tilting the cutting tool or the table, which also allows better access to part geometry.
Improved tool life and cycle time as a result of tilting the tool/table to maintain optimum cutting position and constant chip load.
5-Axis Configurations
A 5-axis machine's specific configuration determines which two of the three rotational axes it utilizes.For example, a trunnion-style machine operates with an A-axis (rotating about the X-axis) and a C-axis (rotating about the Z-axis), whereas a swivel-rotate-style machine operates with a B-axis (rotating about the Y-axis) and a C-axis (rotating about the Z-axis).
The 5-axis CNC router wood machine is capable of cutting and shaping wood in multiple directions, including complex 3D shapes and curved surfaces. The machine is equipped with a spindle motor and a cutting tool, such as a router bit or a saw blade, that can be changed depending on the needs of the job.
The machine is programmed using computer-aided design (CAD) software, which generates a cutting path based on the desired shape and size of the part. The software also takes into account the unique properties of each wood material, including its hardness and grain pattern, to ensure that the cutting parameters are optimized for each job.
The 5-axis CNC router wood machine is commonly used in the woodworking industry for the production of furniture, cabinetry, musical instruments, and other wooden products. It allows for the production of complex parts and components with high precision and accuracy, while also reducing the need for manual labor and increasing productivity.
What can a 5 axis CNC machining center do?
The five-axis machining center can process planes, curved and inclined surfaces, oblique holes, 2D and 3D curved surfaces, and 3D lines. It can realize continuous milling, engraving, drilling, and sawing in all directions with one fixing and positioning of the workpiece.
The high-precision 5 axis machining centers have extensive applications in the furniture, molding, construction, machine manufacturing, civil and military industries. It can be used to produce:
1.Box-type parts, like automobile engine cylinder heads, clutch and gearbox housing, pumps
Complex curved surfaces, like bevel gear wheels, pinions, impellers
Irregular parts, including drilling, milling, boring, expanding, reaming, and rigid tapping processes
Molds, such as ship molds, automotive molds, construction molds
Statues and sculptures
6.Large-sized wood furniture
7.Styrofoam or gypsum models