CO2 Laser Engraving Machine 1390 for Sale-igolden-cnc
Thorpe
Laser engraving machine with CO2 laser tube is the cheapest laser wood cutter with CNC controller for beginners to engrave & cut wood (softwood, hardwood, solid wood, MDF, plywood) for crafts, 3D puzzles, letters, earrings, panels, signs, logos, arts, gifts and more designs into different 2D/3D shapes & profiles. Now the 2021 best affordable wood laser cutter for sale at cost price, free wood laser cutting service and support within your budget.

What is a Wood Laser Cutter?
Laser wood cutting machine is an awesome CNC laser cutting system that adopts CO2 laser source to engrave and cut wood (solid wood, hardwood, softwood, MDF, plywood, bamboo), plastic, paper, foam, acrylic, fabric, leather and more nonmetal materials into different 2D/3D profiles and shapes. The cutting ability depends on the CO2 laser power, we have 80W, 100W, 130W, 150W, 180W, 280W and 300W and other CO2 laser powers for option, you can choose different laser powers and laser cutting table sizes to fit your wood cutting and engraving plans & projects. Laser wood cutting machine is also known as laser wood cutter, wood laser cutting machine, laser wood cutting system, laser wood cutting tool, wood laser cutter.


Why Choose Laser Cutter for Wood?
A wood laser cutter is easy to engrave and cut wood with CNC controller. Just a few simple steps, you can cut out a wood project. The laser cutting technology adopts non-contact cutting, which can minimize cutting deformation, will not cause cracks on the wood, and reduce material waste. Moreover, the laser cutting speed and accuracy is more higher than manual and traditional cutting methods, and the incision and edge is smooth, no need to polish later. It's the best edge cutter for wood. These are incomparable with traditional cutting methods for wood. Relatively speaking, the laser cutter is the most cost-effective cutting method for wood.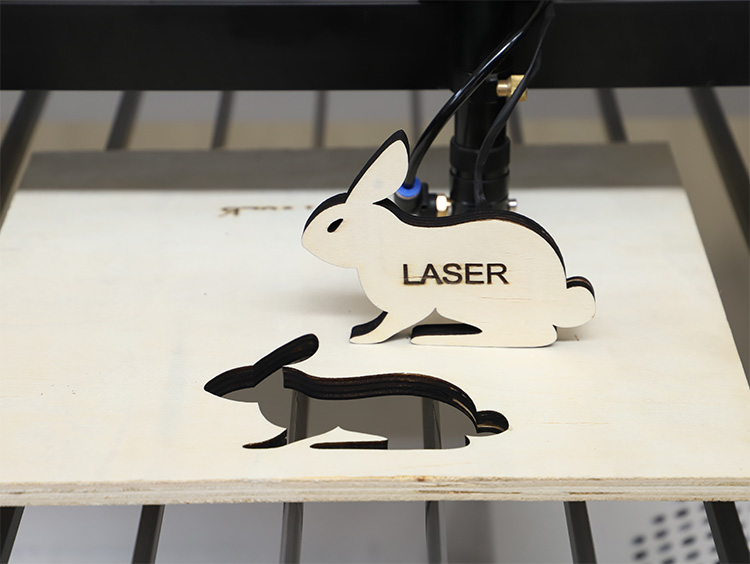 Laser Wood Cutting Machine Features and Advantages
The laser wood cutting machine with 100W CO2 laser tube adopts more scientific design and high strength metal plate frame, which can increase the fuselage strength more than 40% to prevent the machine from distortion during long term work. In addition, this structure is very stable and not easy to be out of shape. The sound insulation effect is good.
Advanced Ruida 6442G control system for CNC wood laser cutter is the latest generation of laser engraving/cutting control system, the control system hardware has better stability, better resistance to high pressure, anti-static properties of interference.
New-style high-efficiency RECI laser tube is adopted. Laser beam is more stable than the traditional type. Usage age is more than 10,000 hours.
Taiwan HIWIN square linear guide rail will be installed on X axis and Y axis to ensure the laser wood cutter works stably and precisely.
The 2021 best CO2 laser wood cutting system adopts high quality professional square tube framework, with more than 40% higher fuselage strength than iron sheet structure. This design prevents the laser wood cutting machine from quivering, resonance and distortion during long term work.
Red dot position system is added in standard configuration, contributing to simple and precise working position.
The 2021 best CNC wood laser cutting system adopts advanced LCD Screen + USB port + Offline Control, with professional motion control chip, which has the functions of consecutively high-speed curve cutting and the shortest path selection, which largely improves your working efficiency.
USB offline control system makes the wood laser cutter operation more convenient and faster.
Automatic up-down table for the wood laser cutter can be chosen for thick materials and high objects.
Wood Laser Engraving Machine Applications
Applicable Materials:Affordable laser wood cutters are used for engraving and cutting wood, MDF, plywood, bamboo, acrylic, organic glass, crystal, plastic, garments, paper, leather, fabric, rubber, ceramic, glass, and other nonmetal materials.
Applicable Industries:Affordable wood laser cutters are applied to custom woodworking, wood sign making, wood crafts making, 3D wooden puzzle cutting, wood letter cut, wood earrings cutting, wood panel cutting, acrylic cutting, fabric cutting, leather cutting, toys making, computer embroidery cutting, mould making, advertising and building decoration, packaging and printing, paper products cutting.