Fiber Cutting Machine with Rotate-IGOLDENCNC
Thorpe
What is the Fiber Cutting Machine with Rotate?
Dual-use Fiber Cutting Machine with Rotate, equipped with 1000w-6000w fiber laser, can cut 0-25mm thick carbon steel plate, 0-20mm thick stainless steel plate and aluminum plate, 0-12mm thick copper plate, and metal tube with 20-200mm diameter, standard working area is 1500*3000mm, can be upgraded to 1500*4500mm, the length of tube cutting parts can be optioned 3m, 6m, 9m. It is an independent cabinet with built-in air conditioner for 2000w and above power, and can be installed with a side rotation device to upgrade to the multi-fuction machine which can both cut metal plate and tube.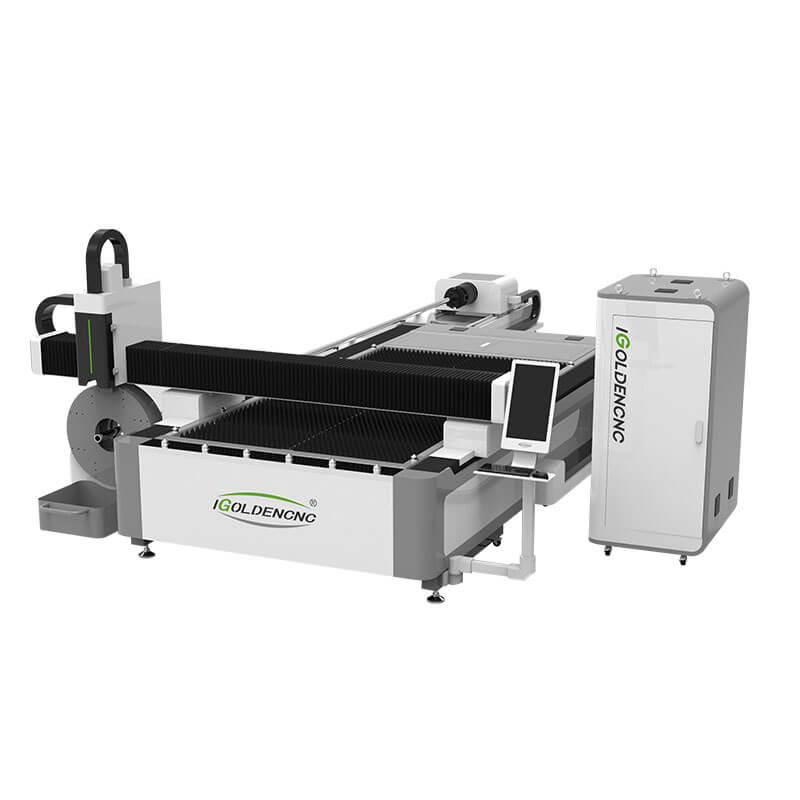 Product Features
Automatic Lubrication
With automatic lubrication system, it provides the lubrication at regular intervals and extends the life of the transmission mechanism.
Thick Steel Welding Bed
8~12mm thickness steel welding machine bed instable strcture, it can relase the internal stress by welding after high temperature annealing treatment
Gantry Structure
Stable dual transmission system, high tensity follow-up moudle of cutting head to prevent from crashing on metal sheet, ensure the machine can running safely.
Material Saving
Apply to standard metal sheet cutting, it will help to save time and material.
Advantages
Excellent beam quality: the focusing light board is smaller, the cutting lines are finer, the work efficiency is higher, and
the processing quality is better.
Fast cutting speed: The cutting speed is 2-3.5 times that of the same power CO2 laser cutting machine.
Stable operation: The world's top imported fiber lasers such as IPG/Raycus/MAX are used, with stable performance, and key components can reach 100,000 hours;
Very low maintenance cost: no laser working gas; optical fiber transmission, no need for reflective lenses; it can save a lot of maintenance costs.
Low cost: low power consumption, only about 20%-30% of thetraditional CO2 laser cutting machine, reducing production costs and making you profit faster.
Simple operation: optical fiberline transmission, no need to adjust the optical path, automatic focus without manual adjustment.
Main application industry
Used in sheet metal processing, aviation, aerospace, electronics, electrical appliances, subway parts, automobiles, machinery,precision parts, ships, metallurgical equipment, elevators, household appliances, gift crafts, tool processing, decorations,advertising, metal external processing, etc. Kind of manufacturing industry.
Mainly used for cutting low carbon steel, silicon steel, stainless steel, aluminum alloy, titanium alloy, galvanized steel plate,
pickling plate, aluminum zinc plate, copper and various metal materials.